Inclusivity in the Workplace
---
Cadila, a harbinger of change in the workplace, makes inclusivity its mission.
---
Football or soccer as it is commonly referred to in some parts of the world, is a beautiful game - a stunning spectacle that gets the adrenaline pumping for both the players and the audience, even when it is essentially only about getting the ball in the net. For the young and the old die-hard fans, football is a religion. Like other children of his age, young Yusuf Multani was enamoured by the game too. However, a birth defect in his left leg made it extremely challenging for him and any hopes he might have harboured of someday playing the sport were dampened by his apparent disability and the fact that he was the object of pity and was constantly cast aside for more able bodied and fit players.
Yusuf's difficulty in walking and running led him to grow up in a restricted environment. However, he resolved that while living with a disability is not easy, it does not necessarily have to be a tragedy; in fact he was determined not to be made to believe it was. He wasn't one to let the piteous stares and comments from those he interacted with get to him. He willed himself to look past it all and to continue to strive for better. In 2012, Yusuf Multani joined Cadila Pharma at the Ankleshwar campus as a contract worker in Hospitality. Finding employment in Cadila helped him take control of his life and improved his independence, sense of empowerment, and outlook.
"When struggling with a disability, it's easy to feel completely misunderstood and alone. But staying connected to others makes a world of difference in one's mood and outlook. I feel good in Cadila and I'm treated very well by my peers and colleagues. I am currently a contract worker, but trying to learn new tasks." says a cheerful Yusuf. Cadila had been his salvation and provided him with an environment where he was made to feel useful and his contribution was valued as much as anyone else's.
According to the International Labour Organization (ILO) "Globally, there are over one billion people with disabilities. They are now more active in our society than ever before. Yet employment rates are low and many barriers to work still exist." It is thus imperative that organisations – public, private and non-profit- make a concerted effort to remove these barriers and biases to allow disability inclusion. It has to start at the beginning – right from homes and educational institutions where children and young people with disabilities are taught to value themselves and to have goals and aspirations. They need assistance with building self confidence while society in general needs to learn to be more accepting and inclusive.
The story of Rohit Thakurbhai working in the Housekeeping department in Cadila is proof of how inclusivity can empower individuals. "Most of us expect to live long, healthy lives. So when you're hit by a disabling illness or injury, it can trigger a range of unsettling emotions and fears. You may wonder how you'll be able to work, find or keep a relationship, or even be happy again," says Rohit. He met with an accident few years ago resulting in a rather serious leg injury making normal life difficult. However, securing employment has given him a sense of purpose and has helped him deal with life as a disabled person.
Striving for Workplace Inclusivity
Since its inception, Cadila has been acting as a facilitator of change. Instead of simply funding government and local bodies, Cadila goes a step further and plays an active role in bringing about change. In association with different NGOs the company conducted surveys in the neighbouring villages and selected approximately 16 people for prospective employment positions across different locations in Dholka, Ankleshwar and Kadhi.
Cadila's belief is that a business should aim to showcase equality and diversity in the workplace, in the sense that any applicant or employee is given fair treatment to carry out their job without issue. Welcoming disability within the workplace is not only the right thing to do, but it also welcomes a vast selection of benefits. Employees learn from one another. With different strengths and experiences, fresh ideas are brought to the table creating an environment of development. Customers value companies that show a real commitment towards inclusion as well. A society is progressive only when it is inclusive and Cadila is setting a shining example by leading the way.
A Step in the Right Direction
As Stephen Hawking said, "We have a moral duty to remove the barriers to participation, and to invest sufficient funding and expertise to unlock the vast potential of people with disabilities." It is important to view disability inclusion not merely as a corporate compliance, but an overall effort for social change. Every individual has unique abilities that might be of great value to the organization. It is time for organizations and society at large to shift the focus from what's lacking in people, to recognizing their unique abilities and utilizing those in a productive manner.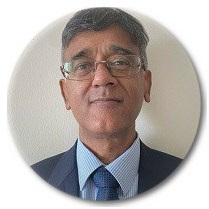 Mr. Sameer Nagarajan, Global President, Human Resources at Cadila Pharmaceuticals Limited, is known for his strategic business partnering to deliver organisational outcomes. Driven by a passion for performance and people, his specific areas of interest include Personal Growth, Leadership Development and Learning and Employee Relations.