How Managers Can Effectively Support Stressed Team Members
---
If any team member expresses hardship, remember the G.U.I.D.E rule. Read on to know more.
---
Managers have been weathering the pandemic storm for a long time, sailing the organisational ship as a great captain. Not only have they stood responsible for the voyage, but they have also guided their crew – that is, their team members – with utmost courage.
COVID-19 created even more uncertainty with the second wave. The pandemic storm has left many exhausted, worried, anxious, and stressed. However, just like every other storm, this too shall pass, and as it does, it's time that managers learn some new ways to support their crew.
The first step is to look for signs of distress.
It's difficult to tell if your team members are struggling unless they're willing to open up to you on their own, which is rare. So, you must keep an eye out for the following signs of struggle:-
• Behavioural: Make a note of any behavioural changes that an employee exhibits. Some examples are lack of punctuality, consistency, inputs in work, increased absence, and delay or reluctance to perform tasks.
• Cognitive: You may notice that someone is struggling to concentrate on tasks relative to their optimum capability. They may even struggle to keep a tab on their work and forget things.
• Emotional: You may observe sadness or a lack of motivation/hope in an employee's speech/messages. They may also seem on edge, restless, or nervous.
• Interpersonal: Social withdrawal can manifest itself in various ways, including disengagement from work or team members, conflict with co-workers, and getting annoyed or irritated by others.
Additionally, there may be physical signs of distress that are tough to notice in a remote working environment — such as a team member regularly complaining of ill-health in terms of headaches, loss of appetite, insomnia, etc.
The next step is to reach out to the team members and understand what they're struggling with. To do so effectively, schedule one-on-one meetings with them to monitor their progress (apart from the regular team meetings). You can set aside time each week to discuss concerns, apprehensions, and other issues. This period, according to experts, might also help you check for stress signals.
If any team member expresses hardship, remember the G.U.I.D.E rule:
• Give them your full and undivided attention
• Understand how they're feeling with empathy
• Inquire further with open-ended questions so they know that you're genuinely interested
• Do not judge
• Express gratitude to them for sharing their concerns with you
The final step is to provide effective support, also known as "linking". Link them to the required people to fulfil their needs, as well as to professional support. They might be feeling lonely or scared to visit a counsellor on their own. If possible, offer to accompany them.
Lastly, make sure that you don't forget to take care of yourself in the middle of all this. After all, no ship can be navigated without its captain.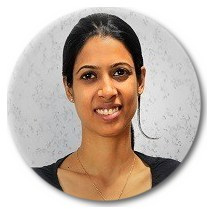 Richa Singh is the Co-Founder and CEO of YourDOST – an emotional wellness platform. She handles managing the wellness providers, product management and keeping the morale of the team high. Prior to YourDOST, she has led the product development for Webfluenz, D.E. Shaw & Co and o9 Solution in Interaction Designer and Product Management roles. She is a graduate from IIT Guwahati with specialization in user-experience design.