The Future of Time Investment
In the new hyper automated age, Return on Time Invested (ROTI) would depend paradoxically on areas of personal growth that are expected to remain free of automation.

This piece is about getting a sound Return on Time Invested (ROTI) in the foreseeable future, which is, for purposes of this article, the next 100 weeks of our life. Before we decide what 'sound' in this context is, let us revisit the baby-new world that is being born even as I type these lines. The future is already here. Driverless cars, coliving, hyperloop travel, commercial space travel, the colonizing of other planets, and living forever are ideas that either exist or are very close to becoming commonplace realities. How many jobs, professional specializations, and professions will go the way of the thatcher, the telegrapher, the typist, the horse buggy driver, the mail-runner?
Hyperloop, a magnetic levitation vehicle, does not touch any surface and has therefore been likened to an airplane in terms of technology as well as travelling experience. However, as it operates in a sealed chamber, its routines would not be as impacted by the vagaries of extreme weather as an airplane. A road journey from Mumbai to Pune that is covered today in about two hours by road would be covered in just thirteen minutes once Hyperloops are available for the public. The World Economic Forum's Future of Jobs 2018 report cites an estimate that the changing relationship between humans and machines may result in the displacement of 77 million jobs globally and the creation of 133 million new roles by 2022. Now, if you really wish to add an extra edge to your pessimism, CGP Grey's "Humans need not apply" with its 17 million views on Youtube is just what you need. The sum of what the video is saying is that the bots are coming for our jobs.
Grey points out that human workers are like horses that were used for transportation before automobiles emerged on the scene. The global horse population peaked in about the first quarter of the 1900s, and then went downhill from there because automobiles were cleaner, cheaper, and easier to maintain. Today, there are general-purpose robots that learn new tasks by simply observing them. The repetition of jobs once observed by bots is, thereafter, a simple matter. Sure, they presently only function at one-tenth of human speed, but they also finish the same tasks for one-hundredth of the cost. So, what would an hour of your life pay you in terms of money in this ever-changing world? There are no clear answers, but you could look at two personal 'to-do' areas irrespective of your area of specialization that could supplement your ROTI or what you earn in monetary terms in an hour.
Self-work and creativity: With the creation and distribution of audio-visual media in various formats becoming easier by the day, personal branding through improved grooming, public speaking skills, human connect, voice culture, and articulation will become key to standing out. It is therefore imperative that we foster a spirit of creativity in our schools, our families, and businesses as well.
Continuous re-education: Only those with an open mind, fast reflexes, and a readiness to return to school will survive and thrive in such an environment.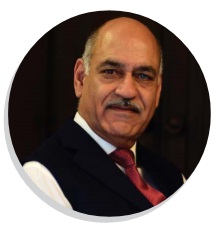 Brigadier Sushil Bhasin is a time investment strategist, global speaker and author of two books Design Your Life and Million Dollar $econd published by CNBC TV18. As a TEDx speaker and corporate trainer, his stated mission is to help create a world conscious of time as a vital resource. Brigadier Bhasin is based out of Mumbai and can be reached on sushil@BrigSushilBhasin.com.