Feedback: The Cornerstone Of Performance
While most organisations focus on role clarity, goal setting and recognition, they often miss out on creating a culture where a two-way candid and constructive performance dialogue occurs between the Leader and his team.
Performance is the action or the process of performing an assigned task, activity or function. As professionals, we are more focused on the Goal or the end result. Our brains are wired to constantly focus on the goal/target achievement. Many professionals and leaders would counter, 'Is it wrong to remain focused on the Goal?'
In my opinion, the focus must shift from the Goal to the process of achieving that Goal. I accept the fact that nothing great has ever been achieved without a strong desire or a fire in the belly to achieve it and believe there must be one to achieve something great or outstanding. While one must have a strong desire to achieve the Goal, the focus must be on the process rather than the 'Goal' in itself i.e. how does one achieve it?
As we say in the world of manufacturing, the quality of the final product (output) depends on the raw materials and an efficient manufacturing process (input). Similar is the case with IT and the other sectors. This clearly shows the importance of the 'right' input to achieve the 'desired' output. The aforesaid is true for professionals in every walk of life. In the corporate world, our output i.e. performance, depends on several inputs i.e. role clarity, goal setting, work environment, recognition at work, inner motivation, performance feedback and many more. While most organisations focus on role clarity, goal setting and recognition, they often miss out on creating a culture where a two-way candid and constructive performance dialogue occurs between the Leader and his team members.
In my own experience, I have seen how spending quality time by way of a performance dialogue has enabled members of my team to perform better and improve continually. This, in my opinion, is the most under-rated, and yet, the most important input for achieving great performance.
Here are a few mantras for the Corporate Leaders on how performance dialogue can be made effective and enable teams to continually improve and raise performance benchmarks!
Be CANDID
Being candid is about being honest, straight forward, outspoken, and frank. This is a must to make the performance dialogue truly effective. More often than not, many leaders try not to be straightforward, frank, and honest as they feel that the individual might feel hurt and do not wish that becomes the reason for an individual to feel bad or hurt them. But we do not realise that by not being honest and candid, we are not really helping our team members. In fact, we are adversely impacting their performance since they would never realise where they are wrong or what needs to be corrected. Thus, in order to help individuals improve, it is really important to be candid and honest.
Your INTENT Matters
However, just being candid does not help! It must be backed by a 'genuine' intent to help others. Leaders often say, what if an individual is hurt or demotivated because of my candid feedback? Well here's the answer! If as a Leader, a candid feedback is backed with the positive intent of helping the individual to improve and get better, rather than a platform to only find faults and criticise, the individual receiving the feedback would never take it the other way.
As a Leader, one must be careful about the body language and the words must be so chosen that they should genuinely ooze out care, concern and positive intent for the individual, and this will always work a great deal. While an individual may be slightly disappointed for being unable to achieve the expected level of performance, he/she would take your feedback in a positive light and work on it to improve. Remember, it is just not about 'what is being said', rather 'how it is being said'.
Performance feedback is an ART!
In cricket, a bowler changes his bowling strategy depending on the batsman to whom he is bowling. Likewise, in a business environment, the marketing and advertising strategy is altered on the basis of the product, market, demographics and a whole lot of other variables. Similar is the case with performance feedback. Performance feedback is an 'ART' and hence one needs to learn, practice and ultimately perfect it!
Many Leaders end up using the same approach while providing performance feedback for all performers. Most often, Leaders do not realise that the same approach of giving a feedback does not work with all kinds of performers, and they end up giving feedback as a mere mechanical process because they have a mandate for it. This truly hurts, and in fact, ends up demoralising many in the team.
An organisation typically has three types of performers i.e. low, solid and outstanding. It is important for a Leader to approach the feedback differently depending upon the type of performer.
While a low performer should be given a 'prescriptive feedback', a solid performer should be given a 'constructive feedback', whereas an outstanding performer must be provided with 'words of motivation and a reinforcing feedback'.
Remember, 'one size, fits all' never works!
Make it REAL TIME
Many organisations have a culture of giving feedback once or twice a year. However, if we were to go by the statistics, this clearly does not work. Organisations have begun to realise the value of giving real-time feedback, and hence, it is being advocated by several companies. It is better that feedback is given on the go or more real-time rather than wait for an appraisal cycle to happen.
Datapoints available on the internet mention that inadequate or no time-based feedback leads to high employee turnover and disengagement respectively. Realtime feedback provides employees with sufficient time to think, reflect and act to improve their performance, and thereby, push them to do better each day at work. As has been said in the beginning, performance feedback is a very critical input for achieving the desired level of output. Let us hone the art of giving a feedback to perfect it!
Follow and connect with us on LinkedIn, Facebook, Instagram, Twitter for latest HR news and insights.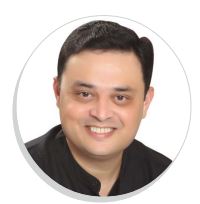 Rohan Lele is Head – L&D and Employee Care, Atul Limited. He comes with an experience of 15 years and has worked with both Indian and Multinational companies in various HR roles in India and Asia Pacific. Rohan Lele has completed his Masters in Human Resources Management from the Faculty of Social Work, M. S. University of Baroda is currently pursuing his Doctoral Programme (PhD) in Human Resource Management.