HR Tech: A Game Changer for Staffing Companies' Value Proposition
Humans are the driving force behind the rise and fall of every business in every industry. Recruitment and HR Tech is a colossal market globally, growing big by the year and estimated to be worth $30 Billion by 2025, according to a report by Grand View Research Inc. With constantly changing industry trends and continually evolving technologies, workforce management today is a hurricane of challenges to overcome and master.
HR Tech Adoption in India
Most organisations are outsourcing staffing and other HR-related functions to subject matter experts, who add value in managing them and setting benchmarks. With the rising need, leading players in the HR outsourcing industry are trying innovative means to transform key HR processes, automate them, minimise manual intervention in routine tasks, eliminate redundancy, and cut operational costs.
Top staffing service providers have accelerated their HR tech adoption rate to enhance their value proposition to clients and offer them a competitive edge in their business. They are streamlining the end-to-end staffing function with tech tools, from demand management, sourcing, assessments, interviews, selection and offer management to documentation, onboarding, attendance, payroll, invoicing, compliance, and employee self-service. A Sierra-Cedar report revealed that 70% of organisations in the APAC region would spend more on HR Tech, although they are lagging compared to companies in the US and Europe. Furthermore, the adoption of mobile HR technology is no longer an emerging trend, with over 50% of companies already using it.
HR Tech Tools to Adopt for Your Staffing Business
◆ Demand Management: As an aggregator of demands from various clients across industries, it is important to create a centralised platform where these demands are created, stored, allocated, and tracked. A mobile app for recruiters, vendors, and managers that empowers them to manage demands on the move would be a game-changer.
◆ Sourcing: As the nature of demands varies with clients, industries, and expertise sought, staffing companies should build a strong sourcing engine for 24/7 operation, parsing and mapping profiles to open requirements, while creating a solid candidate database. Moreover, wielding AI and ML's power to rank profiles and recommend them for future requirements will bring immense value. For general staffing, which requires a multi-pronged approach and recruiters to be on the ground for sourcing talent, a mobile app for field recruiters would streamline the sourcing process.
◆ Screening:
> IVR-Based Interest Check: Manually calling candidates to check their interest in the job can be tedious, especially when hiring in volume. An interactive voice response (IVR) based interest screening tool can come handy. Automated IVR calls can screen out candidates who are uninterested, cutting down the time and effort spent in shortlisting profiles.
> Assessments: An assessed candidate is more valuable than a manually evaluated resume. Having a psychometric/aptitude/ skill-check assessment to filter quality profiles will prove as a differentiator among other service providers.
◆ Interview Management: Rather than scheduling and tracking interviews manually through emails and excel sheets, it is a better practice to have a centralised tool to create and schedule interviews and manage the candidate line-up.
◆ Offer Management: Gone are the days when offers had to be manually created, and tracking the offer release and candidate's acknowledgement was time-consuming and subject to misses. An integrated offer management module would generate templated offers and release them to candidates on the click of a button. Subsequently, push notifications can be sent to probe the candidate's acknowledgement.
◆ Digital Onboarding: Documentation during onboarding is tedious and often requires a lot of paperwork and manual intervention. A digital onboarding tool can be used to collect and store candidates' documents and personal information on to a central database, which can automate Aadhaar verification, KYC, and background verification.
◆ Attendance Management: Biometric-based attendance may prove efficient for cases where the employee reports on the same location. However, for staff who tend to be on the move (such as salespersons, security personnel, delivery personnel, etc.), having a GPS-enabled mobile attendance app can ensure the accuracy and authenticity of attendance data. The same input can then be pushed to a payroll engine. Leaves and approvals could also be an integral part of this tool.
◆ Payroll Management: Having a full-fledged payroll module as part of ERP will streamline payroll management. It will act as a centralised platform for tax management (such as investment declaration and flexibenefit management), help automate salary and reimbursement reports, and allow access to payslips —anywhere and anytime.
◆ Invoice and Collection: Integrating an OCR (Optical Character Recognition) component to automate the data entry of vendor invoices in a systempreferred format, and having smart bots to dispatch invoices and send out collection reminders would greatly reduce the time and effort put into such non-value-adding processes. O Employee Self-Service Tool: A great way to boost candidate/ employee experience is by deploying an employee self-service tool that will give them 360-degree support throughout their stay in the company. A self-service tool can encompass a range of features, including leaves, reimbursements, access to view and download offer/ appointment letters, payslips, PF, ESIC, insurance, contract extensions, and appraisals. A botbased helpdesk as part of the tool will ensure grievance redressal.
◆ Employee Engagement: In a recent survey by PwC's Consumer Intelligence Series, 71% of the respondents say employee engagement is critical to achieving overall organisational success. Benefit portals can be great engagement tools and will provide access to a marketplace with offers, rewards, discounts, cashback, and other benefits. Integrating these tools into an HRMS would be a valuable addition. Such services come with no associated costs for both the service provider as well as the client.
Deploying the Right HR Tech Solution
Leveraging tech can help staffing organisations achieve operational efficiency across a spectrum of functions, including recruitment, employee engagement, workforce management, payroll, compliance, and analytics. When carefully implemented, HR tech tools can help to:
◆ Streamline staffing and HRO processes.
◆ Establish a centre of excellence across departments.
◆ Improve statutory and regulatory compliance standards.
◆ Build a centralised database with controlled access.
◆ Set up a real-time analytics and reporting engine to offer actionable insights.
◆ Reduce costs, effort and time, while adding value to customer service.

These are just a few of the many benefits of implementing tech within staffing companies. However, a thorough analysis is critical to ensure a positive impact on the client's business. Deploying a bulk of tech tools won't necessarily bring operational efficiency. Instead, staffing and HR service providers must evaluate the pain points of the client's business and design an HR tech deployment strategy backed by a data-based fact check. All the key stakeholders must collaborate to build a business case and define clear outcomes with an estimated ROI.
As a preferred staffing partner, your goal is not only to help your client achieve operational efficiency but also transform the client's HR department from being an administrative division to becoming a centre of excellence whose strategies align with the company's business goals. That is the valueadd that every staffing/HR tech service provider must aim for and deliver to their clients.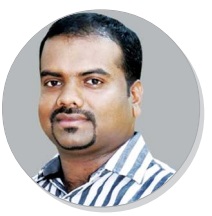 Raghav Poojary is a subject matter expert with more than 16 years of experience in full-lifecycle of recruiting, including RPO, consulting, technology transformation, and business operations. He has worked with companies like Merit Trac, Pratian Technologies, CareerNet, Adecco, PeopleStrong, and Quess Corp. Currently, Raghav is VP - Business Operations and Process Automation at First Meridian.