Ten Fantabulous Ways HR Professionals Can Use Social Media
As a CEO whose company is into both social media as well as learning & development, I am often invited as a speaker at large events. At a recent gathering of HR professionals, I was asked what social media could be used for. My answer: Everything you can think of and more! Let me elaborate. Everything that falls under your Key Responsibility Area can be accomplished using social media.
Whether you are a recruiter, a learning and development professional, or an HR generalist, social media can be a fantastic tool to aid you in your job role. The trick is to know which platform to use for which purpose.
#1 Announcing openings & inviting applications

So you have an opening in your company. That's great! It is a sign that your company is healthy. But the question is, how do you tell the world? Earlier, you would have to place an ad in the newspaper. Now, clearly, you are already posting it on social media. The speed of response, the quality and the cost implications have all changed. For my company Vanilla Skills' openings, I find that WhatsApp has brought me the highest response to any postings. This could be due to the ease of forwarding the message. That being said, the best quality of candidates I have received has been through LinkedIn. Recently, LinkedIn rolled out a feature that allows you to post a job, just as you post an update. While this is in beta, which means LinkedIn may choose to discontinue it, at my company Vanilla Skills, we're making hay while the sun shines.
#2 Background Checks
Applications are all good, but how do you shortlist candidates? Option one: you could hire a professional background checker. This is a great option, and I would never make the mistake of advocating against professional services. However, we all work within the limited resources we may have been provided with. If your limited budget does not allow for professional services, the least you could do is do-it-yourself.

At Vanilla Skills, we always look up the profiles of shortlisted candidates. In one such instance, we were hiring for the position of training coordinator. Our ideal candidate was a lady who told us that training was her passion and dream job. When we crawled through her social profiles, we found that her passion was actually singing. She aspired to be a professional singer, and the job we were recruiting her for, was simply a stopgap arrangement, 'till she made it big as a singer'. That made us reconsider our decision to hire her. While we totally support passion and are constantly looking for passionate people, we do want them to treat the work as their top priority. Had we hired the lady, she would have treated her passion as her top priority and focused more on finding singing opportunities rather than on her job.

You never know what someone's social media profiles will tell you. Don't just look at their LinkedIn profile, check out their Facebook, Instagram and Tiktok accounts too.
#3 Onboarding
Businesses always want a new employee to hit the ground running. After all, businesses cannot slow down for new employees. Due to time constraints and schedules, HR often struggles to comfortably induct a new employee into the new role and the company. Social media can ease this dichotomy. HR professionals are getting creative in this respect, using a range of tools from quick manuals to Skype calls to induct employees. In my book, Profit with Social Media, the protagonist Merlo Dolphin creates a video for the induction.
I do believe a video will be a great idea. However, do keep in mind that attention spans are shrinking. If you are going to have a video made, ensure it is something that holds the audience's attention. A story, some humor, and a bit of music are some ways to do that. And of course, if you have a video, put it up on YouTube. If you don't want it to be in the public eye, you can always keep it private and send the link to the new employees.

#4 Employee Communications

You email them; then call them to tell them you've emailed them; then you call them to get a reply to your email. While it has become a reality in most places, it is clearly not efficient at all. In fact, it is a poor form of communication, a waste of time and energy. Why not reach out to them on the platforms on which they are active?

This is, of course, easier said than done. After all, where are they active? Hint: Which is the most used app (other than gaming apps)? In Vanilla Skills, we find WhatsApp is highly effective. Some of our clients got special apps made for internal communication and yet came back to us, asking for help to get their employees to use that app. The simple truth is, people will use what is convenient and addictive to them. If you are considering making an app, ensure it is not just easy to use but actually addictive.
#5 Team Building
You hired millennials and are now struggling to find a way to make them function as a team? You're not alone. Most HR professionals that I talk to are grappling with this. The thing is, the concept of 'teamwork' as you and I refer to is very different than the way the millennials see it. Have you ever seen the current tweens & teenagers play together? Each of them plays on their own gaming device or occasionally exchanges it. When someone is stuck at a level in the game, another 'team member' steps in, helps, and then goes back to his or her own game. The concept of teamwork has evolved. It is time to think about what it means for us.

If we play smart, social media can help us get the team to feel like one. At Vanilla Skills, we have people ranging from 19-year-olds to individuals in their 40s. Yet, we have a very strong team culture. People volunteer to step in for each other and are often seen relying on each other for support. While I might be erring on the side of over- simplification, I do believe that the way we joke around with each other, especially on Whatsapp (we do have occasions of work-from-home for some people), hugely contributes towards this.

#6 Identifying Symptoms of an Unhappy Employee

Let's try empathy here. What would your actions be before you actually considered leaving an organization? Perhaps you'd complain about the boss. Well, more than usual, I mean. After all, we've all heard that people don't leave organizations; they leave their managers.

Traditionally, employees would complain to HR. The new school of thought is that HR doesn't listen. (Hey, don't hate me for telling you what everyone is saying.) So, they go online and complain. However, they can't openly do it. So, they go to sites like glassdoor.com or mouthshut.com and talk about it anonymously. You might not know the employee names, but if you make some discreet enquiries, you might be able to identify how much truth there is to the whole matter. For this, you need to check Glassdoor and Mouthshut regularly, so you know what employees are saying. Keep an eye on Google Reviews too.

An important piece of advice here: Do NOT punish the victims. They are complaining because they feel victimized. Either do something to stop them from leaving, or prepare yourself for them to leave. Either way, trying to identify who posted the review is not just unfair but will also cause you to lose face and the trust of the very people you serve.

#7 Identify Training Needs
What are your colleagues doing on social media? What is their language like? What's their 'social' behaviour like? Does it match the skills required for the job? Do you see skill gaps? What about the bosses? What are they complaining about?
If you keep your eyes open and read between the lines, you will find that your Training Need Analysis process has evolved as well.

Unfortunately, social listening tools available in the market are currently too focused on external communication. Fortunately, as an HR professional, you do have the skill and ability to listen and read between the lines (or you should develop it). The important thing then is to listen to the conversations happening online.
Things said in jest could be someone's way to blanket hurt with humour. Probe and then do what's necessary.
#8 E-learning
Yes, I am aware that it is being talked about a lot, and people are still experimenting with it. Here are a few of my favourite ideas:

◆ Interactive Videos: Videos lack a human touch. While machines and technology will never be able to replace humans (or so we hope), interactive videos might add more of a human touch than ordinary ones. If you want to know what I mean, check out englishcentral.com.
◆ Quizzes: They watched the video or perhaps sat through a traditional training program. How do you know what they truly absorbed? A quiz will not only give you a measure of their learning, but it is also a great opportunity to fill the gaps by revealing the correct answers.
◆ Gamification: Games are an important part of training. Perhaps it is time to take the games online. From existing online games to special games created with your goals in mind, e-games can help one learn important lessons.
◆ Artificial Intelligence: I know for a fact that a few companies are working towards artificial intelligence, combined with facial recognition, to gauge if the learning is truly happening or if someone has lost interest, etc. This is still in a developmental stage, but I am hopeful that it will be more widespread by the time this article has lived its life.

#9 Extending learning
Quizzes are one of the methods for extending learning. Sharing relevant articles & videos, online activities, and hyperlinks to relevant games are a few other ideas. It is also a good idea to encourage participants to share experiences of what they applied and how it worked for them. This will encourage others and give you insights for your future work.
For one client, we created a LinkedIn group as well as a WhatsApp group for shared learning. While LinkedIn was most used by the internal L&D team to share resources, we found people had more lively discussions on WhatsApp. Eventually, all resources were shared in the WhatsApp group. I must add that this was in collaboration with LinkedIn Learning, and yet, WhatsApp ruled.
#10 Rewards & Recognition
Traditionally, people would showcase their trophies & certificates on a wall. The wall has gone virtual. Have you?

You may have noticed a large number of companies posting photos of their accomplishment on social media. However, few are recognizing their employees' accomplishments.
For one of Vanilla Skills' clients, we run internal campaigns with HR to identify individual accomplishments and talk about it on social media. One such was a gentleman who took up a 40-day cycle to work challenge and bicycled 15 KMs daily to work. While this was his individual accomplishment, showcasing it helped the company display a more holistic approach towards its employees, not to mention garner huge mileage, traction, and engagement on their company page.
An important thing to remember is that social media is not a substitute for your work. It's a tool to augment your work and a very powerful one at that. Its utility is only limited by your imagination. Wish you a socially profitable life.
If you would like to connect with me, I'm active on LinkedIn as Benita Bhatia Dua. I can be reached on Twitter, Instagram, and Pinterest @benitadua. I'm always excited to know what you think of my writing and my work.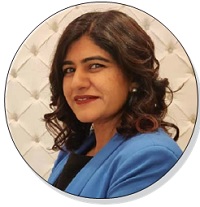 Benita Bhatia Dua is the CEO of Vanilla Skills, a bespoke boutique Social Media Consulting company. Benita has helped many ventures, including Fortune 500 companies & their top management, to use social media profitably. She is also an author of two books, one of which is a bestseller published by CNBC TV18 Networks. Benita is also an eminent public speaker, trainer, and coach. She's had the privilege of being one of the expert panelist speakers at an event by Harvard University, USA. Read my blogs here: https://vanillaskills.com/category/social-media/