Destination Digital - Key Lessons and Success Factors
Transformation is a phenomenon similar to metamorphosis, like a caterpillar growing wings and becoming a butterfly.

Transformation

A few years ago, Shyam bought an iPhone. Shyam was boasting about the features of his iPhone. All his friends were amazed and aspired to have an iPhone. A month later, another company launched a phone having most of the features of an iPhone, but at a fraction of the cost. Aspirations got wings, as they were affordable now. All his friends were now on the same upgraded platform. This opened the door to numerous possibilities, which led to transformation.

"Transformation happens when aspirations become affordable."

What does transformation require?
However, getting an iPhone was not the actual transformation. It was only the beginning. Real transformation happened when public utility companies decided to adopt mobile billing solutions. The waiting lines vanished as people started paying their bills online.
This process was not easy, and it was not superficial. This was similar to the process of a child growing up. A lot of internal processes had to change for it to happen. Any transformation requires innovation, process change, stakeholder education, addressing concerns, and breaking of myths.
How different is digital transformation?
"Transformation is just the same. 'Digital' adds speed to transformation. Society is already experiencing a digital transformation. Organizations are yet to follow in a significant way."
A pizza gets delivered in 30 minutes, and you can track the order. You can also choose the toppings for your pizza. However, can you similarly track your career? Can you choose your own toppings and can it happen as quickly?
If you are watching a cricket match, you can see the visual analysis of balls delivered by the bowler in the game. You can also see the entire career history of the bowler, without interrupting the flow of the match. Can you get the same analysis of your own performance in real-time instead of a quarterly or yearly feedback?

Another example is that your phone opens up when it 'looks' at your face. Facebook recognizes most of your friends using face recognition. But can you enter your office using your face as your identity card?

Technology is not digital transformation
"When we think about technology, we always think linearly. We aspire to digitize current processes. We overlook the fact that technology can change the paradigm completely."
Cricket used to be a five-day game, which was cut to one day to increase viewership. Then came the era of digital viewership. Options created by technology resulted in a reduction of people's attention spans. Cricket was competing with football (a 90-minute game) to get a larger share of digital viewership. T20 was born to offer a fast-paced and more dynamic watching experience. The paradigm changed!

Digital transformation is not a phenomenon of the future
I was travelling by Uber. An elderly gentleman drove the cab. He told me he retired from his previous company, but his responsibilities did not retire. He got a job with this cab platform company, Uber. They did not look at his age. They looked at his skills and gave him the job.
There are more and more platform companies fuelling the gig economy. The rules of the game are going to change.
Employment contracts will change, working hours will change, the retirement age will change, the focus will shift from educational degrees to practical skills, performance feedback will be real-time, methods of training will change, and much more will change beyond our imagination.
"Technology platforms are not digitizing processes; they are changing the paradigm. This is not going to happen in the future; this is happening right now!"

Numerous organizations like Ola, Uber, Swiggy, Urban Clap, Toppr, Oyo, and Airbnb are using the technology platform approach to drive the change. Doctors, lawyers, and consultants are already working on these models.
You can't copy-paste, you must not copy-paste
"Digital transformation looks good. It is just like maintaining a zero figure. However, attaining a zero figure is a tough process, and it is individual-specific. Everybody is different and needs customized diet & exercise plans according to their own body. You can't simply copy and paste the diet plan of someone else. Although processes in various organizations look similar, each organization has its own nuances. Copy-pasting can make the process defunct."
At the same time, if you plan based on your own organization, there is a possibility of creating a better solution, the way ISRO did in their "Mission Mangal" by using out-of-the-box thinking. ISRO refused to copy the NASA model. Instead, they came up with an indigenous and cost-efficient approach for Mission Mangal, and it worked for them.
How to start?
The first important thing for any business is to be aware of the environment. Awareness of technology and its usage in solving practical problems is a must in the current context. The next most important thing is to understand your own business and its issues. Try to solve these problems in the context of technology. Doing this will not only give you a good start but ensure that you remain ahead of the curve.
It seems overwhelming at first, as there is a lot of hype around it. It looks costly, but it is not. It seems like a big change, but it is not. Any change is unsettling. Besides, many myths have been created around digital transformation. These myths are ten times bigger than the actual problems. Caterpillars just focus on building cocoons instead of flying. Transformations follow automatically!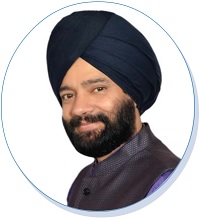 Harjeet Khanduja is an international speaker, writer, poet and an HR Leader. An alumnus of IIT Roorkee and INSEAD, he is currently VP-HR at Reliance Jio. He has been conferred with multiple awards including HR Leadership Award, Pride of the Nation Award, Global Learning Award, Top 100 HR Minds, and Top 50 HR Tech Leaders. Harjeet has been a LinkedIn power profile, Chicken Soup writer, TEDx speaker, guest faculty at IIM Ahmedabad, board member of Federation of World Academics and Co-Chair of Nasscom Diversity Committee.