Making Your Chatbot Chattier
---
While chatbots are widely used to manage employee queries and process transactions, organisations can also leverage them to drive their people agenda and cultural transformation.
---
Hello Chatbots!
In recent times, many organisations have started adopting chatbots for HR transactions ranging from policy queries, expense management, and employee lifecycle touchpoints to measuring employee engagement as one integrated tool for employee interaction. Thanks to machine learning and natural language processing, not only do chatbots present a natural conversational way to interact with employees, but they also give them more flexibility to communicate during their preferred timings.
The pandemic has accelerated the uptake of HR chatbots as business models are getting reinvented, remote working patterns and collaboration tools are replacing physical meetings, and employees are demanding greater flexibility in work schedules and modes of interaction.
Engagement Chatbots
High on CXO's Radar While HR chatbots have been widely used in managing employee queries and processing transactions, business leaders can leverage chatbots to drive their people agenda and obtain insights on key strategic narratives/ themes on culture, capability and employee wellbeing by:
• sensing the real-time "pulse" of the organisation, similar to economic indicators like stock market indices
• being available 24/7 to communicate with employees during their preferred work timings
• nudging employees/managers to provide actionable insights on wellbeing and collaboration patterns
• providing a listening platform that serves diverse cohorts of employees
• promoting the democratisation of policymaking and driving employee experience influenced by employee-chatbot interaction
In short, the employee engagement chatbot becomes a tool for cultural transformation. However, CXOs need to understand how to leverage chatbots and enhance its adoption among the workforce.
Designing Chatbots for Employee Engagement
Whilst the goalpost is clear, designing an effective chatbot for driving employee engagement is time and effort consuming. Designing chatbots for policy, processes, and employee queries is relatively straightforward as we can feed different utterances for intents and design for high accuracy. However, designing for employee engagement requires chatbots developers to:
• enhance their analytics and NLP capability, specifically while using unstructured constructs
• measure engagement in the context of work activity
• take stringent privacy guidelines into consideration
Let's dive deeper into these areas:
→ Improving the Depth of Natural Language Processing (NLP)
Potentially, there are two types of employee engagement chatbot functionality: structured and unstructured conversations. Structured chatbots have predetermined questions around engagement at work, which could be generic to all employees or event-based (e.g. post-probation, promotion, and recognition milestones). On the other hand, an unstructured construct could start with questions like "How are you feeling today?" that prompts employees to react. On the front of the unstructured conversation, chatbots need to probe deeper (N-3 level of conversation), which may not be easy to program. For example, if an employee tells the chatbot that they are not happy with their manager's micro-management, the chatbots need to understand the root cause, instances and resulting issues.
Apart from deeper probing, more efforts need to be put on the persona of the chatbot to resonate with the maturity of people processes and organisational culture. Depending on the primary nature of work and maturity, different organisations could have employees expressing themselves differently. Building empathy in the tonality of the conversations will help improve the design.
→ Measuring Engagement in the Context of Work Activity
The pandemic has thrown a big challenge at business leaders. Since we don't have management and employees under the same roof, no longer will the leadership team be able to assess engagement levels with confidence. Added to this dilemma is the sudden upsurge of attrition. This makes a compelling case of moving the quintessential once-in-a-year engagement surveys to continuous, ongoing, real-time "pulse" checks, aided by AI and machine learning tools.
Employee sentiment is one of the ways to measure affective or emotional engagement. It is a valuable measurement tool to assess the company's sentiment, especially during large complex change management or a business undergoing a crisis. However, chatbot designers need to appreciate employee psychology when creating the science behind such tools. Sentiments or emotions are temporal in nature and just define the state of mind at a particular interval. When the chatbot asks their feeling, the user may respond to the question based on their current state of mind, which is not a complete or accurate representation, e.g. an event triggered by personal developments could reflect on the mood-o-meter. Hence, research says that emotional or affective engagement needs to be measured in the context of work activity, e.g. measuring sentiment post-performance appraisal; and this needs to be built into the chatbot.
→ Privacy Concerns
Unlike in Europe, which is governed by GDPR, data privacy laws are still catching up in India. Most popular HR chatbots claim to incorporate guidelines on data privacy. However, as an HR leader, you must take the following points into consideration:
• The data points being shared and where the data is residing (more data points shared will help chatbots create better personas/ profiles, but the type and nature of data being shared may be a concern; personalisation requires more data to be shared, which the company may not be willing to do)
• The definition of privacy standards on data access visibility to protect individual confidentiality and anonymity
• A minimum sample size parameter (e.g. only aggregated data of a minimum size of five should be visible to both managers and analysts)
• Relevant non-disclosure agreements and indemnity clauses with third-party chatbot vendors
Food for Thought
Employee engagement is the foundation of a productive workforce. By integrating chatbots, data analytics and NLP, leadership teams can gather vital insights and take immediate action while boosting employee engagement and ensuring their workforce feels valued. Understanding employee narratives will aid CXOs to drive rich interactions and design meaningful engagement action plans.
A few organisations are hesitant to launch HR chatbots, considering how employees may still prefer talking to HR colleagues rather than a chatbot and are in line with delivering a more human-centric approach. We believe that chatbots will not replace human conversation but complement and aid in sharing critical perspectives/narratives generated through rich interactions.
To ensure that chatbots are effectively utilised, leadership needs to drive a listening culture and build psychological safety through constant communication. The buy-in of business leaders to ensure the success of HR chatbots is critical, going beyond communication and advocacy of the platform. Business leaders must understand the insights/ perspectives from the chatbot, and the focus should be on facilitating and cocreating engagement action plans for their business units.

So, what will it take you to make your chatbot chattier!
---
Views are authors' own.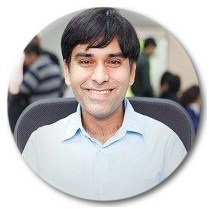 ---
Shivin Tikoo is heading Organization Development at Mahindra and pursuing Ph.D. in Organization Behaviour from XLRI. His areas of interest include HR strategy, EVP and change management. Shivin is based out of Mumbai and can be reached at shivintikoo@gmail.com.
---
---
Madhushree Mehta is Executive Head - Organization Effectiveness, Change & People Analytics at Vodafone and an XLRI alum. She is passionate about technology and disruption and has a proven ability to work with senior leadership, drive cross-functional projects, and deploy an entrepreneurial approach in an ambiguous environment.
---