How VDO.AI has evolved their people practices in tandem with COVID
The Novel Coronavirus has struck and changed the world as we know it. It is the first time in decades that a tragedy of such global magnitude has come upon us and left us astounded. Not only has the health of billions of people been affected, but the pandemic has almost demolished the global market.
In such challenging times, organizations have been forced to make some difficult decisions. Cutting down on costs, letting off employees, and many such decisions have changed the regular lives. However, these changes have had a terrible effect on the mental health of many people. The (now) common COVID-anxiety also plays a massive part in this.
The uproar of digital communication amidst the pandemic
With the world going through a transformation, digital has become the talk of the town. Organizations using traditional communication methods are now entirely dependent on the digital and online forms of communication to grow their business.
In such times, the digital platforms have been recognized as the most helpful medium for communication, be it business or personal. This change has become a blessing for companies providing digital communication services.
For emerging businesses like VDO.AI, which focus on keeping the internet free of cost for the users and help make information accessible on the internet, this has been a good start. The company's vision is to be one of the leading global companies in its area of expertise.
Many organizations have turned to social media and the digital platform to communicate and interact with their audience. Businesses with expertise in digital media and advertising come forward to help other organizations reach their goals.
A step towards recognizing the importance of Mental Health
Today, it has become essential to talk about mental health as 2020 has witnessed a series of unfortunate events. As humans, we should acknowledge the importance of mental health and should be equipped better to deal with any kind of emotional trigger. Similarly, organizations have a responsibility towards their employees; to ensure that they feel safe and secure. VDO.AI- a new-generation video advertising platform, has taken a significant step to ensure that their employees stay healthy and have mental peace.
This year has opened a can of worms and has expanded our awareness to many unresolved issues. Since the lockdown has hit hard in every organization, businesses have suffered losses while social distancing and work from home has become the new norm. Hence, the management of VDO.AI has been making tremendous efforts to keep its employees' healthy both mentally and physically through various initiatives that they take for the betterment and upliftment of their employees.
The company conducts regular Yoga sessions, which help relax the mind and create a positive environment. An in-house counselling psychologist is also appointed for regular mental health follow up of the employees. The management has also taken the initiative to relieve stress from the lives of the employees by deciding to keep all weekends non-working instead of alternate working Saturdays.
To make the workplace a place of power-packed efficient working instead of stressful slogging, employees are encouraged to engage in fun activities like such as a potluck, water-cooler sessions, and pizza parties. This also encourages a healthy team bonding and helps people socialise better. The company is also organizing World Mental Health Day for its employees to emphasize the importance of good mental health.
VDO.AI on its future plans and World Mental Health Day
Humans are social creatures, but against our nature, we have been practising social isolation. It has affected interactions between families and friends and affected a crucial relationship between the company and its audience. To remove this distance, VDO.AI has come up with its video advertising technologies that will help the publishers access the power of video content and advertising. It focuses on boosting their monetization by up to 50% with the help of target advertising.
"The stress and fear of COVID is everywhere, and despite all the precautions, we aren't safe until a vaccine can be created. There is nothing we can do but wait it out. However, with the power of video technology, we can bring a change in the way advertising works in the Indian market," said Amit Sharma, CEO of VDO.AI.
"2020 has been tough on all of us, and Mental Health has emerged as a major issue. At VDO.AI, we have taken an initiative to provide our employees with a friendly environment where they can share their fears that threaten their mental health. On the occasion of World Mental Health Day, we have organized a few activities and sessions to increase awareness about the importance of Mental Health," he added when asked about the World Mental Health Day.
Mental Health awareness in the workplace is vital for a healthy and safe environment for all employees, and we must appreciate the company's initiative. It aims to integrate the best advertisers with qualified publishers to enable a thriving video advertising ecosystem. VDO.AI has worked with leading global companies such as Google and Facebook. By 2025, they aim to be an established global video advertising solution provider with a presence worldwide.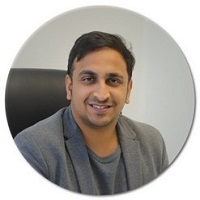 Amitt Sharma is the CEO & Founder of VDO.AI.