The Influence Of Social Media
How long can you stay away from your phone before you feel the urge to check for updates on the different social media platforms? That social media is an ingrained part of our world is an understatement! Millennials, the largest percentage of the workforce, keep checking their phones at every instance, and spend an average 5 hours a day with their phones. A simple walk within one's office premises will indicate the number of people glued to their phones. Taking due cognisance of this fact, HR leaders must devise an effective strategy to utilise the mammoth influence of social media to their advantage. At the same time, HR must be vigilant of the dangers it potentially creates for the employee as well as the employer and prepare organisations likewise!
If you still think of social media as a double-edged sword, let us then look at a few key factors where social media acts as a strong force and highlights some repercussions of this tool. Although the benefits are numerous, I am picking out a few which pack a punch in our work-life today!
Power of Learning and Development

Let us wrap our mind around these stats to gauge its impact:
● A research by Gartner shows that 40% of employees who do not receive the required job training to become effective exit their positions within the first year
● A Study by CareerBuilder.com highlights that 58 percent of managers have not been provided with any management training
● A Randstad survey said that 59% exit jobs owing to the absence of an effective training programme
The cost to ignore its relevance is too high and HR must use the following social media influence to set up a robust learning infrastructure.
● Disrupt the learning by MOOC's (massive open online courses). Coursera, LinkedIn Learning, Udacity, Edureka, Khan Academy, LinkedIn, Skillshare and many more similar platforms provide opportunity to employees with a learning 'anytime & anywhere' approach
● Encourage employees to participate and compete in open-source community forums like Stack Overflow, GitHub, and Dribbble to stay relevant with their skills
● Invest in developing an in-house app which helps throw open and challenging case studies that uses the concept of gamification where employees can attempt to compete with one another and garner immense learning in the process
● Have LIVE video feeds on social media platforms to better engage and involve remote employees and get them to stay connected to the organisations learning pulse

Retention Impact & its Significance

A study by Leigh Branham has revealed that 89% bosses believe that employees quit owing to monetary issues. To their dismay, we know how true the adage stands 'employees do not quit jobs, but they quit their bosses'! However, Social media plays a significant role in managing employee retention: -

● Global data reflects that 79% employees quit due to 'lack of appreciation.' Bosses must use social media platforms like LinkedIn and Facebook to shout out kudos to their team members and celebrate success on a larger platform

● Research states that recognition and inspiration come before pay, promotion, power, or training - this can be passed as a real-time mechanism using internal Whatsapp groups or a new age HRMS tool like 'Namely' where any employee can post recognition for anyone. It also creates a similar look and feel of that of the LinkedIn home page

● Increase your employer brand connect with employees by posting milestone events videos like work anniversary on social media platforms to build in the pride factor

● Flaunt your company's culture on social media and make the employees feel that they are part of a winning team
● Wipe out issues related to trust and insecurity. Misinformed or uninformed conversations (office gossips) around financial stability, business growth, client churn, lack of sales, etc. can be made to disappear when social media is used to periodically share nuggets on the organisation's growth and progress - keeping transparency and information on the forefront.

Working for a Purpose
According to another research, 54% employees say that they are motivated by their company's vision and purpose. Social media, by virtue of bringing about visibility for an organisation on the work they are doing, how they are impacting the eco-system, livelihoods, solving a global problem statement, and impacting millions of people for the good - contribute significantly towards creating a work purpose for employees.

The younger workforce demand to know how their work is making a difference, and how it is contributing to a bigger/larger purpose, and how it is impacting the world. Organisations should make this easily accessible through their internal social media wall.
Internal Communication and Connect
This is powerful! The better internal communication and connect one can establish between employees, the better is the output that can be achieved and ensure one to thrive on 'speed of execution.' Social media can help provide foundation where any peer can put up a question, seek feedback, gather inputs from others on their initiative, and so much more.

By adding social media forums into one's internal communication strategy:

● Make updates more instant, interactive, and easy to follow

● Employees feel a 'part' of the organisation's community which improves the sense of connect and 'belonging'

One can consider the following social media options to achieve this objective:

● Create company blogs which are useful for tenured as well as new employees for education and awareness
● Invite employees to write on various work and culture related topics and post them
● Invest in creating a private Facebook page or a private Twitter account that is only accessible by employees
● Develop a 'social wall' to pool all the social media efforts under one consolidated page
● Have an internal collaborative network where all employees are asked for inputs on a product before it reaches the client. This way one can fix any issue before the actual customer uses the product. More importantly, one can kill working in silos and encourage team collaboration

By carrying out the above listed aspects, and by connecting employees to a purpose, one can build a work culture where progress on innovation, inspiration, and impact of quality, and ensure that the organisation truly flourishes.
Employer Branding and Talent Acquisition

To stay on top of the recruitment strategy, one must be active in the world of social media and carve out a unique employer branding persona.

The below statistics provide reason enough for HR to be motivated to do so with sharp focus.
● 75% of job seekers consider an employer's brand before even applying for a job
● 62% of potential employees scan social media platforms to assess the brand value of the employer
● 89% of recruiters utilise LinkedIn to recruit talent
● 70% professionals are open to new job opportunity, but operate as passive candidates and do not proactively look out as per LinkedIn
● Millennials, the largest workforce, spends an average 4 hours browsing the internet and another 3 hours social networking
● 94% of hiring managers use social media to find the best candidates

What must one do to power one's branding and recruitment via social media?

● Hashtag campaign on the social wall - run contests in addition to job posting to draw more accurate skill mapped candidates

● Post 2-minute video series of 'day in the life @work', awards and recognition, employees and client's testimonials, mini-documentaries to express your culture element on different social media platforms like 'Facebook Watch' as an example or turn to Instagram for visual brand story telling

● One can expand your Talent pool to 10x by just asking employees to share the company postings - use it!

● Have a section in the career page where prospective candidates can post questions and identified employees can answer them directly under 'hosting LIVE Q&A'

● Social media analytics platforms such as Hootsuite, Iconosquare, Snaplytics, Sprout Social can aggregate information and data across different sources/social media handles, analyse it, and present the relevant metrics for decision-making

● Everything and anything that is published must talk boldly about 'why you must work here?'
Repercussions and Challenges of social media for HR

As HR finds itself engulfed in the social media environment, it is highly critical to highlight the potential threats of social media. HR has the ownership to protect company data, social image, and brand influence. It is also critical that the HR fraternity is provided with training over the ways of managing social media PR.

The first step in this direction is to make the HR team familiar with all the social media tools. It is important that they have a Twitter account and understand the type of conversation that takes place. And if the HR is in itself unaware over the latest develop- ments in technology and social media, they would simply be unequipped to protect their organisation from its dangers:

● The need to be aware that tools like Dropbox can allow ex-employees to still have access to company's data

● Be mindful to keep distraction and impact on work quality to its lowest

● Unhappy employees will resort to Facebook, Twitter and Glassdoor to share their experiences making it difficult for HR as well as the organisation

● Peep into the personal lives of employees and be prejudicated over using information so gathered against the employees
● Compromise some of the company's network security features through hacking and data theft
● Social networks are believed to remove the line between home and work owing to the adverse effect on work-life balance
● Danger of employees being terminated from their job based on their use of social networks in form of remarks and comments
● Anxiety and FOMO - social media continues to become part of the fabric of modern life, it has the potential to mentally impact employees
Therefore, it is important to draw out the 'social media toolkit' or 'social media code of conduct' that clearly calls out the company's best practices as social media do's and don'ts for employees.
Touching on a few examples that can act as guidelines:
● Do understand your privacy settings and know what information is accessible to the public
● Be professional in your updates. Do not complain about your current organisation, boss, or senior colleagues
● Avoid participating in any controversial topics or debates without giving it a thought
● Do not have questionable pictures and posts on any social networking sites
● Do not tweet, blog, or post targeting any individual, community, worth ethics or defame culture
All successful social media campaigns are about listening, connecting, and engaging with internal and external customers. When used effectively, social media for HR is a game changer in more ways than one. It is important for HR to understand that it is not just about using social media tools alone, since the real power lies in converting these platforms as a catalyst to drive significant employee, customer and investors value - creating a great experience for all these stakeholders is where the magic of social media truly prevails!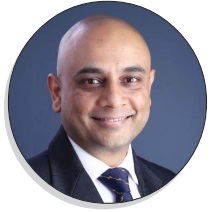 Kenneth W Wheeler is VP Human Resources (L&D), LogiNext. He comes with 16 plus years of rich learning experience spread across industries. Awarded as 101 Top HR Minds (India) 2019 and a certified NLP coach, Kenneth is a well- rounded expert in Envisioning, Strategizing and Leading a robust gamut of HR and L&D framework, contributing to both MNC (Wipro) and the Start-up ecosystem (Ola, LogiNext).