A People First Culture
An effective organisation is built around the concept of a culture that lays its foundation on a set of shared values that are implemented by strategy and bound by structure.
An effective organisation is built around the concept of a culture that lays its foundation on a set of shared values that are implemented by strategy and bound by structure. An organisation thrives only when it is built on a strong culture, aligning people and its policies.
HR plays an essential role in facilitating the building of a tight-knit structure based on its culture. The foundation for any role is based on Relationship management and business acumen.
It is the HR's role to provide an elevated experience so that the employees remain motivated and adapt seamlessly to what an organisation stands for - its values, ethos, principles, conduct, etc. These are intrinsic for any organisation and are built over time.
HR enables the process through hiring, inducting candidates into the system, a walkthrough orientation, training and performance management programmes. It creates a framework and strengthens an organisation's core values, ensuring its fruition through rewards and recognition, thereby inculcating those values.
Talent Acquisition is key
An organisation needs to streamline its process of talent acquisition while building Culture. This involves taking certain key factors into consideration while hiring a suitable candidate for an organisation - an ideal skillset, relevant knowledge base, and most importantly, the personality of the individual. It is imperative for the individual to fit into the organisation's culture and is further determined by mapping the values of an organisation with the competencies of the individual.
The hiring strategy at Embassy has a paramount weightage on culture. Candidate experience is given the same importance as customer experience. At Embassy, mid to senior level hires go through mandatory psychometric assessments to evaluate their cultural fitment. It has been made evident through these results that fitment has a direct impact on an individual's performance and attitude.
Talent Management for sustenance
HR practices and policies must not only inculcate existing practices in the market but also seek to preserve a unique culture which is essential while formulating comprehensive HR policies.
A key concern, however, faced by most organisations is maintaining transparency and fairness in their structural processes. It is important to invest in employees by spending time with individuals and teams, which eventually encourages an open-door policy throughout the organisation. A lateral structure helps employees to feel recognised, valued, open to give and receive feedback, enabling transparency and trust which is sacrosanct in human relationships.
If the values of an organisation remain transparent and fair, they will be imbibed and aligned into the talent management process. The talent management philosophy, thereby, can have goal setting, continuous feedback, and a final appraisal which should enable transparency.
At Embassy, we believe in an open-door policy throughout the organisation. The talent management process enables employees to constantly share feedback. We strongly encourage employees to voice their opinions on processes and policies enabling maximum efficiencies and a robust organisation.
Talent engagement and development
To create a holistic approach in learning and development, HR needs to help individuals to challenge themselves professionally, discover their talents, and enhance their career growth. It is important to empathetically support every employee's wellbeing and lead with a purpose. It is important that businesses rethink proactive ways to ensure business continuity with the focus primarily involving and building team cohesion and innovation.
At Embassy, we ensure that there is constant communication with individual teams at the group level, by connecting and highlighting individual efforts with all team members as regularly as possible.
Talent Retention
The support an organisation provides to its employees, at times, has a significant impact on the retention of talent. It includes the strategy an organisation has with its rewards and recognition, celebrations, and appreciation which needs to have an optimum balance. This can be achieved by way of collective effort, policies, relationship building, and strategic initiatives of the HR function.
We at Embassy have implemented several people initiatives to retain talent in an industry that has the highest attrition rates. Embassy is always a step forward in providing multiple recognition events, rewarding performance and loyalty, organising a carnival celebrating cohesiveness with families of employees, empowering employees for quick decisions, flexibility in working space etc. We have managed to secure over 30% of the leadership with women being in the forefront, besides bringing in professionalism, corporate governance, and well-established industry practices that makes us a pioneer and most-sought company to work for in this sector.
Inculcating a sense of belonging to the organisation is one of the key aspirations where employees must feel as a part of the organisation. We firmly believe that people are the greatest assets of a company and the success of the company is driven by the happiness index of its employees. The employees, therefore, take pride in the organisation, in sync with its culture, and feel connected to the Group's vision and mission thereby enabling the business to scale newer heights, with every passing year.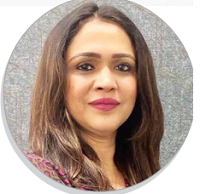 Maria Rajesh is CHRO, Embassy Group. She is an experienced leader in Human Resources with diverse experience in Real Estate, Information Technology, and allied services. She is a performance-driven Human Resources leader who has balanced organisations results without losing the human touch. Maria's relationship skills have enabled her to build her professional journey by enabling business verticals moving towards their vision.