Building A Talent Pipeline
The talent pipeline model renovates the outdated hiring process and makes it a holistic and wholesome experience for both the company and the candidates.
People are the currency of any organisation. They are vital to business growth and success But, many businesses have a responsive approach to hiring talent, and wait for an employee to quit before looking for a replacement. The absence of pre-emptive recruitment can compromise the current team and halt the company's growth. No matter the industry, it is crucial to have a talent pipeline framework in place to attract the right candidates, and thereby, enable business growth. Therefore, it is paramount to build and develop a talent pipeline.
Developing a fruitful candidate pipeline for serious roles is an awfully long process and can take years. A talent pipeline is a growing set of people that a business may want to employ in the future, either as alternatives for the existing critical positions or for newer roles that may open up in the future. Building a pipeline involves developing longterm relationships proactively with prospective candidates who align with the company's talent needs, both in the present and in the future. Companies need to shuffle their HR plan from a passive recruitment model to one where the next-gen talent is sought after.
Talent pipelining is proactive recruitment at its best. Building it will help organisations fill positions faster. An organisation can cherry-pick from an extremely qualified group of candidates who are already acquainted with the organisation. Every organisation, regardless of size or industry, stands to benefit from building a sustainable talent pipeline. In addition to better candidates, talent pipelining allows to diversify the talent pool, deliver bespoke candidate experiences, and improve the overall business brand.
1. Recruit as per the business strategy
To build an impressive talent pipeline framework, it is indispensable that HR teams understand the company's premeditated direction, both in terms of current needs and growth needs. Before creating a recruitment plan, it is important to recognise roles which are critical to reaching the business goals and gain visibility on any planned projects or future growth and expansion plans.
2. Discover the right talent
It is crucial to scour the right talent. Instead of the push strategy for recruitment by listing roles on job portals, one needs to attract the right people through a pull strategy by developing one's brand and carry the required appeal for the right job seeker. This reduces the time needed and actively spent by the team to find talent to fill the pipeline.
An organisation's talent pipeline should contain a mix of both internal and external candidates. Hence, it is vital to build a talent pool of internal candidates who can fit in any of the key roles or take on new roles on course with the growth of the company. For external candidates, it is important to have a consistent approach to identifying the right people to the talent pool – even if they are not actively searching for a new role.
3. Assessing the talent
The next step in the talent pipeline model is talent assessment. One needs to create criteria for assessment based on qualitative and quantitative needs like the skills and competencies of the candidates to succeed, future challenges, experiences to overcome these challenges and so on. It is advisable to work with the hiring committee and top executives to develop a list of criteria and refer back to this when assessing candidates.
E.g. The criteria for assessing talent for leadership positions would be managing the manager, employee satisfaction score, Client satisfaction score, performance ratings, business/ revenue growth or cost-saving or innovative approach saved/gain revenue etc.
4. Developing the talent
Building a talent pipeline is not just about finding the right candidates. It is also about the ongoing development to put them in the best position possible for success. An organisation can have multiple programmes, such as regional or global leadership development programmes, to help these candidates excel and also serves as a great marketing tool to attract future talent.
Initially, building a talent pipeline may appear to be too much of an effort, but it is a sensible investment for any company. It will definitely streamline the recruiting process by helping a business to hire more qualified, engaged, and happy candidates who will make a difference in the company.
All said, companies with an excellent talent pipeline will be able to draw the best and brightest to work for them. The talent pipeline model renovates the outdated hiring process and makes it a holistic and wholesome experience for both the company and the candidates.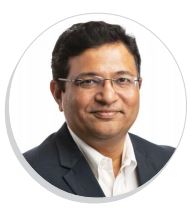 Amol Gupta is Chief Human Resources Officer, India & Philippines, FIS. With an overall experience of 23 years in Human Resource Management he has held different positions at Barclays Technology Center India, SunGard, Infosys BPO, Lupin Ltd. and a few others. Amol, an alumnus of UC Berkeley Extension, SIMS, Symbiosis Law College and Delhi University and has additional certifications like SPHR, HRMP and SHRM – SCP.