Standing The Test Of Adversity
Over the years, commitment to Diversity & Inclusion has increased across the globe, but the real test to the strength of these commitments is the ability to withstand this adversity.
In August 1619, around 20 African slaves de-boarded a ship in Point Comfort in Virginia. And by the 18th Century, 7 million slaves had been dragged out of their homes and were chained, forced to toil, incarcerated, and even raped. Africa was thus robbed of its most able men and women. The justification for such atrocities was the heinous racial discrimination. Public assertions about people of colour being naturally inferior and negative stereotyping led to several people consciously believing such baseless claims. The prejudices and biases continue even today, but are only subtler. We encounter, and at times, even endorse - consciously or unconsciously - stereotypes and prejudices against women, people with disabilities, and other minority groups.

In an economic downturn, these stereotypes and prejudices only enhance the discrimination against certain groups. The journal article, 'Race and recession: Effects of economic scarcity on racial discrimination' gives an insight into such a troubling trend.
Through a series of studies, researchers found that economic scarcity produced racial bias at the time of distribution of resources. Prejudiced people allocated fewer resources to black recipients in a recession-like scenario.
The COVID-19 pandemic is throwing extraordinary stress on economies and businesses across the world. As the future looks bleak, one can increasingly begin to contemplate the safety of his/ her own self/family, and people who are alike in terms of opinions, religion, class, gender, caste, etc. Such feelings will only enhance prejudices even further. The research report, 'Economic scarcity alters the perception of race' states that during an economic downturn, people become subconsciously more prejudiced. Such heightened feelings will impact judgements about people and groups. Due to this, employers may be tempted to use poor economic conditions as a reason to discriminate against minority groups while making layoff decisions. 'Recessionary discrimination' happened during the 2008 economic crisis, wherein women, people of colour, and those belonging to other minority groups were laidoff in large numbers. It also affected subsequent hiring practices for some time.
Today, we have a similar economic environment, and though subtle, prejudices and biases are still at play at workplaces. Decisions driven by biases today will undo the commitment and investments made in diversity & inclusion over the past few years. They will not merely undo the efforts, but also destroy the credibility of organisations both externally and internally, by bringing forth the question of truthfulness in every effort, investment, and D&I values that organisations vouched for all these years. Internally, it affects employee perceptions of their leaders, receptivity to new ideas and initiatives, and engagement levels. All of this will translate into lower customer satisfaction and a decrease in profits. According to a survey conducted by Tony Simons and Judi McLean Parks in 76 US and Canadian holiday inns, profits were substantially higher in such hotels where employers strongly believed that their managers walked the talk and demonstrated values they preached. Even a one-eighth point increase in a hotel's score over this aspect of managerial behaviour on a scale of five, translated into a $250,000 increase in profit per year.
Therefore, resorting to more evidence-based decision-making on the matters of diversity & inclusion will benefit the organisations. Some evidence we have come across suggests the following:
◆ Inclusion helps withstand economic downturn: A research conducted by Great Place to Work in 2000, companies with 1000 or more employees stated that when the S&P 500 experienced a 35.5% drop in stock performance from 2007 to 2009, inclusive companies saw a 14.4% gain. Inclusive companies are more likely to innovate, drive sentiments of fairness and integrity and up investor confidence.
◆ Diverse companies generate more revenue: A study by BCG in 1700 companies across 8 countries found that diversity has a more direct effect on the revenue. Companies with diverse management teams had 19% more revenue because of enhanced innovation.
◆ Inclusive leadership drives team performance: According to a research by Deloitte, behaviours of leaders that lead to an increase in individuals' feelings of inclusion have resulted in 17% increase in team performance, 20% increase in decision-making quality, and 20% increase in team collaboration.
Diversity & Inclusion has several benefits ranging from investor sentiments to employee morale. Over the years, commitment to Diversity & Inclusion has increased across the globe, but the real test to the strength of these commitments is the ability to withstand this adversity. Decisions based on biases might come at heavy costs to the investments done till date in D&I, credibility, risks of facing law-suits & settlements, and associated benefits of being inclusive. For achieving better outcomes for all, diversity & inclusion should stand this test of adversity.
References
https://www.history.com/topics/black-history/black-history-milestones
https://www.pnas.org/content/111/25/9079
https://news.cornell.edu/stories/2017/10/discrimination-more-likely-whenresources-are-scarce
https://hbr.org/2002/09/the-high-cost-of-lost-trust
https://www.bcg.com/en-us/publications/2018/how-diverse-leadership-teams-boostinnovation.aspx
https://www2.deloitte.com/content/dam/insights/us/articles/4209_Diversity-andinclusion-revolution/DI_Diversity-and-inclusion-revolution.pdf
https://www.hrdive.com/news/diverse-inclusive-companies-have-an-advantageduring-recessions-study-fin/569691/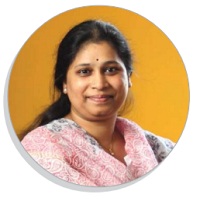 Kalyani Rao is the Head-HR at Dr. Reddy's Foundation, a leading notforprofit organisation. She is a HR leader with more than 15 years of experience leading several functions like strategy, change management, policy design, talent acquisition, performance management, organisational development and compliance reporting. Abhishek Reddy M is a Young India Fellow from Ashoka University and is currently working as an Assistant Manager-Communications at Dr. Reddy's Foundation. He is skilled at writing, screen-writing, presentation and design.