Talent Branding: A Holistic View
Historically, organisations have made use of various channels to create employer branding and position themselves as an employer of choice. With the onset of social media, the channels of communication have undergone a change.
Historically, organisations have made use of various channels to create employer branding and position themselves as an employer of choice. With the onset of social media, the channels of communication have undergone a change. However, the approach has remained the same i.e. to speak about the quality of work that happens within the organisation or the growth opportunities or about work life integration, or, in most cases, a combination of all of the above. It is therefore natural that terms such as employer branding, talent branding, and employee value proposition have begun to find a recurring occurrence in the organisational parlance.
So how are they different? The table below offers some indications on the differences between employer branding and talent branding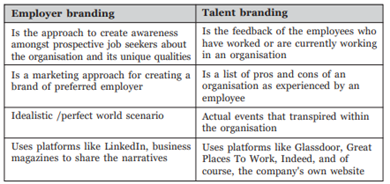 Employer Branding: Its unique strengths and offerings. It is an outreach programme primarily to create an exclusive brand for talent attraction. Two of the most utilised platforms are LinkedIn and the Careers section of the organisation's website.
Talent branding: It is more social, and is an employee driven feedback about how it is to actually work in an organisation. This is referred to by prospective employees to enable them during their decision making process of choosing to work with an organisation. Some of the most common platforms are Glassdoor, Indeed, Great Places to work etc.
While the purpose of the two approaches are different, both tend to meet at the intersection of talent attraction strategy. This implies that an organisation cannot have a great employer branding strategy alone, and should pay attention to the feedback being generated on talent branding platforms. Some futuristic organisations have started to look into the feedback that is shared on these platforms as their insights on areas of development.
The common ground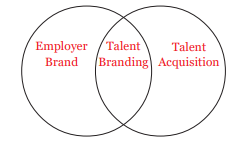 The Venn diagram highlights the common ground between employer branding and talent branding, and also how both of them contribute to the talent attraction strategy. It may be argued that most organisations run a pulse/employee engagement survey to seek feedback from employees on various aspects of the organisation. However, the surveys are often restricted to specific areas around organisation strategy, ease of working, quality of work etc. and does not necessarily get into the details of each experience area. Also, in some cases, there is an underlying caution that is demonstrated by the employees, though the surveys tend to be anonymous. In the case of talent branding portals, the identity is completely anonymous, and it becomes extremely difficult to identify from the vast talent pool of the organisation. Therefore, the feedback is more specific and realistic on several occasions.
Basis the underlying principles of each of these approaches, here are the 4 tips to ace talent branding for the organisation
A) Role of a talent brand manager: In order to create a compelling employer brand, it is absolutely essential to have the position of a talent brand manager. He/she would be looking at different talent branding platforms, read the feedback, comments, and discussions. This forms the basis for all development strategies for increasing the employer brand. In simple terms, this means that the talent brand manager looks at the top topics that people are talking about- what they did not like about or would like to see more of about the organisation. The employer branding strategy then incorporates those insights and works to improve those experiences.
B) Building a talent branding section on the company's website: This is a useful approach in the talent branding strategy. In fact, it also welds well with the employer branding strategy. A lot of progressive thinking organisations have started incorporating a talent branding section within the company's website, and are connecting it to their employer brand. The approach here is to share direct feedback about what an employee feels, and their experiences with the organisation on a day to day basis. So, instead of the organisation highlighting some of the top attractions like quality of work, great working environment etc. they let their employees share their experiences on their website and also on other social platforms.
C) Seeking constant feedback: Staying tuned in to employee feedback is critical for positive talent branding. A communication mechanism needs to be built to share the updates and progress on the feedback shared by the employees on different talent branding platforms. Talent brand managers play a significant role in sharing the top topics of feedback to the leaders of the organisation, and also create an ongoing communication around the work that is being done to improve the employee experience.
D) Leadership sponsor: Any employer branding initiative will find it difficult to retain sustainability if there is no leadership sponsor to promote the brand. The strategy needs to be sustainable and should cut across different media, keeping its target audience in mind. Leaders not only have the responsibility of communicating the value proposition to external stakeholders like customers and potential employees, but also to the internal stakeholders viz. the employees as well. Any work done to improve the value proposition needs to be well articulated to ensure people in the organisation become aware of it and volunteer to provide feedback about it.
With the mismatch in the demand and supply of talent acquisition getting increasingly skewed, organisations need to have a clearly articulated employer brand proposition which has its unique positioning – something that should also focus on not just the employee experience, but also have a clearly defined purpose which transcends the commercial purpose. A value proposition that connects to a purpose which appeals and resonates with the audience shall automatically garner greater positive talent branding from those who experience the organisation.
Pinakesh Mukherjee is a seasoned HR professional with over 14 years of experience in domains including talent acquisition, performance management, recognition, M&A and learning. He has worked with multiple sectors in organisations such as ABN AMRO Bank, RBS, HT Media digital business, Vodafone Shared Services etc. Pinakesh holds a PGDBM from XLRI Jamshedpur and a bachelor's degree in Marine Science.