Critical Talent Management Trends in the VUCA World
Challenges of VUCA management are not likely to go away even in the farthest foreseeable future. The mandate is clear: "Shape up or ship out".
The corporate world is almost a new-look place today. It is new terrain for managers too, who need to become comfortable behaving in different ways as situations change rapidly and demonstrate singularly unique skills than before. The workplace also does not feel the same anymore. Till now—one had only heard of disruption coming in a big way— and suddenly, everyone is swamped by it. 'Agile' is, therefore, the new way of life, disruption—the new normal, and VUCA—the new reality.
One does ponder as to what has changed so dramatically to usher in these fundamentally different trends at the workplace. VUCA began to appear a business reality as far back as the start of the previous decade. Explained simply as an environment laced with high degrees of volatility, uncertainty, complexity, and ambiguity, VUCA had started impacting work and the workplace in unprecedented ways. The only thing that was not so clear then was whether VUCA was going to prove to be a temporary passing phenomenon or whether it was here to stay.
That has changed today. VUCA has proven that it is here to stay. In the process, it has left both the workplace (protocols, processes, behaviours) and workforce (leaders, managers, employees, and above all, HR) wanting in their response. HR professionals, especially, never prepared themselves for this new reality. Their age-old conceptual prowess, the superior intellectual inputs, the dependence on tried and tested models and hypothesis, and the ability to tweak the old and fit into the new had served them well for many years, but not anymore. The VUCA impact was all-comprehensive, unprecedented, and of a scale that did not leave much untouched. It called for new approaches, new ways of work, and even newer ways of handling relationships in the workplace. And this was all new to HR.
What has changed so dramatically for corporate and especially for HR? What are the new talent management prerogatives that seem to be here to stay?

The play between people and technology
The larger play between people and technology is leading to an entirely new set of competencies and skills required at the workplace. Moreover, the wants the modern workforce would be very different in terms of where, how (and how not) to work. They would even dictate terms of work in certain cases. Additionally, it would be the responsibility of HR to ensure that employee-centricity continues to fuel employee experience with better solutions.
The vanishing boundaries
The new workplace would be mostly without borders. Physical boundaries would cease to play any role in defining the work norms. It would be the intellectual boundaries of the human mind that would prevail and command importance over all others. Moreover, the elusive 'Unicorns' found in the start-up world would further push the envelope in defining the milestones of success, which probably would be very different from the ways success is measured today. It is, therefore, an imperative that HR scales up its offerings in terms of progressions and overall succession for the new-age employees.
The employee sensitivities
This would be a very different ball game altogether, as is already being experienced in many quarters today. There's a paradigm shift in people demographics that requires dealing with generational nuances, responding to multiple segments of the workforce, and handling them adequately through varied solutions. VUCA has affected this space more comprehensively than ever before. The volatilities at the job space and the uncertainties surrounding the same have resulted in employee fallouts, at a scale hitherto unseen and experienced.
Psychological isolation at the workplace is a reality today more than anything else, with employee establishing more relationships at the workplace with his/her smartphone, tab, and laptop, thereby blunting the natural affinities for human relationships. It is imperative for HR to put in place active programs towards regular upkeep of mental health of its employees, so as to counter any behavioural aberrations frequently observed nowadays. Coupled with the same are the almost addictive needs of 'fast rise', 'quick gains', and 'being a brand in oneself' (a social media fallout). It's not an easy task from any angle for HR to handle.
A Culture like never before
It is one where 'agile' has replaced 'retention', and 'disruption' is fast replacing 'performance'. Where lie the answers to such eventualities? College interns have started determining early on in life the kind of environment they want to choose to work in. School children are participating in mock corporate workshops to determine the skills they need to imbibe for success ahead. In this whole spiral, chronology is being made to stand on its head.
Challenges with re-skilling
But can re-skilling be made to follow the same sequence above? Are our institutions, policies, etc. equipped to implement the same? Can the curriculum be changed to accommodate the new-age VUCA skill demands? Are HR departments and thought leaders in a position to spell out alternatives? Is there adequate time? There are plenty of questions, but few answers as of now. Going by what I observe around me within the fraternity, the answers that are there in the air seem more "gut and instinct" than "tried and tested".
Organisations have to change
Finally, it is the organisation that has to adapt to the new language of business and the new laws of the workplace. Until it does so, conflicts inherent in the environment for all reasons enumerated above will affect productivity, growth, and success in fundamental ways.
Age-old structures, traditional work ethics, archaic workplace norms, and, ultimately, dated thinking—especially on the part of CEOs and their HR brethren— would spell suboptimal progression for companies.
The conditions of VUCA will have to be met, and nurtured or tamed, where required.
There lie testing times ahead for the corporate world, and no less for the HR fraternity. The boundaries will need to be stretched, hypothesis re-positioned, and bottlenecks removed. The times are both exciting and challenging, which will further go on to define the rules for tomorrow. That's where the true mettle of leadership, whether of HR or in general, will need to be tested. Challenges of VUCA management are not likely to go away even in the farthest foreseeable future. The mandate is clear: "Shape up or ship out". The most prudent and right steps taken today will certainly go a long way in defining the core for tomorrow's journey.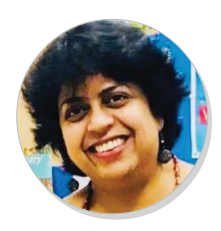 Debjani Roy is an industry stalwart and domain expert in the field of Human Resource with over 25 years' of hard-core functional experience across companies such as Bharti, HCL, Bentley Systems, Kuoni, and SRL Diagnostics (Fortis Group). She has an established reputation of being one of the most progressive HR business leaders, having provided transformative people leadership across industries. Currently, besides being the Chief HR Advisor to Mind Your Fleet (a software start-up), Debjani is a visiting professor to a number of reputed B-Schools. Debjani is also a sought-after speaker, an author, an education-activist, as well as coach and mentor to a large number of students in the current academic space.