When Bhelpuri Speaks
Modern communication has to go beyond the standard Cs and include a D—for disruption. For anything to register in mind and make an impact, it has to be different from routine and disturb the status quo.

During a recent visit to a seaside city, I preferred to indulge in a stroll along the beach during late evening. Gradually picking up every step, I was moving with a cautious romance and enjoying the feel of sand granules, occasional movement of few organisms, intermittent stepping on sea-shells, the splashes of water, and the tides of my thoughts. The hustle and bustle at the place ensured that there was adequate worldly noise around me. It was a pleasant challenge to pass amidst the din of reality and also, listen to oneself. It always is!

As I was bathing in my ideas and transcending to a different world, a sound caught my attention, "Aapka dhyaan kidhar hai, Ramlal bhelpuri waala idhar hai! (Where are you looking? Ramlal, famous for serving an Indian savoury snack, is here!)" It was a small seaside vendor who was inviting customers with this call. I was tempted to move towards him, and I succumbed to the temptation. After all, in this era of information overload, where human attention span has reduced to about eight seconds, he had succeeded in catching the dhyaan (attention) of my ears and eyes.

I made a place for myself in the crowd around him and asked a cobuyer why that particular vendor was so popular while there were several hawkers around selling the same stuff? He said that it was not the taste but his unique way of talking that attracted customers. I watched for a while and observed that he was addressing each customer differently—topi waaley babu, laal dress waali madam, daarhi waaley saab, saari waali begam, and a few more in vernacular!
As a keen observer waiting for my turn, I found that each conversation was different. He was striking such a chord that customers were moving ahead with something extra besides carrying a plate of bhelpuri—a smile on their face! There was not even a single customer who went annoyed at his unique and distinct way of addressing. The words of the cobuyer echoed in my mind. People were enjoying the experience even though the taste of the food was not extraordinary. Amazing! I was excited for my turn to arrive.
The bhelpuri vendor was winning a tough battle solely through his conversations, without harping on the product. The management lessons of 5Cs and 7Cs of communication surfaced in my mind. I had been thinking about this earlier, but this experience made me conclude that modern communication has to go beyond the standard Cs and include a D—for disruption.
Last year, Forbes Communication Council mentioned seven communication trends worth knowing about. The report has highlighted a key transition —
The erstwhile way of communicating through a celebrity spokesperson is gradually transforming towards a model of communication through storytelling. Yet another changing aspect of human communication is the emphasis on localisation.

A reflection around self would make one realise that 80% of one's daily routine is a repetition. For this vendor, it was almost 100%. However, he was carving short stories and trying to make them as localised as possible. He was, in fact, generating what I call "Energy Moments"— moments that can create magic and enthuse the human spirit. Upon leaving his place, people were walking away with a fond memory and a smile—perhaps, the most difficult story to craft! He was, however, doing that easily with his words. We sometimes fail to do that even with our actions! It was a feat worth emulating for all those who remain immersed in their regular jargons and protocols and find discomfort in defying the laid down regimen of communication. He was indeed brave—a spokesperson, a storyteller, and a disruptor.

I continued to watch the vendor with admiration and amazement. Aah! It was my turn. I moved on with awe. He addressed me as "pardesi babu (outsider gentleman)". I was a bit surprised and asked him how he had identified me as an outsider? He told me that he read this from the inquisitiveness on my face. Before I could react, he cheerfully handed me a plate of bhelpuri, garnished it with special spice and said, "Ek baar aayogey, hamesha yaad farmaogey! (If you visit once, you'll keep returning!)" He was perhaps true. I had found an enlightening lesson at the cusp of a new year—a well-timed 'Energy Moment' that got etched in the memory for eternity!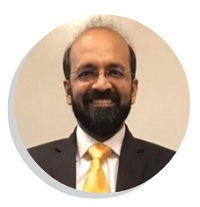 Amit Gupta is a senior HR Executive with Indian Oil Corporation Limited and has vast experience in Sales and Human Resource Development. He is a passionate writer, storyteller, and public speaker. He pens real-life stories regularly under the title Myriad Musings for The Times of India—https:// timesofindia.indiatimes.com/blogs/ myriad-musings . He also contributes to leading HR magazines. Amit can be contacted on
[email protected]