The Need to 'Reinvent' and Not Just 'Remix'
In October this year, a much-anticipated movie called War, starring Bollywood stars Hrithik Roshan and Tiger Shroff, was released. While the movie itself garnered mixed reviews, the public was supremely enthralled by one of the songs from the movie. The song titled 'Ghungroo'*, sung by Arijit Singh and Shilpa Rao, became a hot favourite in clubs and amongst the younger crowd, specifically the millennials.
The song was fresh and had a nice beat that was very contemporary. The ones swaying their hips and waving their arms in gusto were oblivious to the fact that the main hook of this song—a line which goes—'Ghungroo Toot Gaye'**—was taken from a song released at a time when in all probability, they had just been born. The original song also called, 'Ghungroo', was released by Pankaj Udhas, the legendary Ghazal singer in 2001. It would have taken a genius to reinvent the Ghazal into a modern, foot-tapping number, and make it relevant for our times and our new audience. There was a clear departure from the 'Remixes' that have dotted Bollywood soundtracks in recent years. Remixes are essentially the same songs burnished with some added beats and shrieks.
So, clearly, the world of art has realised the need to 'reinvent'. If you scan the world of HR practices, there is disruption and reinvention required across many dimensions. But has the world of HR taken cognizance of the same? Has HR really understood that providing bean bags in the workplace is not what signifies a contemporary workplace? Or that 'Fun Fridays' is a relic of the past?
I am sharing below some of the areas in HR that need urgent reinvention, as a starting point.
Job Descriptions
As the workplace moves from being a job-based to a talent-based environment and we see large-scale integration of the 'gig workers', it is imperative to move away from the dated Job Descriptions (or JDs) of the past. Apart from clearly defined roles, millennial workers need visibility of their placement in the organisational framework reaffirmation of the value that they bring to the organisation's success, and a clear line of sight of their probable future roadmap. For instance, under the guidance of their CHRO, Yuvaraj Srivastava, MakeMyTrip's HR team has completely rehauled the way their JDs (and thereby their talent sourcing) are represented on the careers page of their website.
The Recruitment Process
At a time when an entire season of a web series is consumed in less than 10-12 hrs, undergoing a recruitment process that stretches for weeks, if not months, is criminal. For the generation that literally grew up on 30-minute pizza deliveries, this is unacceptable. Organisations need to leverage automated, algorithm-based tests, and video interviews to shrink recruitment timelines and make the entire candidate experience more pleasant for candidates. Transitioning from campus to corporate or from one corporate to another is a period of anxiety for most candidates, and an efficient and smooth recruitment process goes a long way in reducing this anxiety.
Leave Policies
This is probably the most contentious in this list of areas requiring reinvention. Leave guidelines are dear not only to the employees to whom they apply but probably more so to the leadership (mostly to the Operations and Finance folks)! A standard leave policy with category-wise leave ceilings ensures that the majority end up stressing over leave balance during the year, not utilising their quota, and carrying them forward (again, limited by a ceiling). If you, as does Yuvaraj Srivastava (CHRO, MakeMyTrip), firmly believe that people take up jobs so that they can actually work, you would remove an upward cap on leaves, as he has successfully done at his organisation (for some specific roles).
Work from Home Guidelines
In my experience, even the most evolved organisations have tended to view Work from Home (or WFH) through a lens of suspicion. It seems as if the same has been implemented in pockets under socalled peer pressure, but sub-clauses in the WFH policy or software applications on the employees' computers aim at keeping an eye on the beneficiary and tracking time on the system. When rolling out a WFH program, organisations need to deploy a robust productivity measurement framework in tandem. Only in this manner, will WFH be appreciated and result in positive candidate feedback, else it will remain an item to be grumbled over beside the office coffee machine.
Compensation
A classic, 'one-size-fits-all' approach wherein there is a standard compensation structure with a 'flexible benefits package' built-in, is a best-case scenario. In a world where one can walk into a store and customise a T-shirt, or plan a unique travel vacation in Eastern Europe, having no choice with the manner in which one's compensation is paid seems almost straight-jacketing. Organisations of the future that are keen to attract the best talent will need to implement flexible compensation structures where one can actually 'design' their desired compensation structure, to meet their own spending, saving, and investment needs.
Appraisals
Traditional annual appraisal cycles have already been identified as one of those HR practices that have failed for being too costly, too cumbersome, and not delivering the desired results. Forward-thinking companies like Accenture have moved on to a more continuous performance monitoring system where employees receive feedback more regularly from their managers, immediately post assignments, and whereby employees are evaluated for their own performance and are not compared with others across
roles or locations, just to form a bell curve.
There are some green shoots, and progressive organisations such as the ones I've named above have initiated steps to address the needs of the new 'connected' generation. However, a lot of ground still needs to be covered.
* a musical anklet tied to the feet of classical Indian dancers
** a musical anklet has broken
It would be great to know if you've managed to do a 'Ghungroo Toot Gaye' in your organisation and what other HR practices need to be reinvented for a more employeecentric and future-ready organisation. Do write to me at vykas.dua@gmail.com or tweet @vykasdua.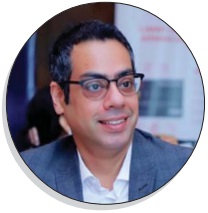 Vikas Dua is an accomplished HR and recruitment professional with over 15 years of experience in the field, having worked with both start-ups and with established, large corporations like Wipro and Concentrix. In his most recent role as Vice President - HR at Startek Aegis, he has led pan-India recruitment of 20,000+ resources across 23 centres in India. Vikas has been recognised on the Top Social Influencer list at Wipro in 2016. He is also an avid blogger, an accomplished speaker, and poet on HR practices!