Influencing A Start-up Ecosystem
"Having influence is not about elevating self, but about lifting others" - Sheri Dew
Influence is perhaps the pinnacle among all human skills. By virtue of influence, men pledge to surrender everything for a cause that might not even be their own. Influence drives us to achieve feats far greater than ourselves. Influence and the ability to lift others is what makes HR a vital component for the success of any start‑up journey. The HR magic of Influence in a start-up ecosystem is accounted by the following measures.
A trusted advisory to the Founders
HR, with its realistic and neutral approach, is that trusted advisor every founder must care to boast about. HR is that component which can flag an alert when they notice any pattern that has hitherto been missed out in the system by the other stakeholders and the founders. If the hiring pattern is considering people from a similar background, HR can step in and fuel diversity.
If the pattern to work within the team and department becomes the norm, HR can promote events that are cross-functional and support team collaboration. When in the fast-paced environment, focus remains zeroed on aggressive productivity, HR can burst open recognition and engagement activities to ensure that a 'sense of achievement' and 'fun' remains as an integral part of the company's success journey.
An Employee Advocate & Counsellor
HR sees pride in catering to the others' needs. In an environment where employees' professional and personal lives are intertwined due to the impact of social media, HR serves the purpose of understanding the need to be observant to learn about an individual's world as it exists on the outside (home/personal space) to balance things that are on the inside (work/professional space). For instance, when
• An employee wants to register for a learning course: HR must advocate support to bring about flexibility in workhour shifts

• Women employees are coming back from maternity break: The manner in which HR facilitates her return and welcomes her makes a significant impact on their success

• When employees need financial support: Loans from the company offered in easy return installments at zero interest rate fosters an emotional bond with the employer
A Custodian of Culture
Culture is defined by the people, and HR stands the best chance to be a rich source of influence in ensuring that people choose the right culture, which compliments the company's vision and mission statement. HR works as a catalyst between the employer and the employee, and successfully maintains a balance to keep intact the right values and work ethics. HR can quickly identify elements of any nature that could be contrary to a company's principle, and act in a timely manner to deal with them efficiently. HR can measure employee pulse by way of Employer Net Promoter Score (eNPS), and thus, be the true custodian of maintaining, nurturing, and flourishing the culture that best represents its people, business, and customer interests.
Creator of psychological safety
HR has a huge bearing in creating psychological safety, where employees do not feel restricted in any way to bring their best version to work every day. This gains importance right from the on-boarding journey of an employee. How HR sets up the process and framework will decide how safe a new employee feels in an environment which is different and uncertain at the beginning. A constant endeavour to remove any risk and fear for taking initiatives, presenting new ideas, opposing the status quo becomes critical for thoughts to flourish without worrying about negative consequence management. This increases innovation and creativity to produce the best ideas and results for both employee and organisational growth.
A Torch Bearer of Change
Change management is the most common and frequent event in a start-up. With the endeavour to keep experimenting with processes till we strike gold, the changes are simply too fast, and it becomes overwhelming at times, and employees can be easily lost both in terms of their own work expectations as well as their overall connect with the organisation. By the impact of constant re-iteration and apt communication, HR keeps the spotlight fixed firmly at the larger vision, and makes employees stay in the right path of purpose to transition any change as successful.
A Balance Keeper with Empathy
HR and its ability to emphasise is unmatched and far superior to any other stakeholder in the firm. Using their 'human' perspective, HR manages a 360-degree evaluation of any situation, and particularly so under tough circumstances. It is empathy that coverts the mindset of HR professionals to look at any situation as an opportunity that others view as a challenge or worse a burden. It is empathy that drives HR to deal with any difficult situation in a manner that ensures irrespective of the task at hand, it is dealt with keeping an empathetic attitude which brings out the best even in a closed situation.
Promoter of Growth Mindset & Agile Learning
Talent retention in a start-up ecosystem is one of the most prized momentum that can either build a robust foundation of any company's success, and unfortunately, can be the single reason for slow growth or complete demise too. What stands out in a start‑up environment to be the most compelling retention purpose is a platform that provides an on-going endeavour to learn and grow. HR fulfils this role with great success and builds a robust learning and growth architecture by means of establishing agile learning interventions where employees see themselves growing in experience, knowledge and attitude. And this glues them to continue their partnership with the organisation on a positive footing as HR provides an answer to the all-important employees' question, 'what's in it for me?'
To bring it all together
"Your influence on others is your net worth, treat it as such" - Peprah Boasiako
HR with its progressive and balanced mindset is certainly the secret weapon of every start-up that thrives as they achieve their business, client, and investors milestones. It is little wonder then as to why the role of HR has transitioned to that of a business driver and rightfully so. In fact, the role of the CHRO is now considered as a pre‑requisite to becoming a CEO. To ignore HR influence or restrict it to limited contribution would be a folly one must not risk!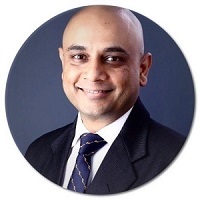 Kenneth W Wheeler is VP Human Resources (L&D), LogiNext. He comes with 16 plus years of rich learning experience spread across industries. Awarded as 101 Top HR Minds (India) 2019 and a certified NLP coach, Kenneth is a well-rounded expert in Envisioning, Strategizing and Leading a robust gamut of HR and L&D framework, contributing to both MNC (Wipro) and the Start-up ecosystem (Ola, LogiNext).