To The Jobs Of The Future
---
M&A HR specialists will be expected to extend their knowledge and capabilities across multiple HR, Finance and Legal domains, as well as to acquire skills relating to emerging technologies and platforms.
---
Global Merger & Acquisition (M&A) deals totalled ~$3 trillion in 2020 despite the pandemic, as the market recovered strongly toward the end of the year. M&A activity rose sharply by over 40% with deals valued close to $1 trillion in Q1 2021 alone. Inorganic business growth via M&A activity is a key driver of global economic renewal. Based on past experience, M&A activity tends to grow in the years following a major slowdown – this trend is evident as organisations target opportunities in the midst of the COVID-19 crisis, to strengthen capabilities via acquisitions.
The Role of HR
People and talent are at the heart of organisational mergers. The primary determinants for the success or failure of deals are consistently people-related – the foremost being Cultural integration, Regulatory & Policy alignment and Governance. HR's role is key to enabling a seamless employee experience across the M&A lifecycle, covering:
1. HR Due Diligence, Audit and Valuation
2. Organisation Design alignment - structure, roles, total rewards and policies
3. Employee Engagement and Change management
HR teams supporting M&A are faced with dynamically changing requirements that are critical to successful inorganic growth. Deals over the last few years have been defined by:
• Technology capability levels and workforce skill-relevance, becoming key to valuation
• Complexity and inter-dependency of roles and functions, needing cross-functional understanding
• Shorter deal cycles, and "agile' approaches to prioritising and responding to opportunities
• Remote validation and virtual audit of key financial, employee and facility-related information
• Compressed change management and virtual communication activity
This has direct implications on the nature of HR and support function capabilities needed to undertake complex, multi-geography deals.
HR M&A Jobs Of The Future
A 2020 Harvard Business Review article from the 'Center for the Future of Work and Future Workplace', outlined '21 HR Jobs of the Future'. These jobs require a combination of 'digital' and 'human' skills that HR professionals will need to manage workplaces of the future. The research maps emerging and future HR roles on two dimensions – 'likely time to materialise', and 'extent of technology leverage required', to describe emergent 'hybrid' HR roles. Extending this framework to the M&A context, here are eight emerging 'HR M&A Jobs of the Future'.
1. Organisation Culture Assessor
The ability to undertake cultural assessment for target acquisition, identify potential concerns around organisation alignment, and predict the likelihood of success, is crucial to an effective acquisition strategy. The Organisation Culture Assessor will help conduct an audit as part of deal due diligence, to determine the degree of 'culture fit', and provide an alignment score on key parameters. The Culture Assessor will analyse data and build predictive models indicating likelihood of deal success. S/he will pinpoint areas where early course correction is needed, to increase the likelihood of successful integration.
What's changing? Combines organisational behaviour and culture expertise, with ability to measure and predict success factors related to cultural dimensions. Will rely strongly on modelling and predictive analytics technology & tools.
2. Data Credential Custodian
The increasing complexity of data privacy laws including GDPR, require the adoption of global standards, to access and share employee-related data across stakeholders – employees, educational institutions, employers, investigative and credentialing agencies. During a merger, the Data Credential Custodian will play a key role in ensuring seamless sharing and validation of critical employee credentials to meet compliance and regulatory standards. Future deals will require digital, secure and globally certified data, as a 'unified virtual identity' for each employee. Data Credential Custodians will be the guardians of employees' Digital Avatars, held by national clearing houses, and will seamlessly access, navigate and securely verify and share data.
What's changing? Cross-functional skills across data security, privacy & audit processes, enabled by emerging data security & forensic protocols and technologies including Crypto and Blockchain.
3. Employment Harmoniser
Globally, there is a trend toward simplification, rationalisation and consolidation of labour and employment laws across countries. These changes are intended both to provide fundamental protection to employees, while ensuring future flexibility for organisations in terms of temporary and permanent workforce obligations. The Employment Harmoniser will play a key role in keeping abreast of the most current employment regulations across regions, to ensure compliance, as well as to ensure adoption of market benchmarks and best practices. S/he will enable merged organisations to stay abreast of the digitisation and unification of employment laws, and compare and standardise employment terms.
What's changing? Expertise across total rewards, organisation design employment regulation and tax law. Ability to navigate, access and synthesise knowledge and best practices across international digital databases, including labour and tax legislation.
4. Employee Experience Curator
Employee-centric organisational design is already a crucial differentiator for the world's leading employers. Managing employee experience is key to successful mergers in today's hybrid/virtual workplace. The Employee Experience Curator will need to extend employee focus beyond single-organisation boundaries, to include employees being onboarded via acquisitions, so as to design and implement the best possible integration experience for them. S/he will harness design thinking and new technologies to deliver best-inclass employee communication and engagement programmes.
What's changing? Integrated communications, facilitation and event management capabilities, design thinking approaches and digital technologies including communication and collaboration platforms, AI and AR/ VR enabled self-service and advisory applications.
5. Talent Supply Sherpa
Two tangible impacts of the ongoing pandemic have been changes to global immigration processes and laws, and the ubiquity of 'work-from-anywhere'. Employers will require real-time visibility of work authorisations, to enable just-in-time fulfilment of global talent requirements. The remote work wave has necessitated changes to cumbersome immigration procedures, to meet rapidly shifting workforce categories and demographics. The Talent Supply Sherpa will play a major role in ensuring the right talent for the right role globally, and providing business continuity post-merger, based on workforce mix. S/he will need to be fully conversant with dynamically changing international regulations, increasingly virtual work-validation and application processes, linked to electronic databases across countries.
What's changing? Blends broad expertise in global immigration policy and processes, as well as integrated talent supply chain management. Works with state-ofthe-art talent supply chain platforms, leveraging AI/ML based algorithms for optimal skill search and match, and fulfilment and deployment of talent across internal and external sources.
6. Predictive Performance Analyst
Acquisition of niche skills and critical talent is the primary reason for M&A deals. Rapid and smooth integration of acquired talent will require a forward-looking view of talent-related capability and performance challenges. The Predictive Performance Analyst will identify key resources and model future performance to ensure retention and engagement of critical employees during the transition and beyond. Organisations that forecast and address potential skill constraints and development requirements will have an edge in terms of talent integration and productivity.
What's changing? Expertise in performance management, organisation development and behavioural psychology. Requires ability to mine large amounts of past employee data, to create predictive statistical models and algorithms using cutting-edge statistical and analytical tools.
7. People Systems Integrator
With increasingly complex, cross-border M&A deals, unification of HR systems of record and engagement becomes critical. Systems integration approaches are also evolving rapidly, redefining the way organisations merge various HR functional capabilities, choosing the best of merging entities' capabilities. The People Systems Integrator will enable expedited integration and deduplication of enterprise HR systems and applications, to provide a seamless, unified best-in-class company experience for acquired employees.
What's changing? 'Full-stack' HR functional knowledge, across the employee lifecycle, combined with familiarity and expertise with emerging HR/ HCM platforms, built with latest technology advances including AI/ ML, Robotic Process Automation, Predictive Analytics, IoT, Social Network Analysis and AR/VR.
8. Change Management Maven
The COVID-19 pandemic has added an additional complexity to the most challenging aspect of M&A deals – change management. This has already necessitated major shifts in employee communication technologies; 'Remotopia' and virtual workplaces will further accelerate adoption of sophisticated platforms for training and work-sharing. The Change Management Maven will define and lead initiatives across merging entities, taking point on planning and orchestrating enterprise transformation. S/ he will design and implement alternatives to traditional employee and stakeholder communication and change management approaches, adopting technology and behavioural science-backed methodologies for change planning, execution and governance.
What's changing? Combines organisational design, behavioural psychology and change management abilities, harnessing tools & platforms based on gamification, network & sentiment analysis and nudge technologies to implement change programmes.
Preparing for the Next Horizon
The recent World Economic Forum (WEF) Skills of Tomorrow report predicts that 50% of employees globally will require reskilling by 2025 to stay relevant and employable. The top skills needed in addition to specific functional and technological capabilities include critical thinking and problemsolving, as well as self-management skills such as active learning, resilience, stress tolerance and flexibility.
The emergence of hybrid, technology-leveraged M&A roles, presents a window of opportunity to accelerate career development. M&A HR specialists will be expected to extend their knowledge and capabilities across multiple HR, Finance and Legal domains, as well as to acquire skills relating to emerging technologies and platforms. Tomorrow's M&A HR jobs belong to those willing to invest in acquiring and strengthening both 'hard' functional and technology capabilities as well as 'soft' behavioural skills of the future.
---
References:
1. 'Global M&A deals in Q1 2021' – GlobalData.com 27th May 2021 https://www.globaldata.com/global-maactivity-increased-48-q1-2021-deal-valuecompared-q1-2020-says-globaldata/
2. '21 HR Jobs of the Future' – Harvard Business Review 12th August 2020 – by Jeanne C. Meister and Robert H. Brown https://hbr.org/2020/08/21-hr-jobs-ofthe-future
3. World Economic Forum - Top 10 job skills of tomorrow - Jobs Reset Summit 2020 https://www.weforum.org/ agenda/2020/10/top-10-work-skills-oftomorrow-how-long-it-takes-to-learnthem/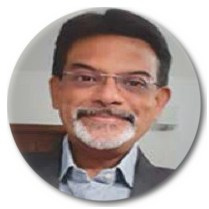 Raj Dharmaraj has three decades of experience in the IT industry, spanning multiple roles in consulting, business development, enterprise transformation and HR. He currently leads the regional HR Strategic Deals team for a Fortune 200 IT solutions provider. He can be reached at
[email protected]
or https:// www.linkedin.com/in/rdharmaraj.