Through the Lenses of Science & Art
---
Instead of looking at the current systems, policies and practices in various companies, driving the agenda of diversity and inclusion, we may also examine this subject through the lenses of Management models…
---
Interestingly, Diversity is perceived differently by generations. A study has revealed that Millennials view workplace diversity as the combination of varied backgrounds, experiences, and perspectives. They believe these differences are core to innovation and must be embedded in the values and business strategy of companies.
On the other hand, Gen Xers and Baby Boomers view workplace diversity as an equal and fair representation, regardless of demographics, without necessarily considering the relationship of diversity with business results. However, over a period of time, their views are changing and they are seeing the value of diversity and inclusion. The difference of opinion on inclusion is not so apparent – Millennials, Gen Xers and Baby Boomers believe that true inclusion removes barriers, discrimination, and also intolerance at the work place and in the society at large. Further, when applied in the workplace, people naturally feel included and supported.
It is, therefore, essential to have a broad understanding of diversity and inclusion. Diversity is reflective of the traits and characteristics that make people unique and inclusion is all about behaviours and the social norms that ensure people feel welcome and safe. Inclusivity is not only crucial for diversity initiatives to succeed, but also for creating an inclusive culture critical for employee engagement and productivity.
In the context of diversity and inclusion, the words of Josh Bersin are largely important. He mentions that companies that embrace diversity and inclusion in all aspects of their business statistically outperform their peers. He further emphasises that diversity and inclusion should be a top-down business strategy and not a mere HR programme.
D & I Through Science And Art
To build some diverse perspectives, we will study and examine briefly the issues of diversity and inclusion in the world of Science and Art.
Astronomy and Physics have struggled with diversity and inclusion for as long as those fields have existed. The report (2017-18) by the American Institute of Physics (chartered and funded by the Board of Directors), brought to the fore the issue of the reasons for the persistent underrepresentation (less than 4% in recent years) of African Americans in Physics and Astronomy in the US. In other words, the report highlighted that the 'inequalities' were prevalent in these two fields. The decision made by the Board of Directors of the American Institute of Physics to sponsor such studies points out that issue of diversity and inclusion was clearly a part of a long-term strategic plan.
The message from Charles F. Bolden, Jr., Administrator of NASA (2015) is very enlightening, "At NASA, we have always strived for the stars— both literally and figuratively. This is no less true for our Equal Opportunity (EO) and diversity and inclusion (D&I) efforts than it is for our storied space program, awesome scientific endeavors, and world-class aeronautics research. At NASA, EO and D&I are fully reflected in the Agency's Strategic Plan, which includes as a key objective, our efforts to attract and advance a highly skilled, competent, and diverse workforce, [and] cultivate an innovative work environment."
In 2020, American filmmaker, Ava DuVernay (first black female director to have her film nominated for the Academy Award for Best Picture in 2014) launched a venture called 'Array Crew' which serves as a database to highlight belowthe-line talent in films in America.
She emphasised that her company exists out of the need to connect underrepresented crew members and hiring managers. She added that the Pandemic will not stop her from having any concerns about inclusion efforts. She sees this as the perfect time to advance diverse hiring practices and connect crew members with hiring managers of the movie industry, and is constantly promoting an even playing field for artists of colour – clearly leading from the front with a purpose!
The following questions need to be considered before exploring further the subject of diversity and inclusion:–
• Are we trying too hard to implement some of the wellknown or time-tested systems, policies and practices relating to diversity and inclusion to swing the needle? Are we missing something?
• Can we move the subject of diversity and inclusion to a newer canvas?
We may recall what Viktor Frankl, Holocaust Survivor and Philosopher once said, "Don't aim at success – the more you aim at it and make it a target, the more you are going to miss it. For success, like happiness, cannot be pursued, it must ensue."
In other words, goals are best achieved indirectly – if we want to go to point A, we should aim at point B. The above two questions and this statement may sound strange and out of place when we are discussing about diversity and inclusion. The truth is – they are just fine…let me share a story (ref-Independent Culture Newsletter)…
"The American continent lies between the Atlantic Ocean in the east and the Pacific Ocean in the west. The Panama Canal represents the shortest route across the continent. In the 16th century, the people who first found this route were not looking due west and were not looking for oceans. They were conquistadors (explorers) looking for silver and gold." Like the route through Panama, oblique approaches, "obliquity is the idea that complex goals are often best pursued indirectly…in business, in pursuit of happiness and even in mountaineering sport, the most direct route is not always the best" - in a way, all these things were true of the activities that made it possible for Vasco Nunez de Balboa, the first European to see the Pacific in 1513.
D & I Through Management Models
Similarly, instead of looking at the current systems, policies and practices in various companies, driving the agenda of diversity and inclusion, we may also examine this subject through the lenses of Management models – 'Traditional Model' and 'Alternative Model' - to find some interesting stories and understand what companies are doing differently in this 'interconnected world'.
Traditional Management
Model The MEANS are Bureaucracy and Hierarchy. In organisations, the coordination of activities is achieved through the bureaucracy. Rules and procedures create efficiency. People are given roles according to known expertise. It is slow-moving and internally focused. And decisions are made according to the hierarchy – a top-down approach. Legitimate authority over subordinates and ensuring alignment between power and accountability.
The ENDS have two prominent elements – Extrinsic Motivation and Linear alignment. People are motivated by 'extrinsic motivation'…more about outside in - like bonuses, rewards, incentives. Whereas, the objectives are set through linear alignment - more driven by narrowly defined goals like revenues, sales, profits, etc.
Alternative Management Model
In contrast to the Traditional Management Model, the MEANS are Emergence and Collective wisdom.
Companies achieve coordination through emergence. The guiding structures stimulate individuals to coordinate their activities in a focused way and of their own volition. It is responsive to changing demands. Energised and involved, it enables creativity and companies are bound to have more self-organising teams.
Acting against hierarchy, decisions are made on the basis of collective wisdom. Aggregation of inputs from a large number of individuals. Under certain conditions, collective wisdom produces more accurate forecasts and better decisions than those from a small number of experts.
Companies focus on 'intrinsic motivation' rather than extrinsic. As we know, intrinsic motivation is the act of doing something without any obvious external rewards. The employees do things because it is enjoyable, interesting and meaningful, and not due to outside incentive or the pressure to do it. A simple example of intrinsic motivation would be reading a book – we read because we enjoy reading and have an interest in the story or subject. Another example could be 'sustainable fishing' where responsible fishers choose to put back the fish in the river after catching it.
Companies set their business objectives by adopting 'Oblique' approaches where success or outcomes depend largely on the involvement and interactions with other people. Obliquity is the idea that complex goals are often best pursued indirectly. In general, oblique approaches recognise that complex objectives tend to be 'imprecisely defined'.
For example, the mission statements of three CEOs of Microsoft:–
(a) 'A computer on every desk and in every home'
(b) 'To help people and businesses throughout the world realize their full potential"
(c) 'Empower every person and every organization on the planet to achieve more'
We notice that the Management models, as mentioned above, differ quite a lot in terms of 'MEANS' and 'ENDS' and both the models will have positives and negatives.
The softer issues like diversity and inclusion can flourish and get entrenched in any of the management models. However, the truth is that the 'forces of inertia' are so high in a Traditional Management Model that it does not allow radical change. However, it does allow a slow and progressive change and for all the good reasons, a 'Hybrid model' is evolved.
If we look at the following Management model which emerges from the combination of Traditional and Alternative models, we may find that companies falling in various quadrants–
(a) Planning Model
(b) Science Model
(c) Quest Model
(d) Discovery model
They approach diversity and inclusion quite differently and successfully make them part of their business strategy.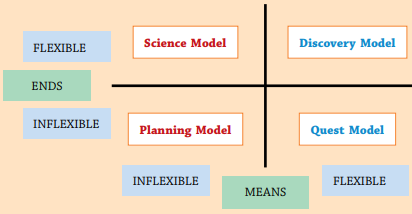 Most of the companies falling in Planning Model (ENDS – Inflexible / MEANS Inflexible) quadrant will have clear objectives and well-designed incentives for achieving them. They will also have tight control from the top (top-down) and carefully designed processes for getting the work done.
For example, in 2019, on International Women's Day, McDonald's had launched a global strategy – Better Together – a message on Gender balance & Diversity in line with the theme of International Women's Day.
The other reference is Microsoft. They are hiring and developing the best, most globally diverse talent. Employees that represent the markets they serve give them an advantage of creativity, deeper consumer insights and more importantly real-time market innovation. Their hiring policies have been redefined - a top-down approach.
The companies following Science Model (ENDS-Flexible / MEANS Inflexible), their professional norms and other work practices are clearly defined and well understood. However, they are driven by broad purpose and lay lots of emphasis on intrinsic motivation (inside out…volition).
The scientists and artists like to work in such companies…like engineering consulting firms which provide engineering, architecture, design, planning, project management and consulting services for all aspects of the built environment.
In the given context, reference of OVE Arup is quite apt. The founder, Sir Ove believed in Equal, Diverse and Inclusive culture. He said, "In an evergrowing worldwide community of talented practitioners, the diversity of our people is central to our success."
OVE Arup is a London based firm of designers, planners, engineers, architects, consultants and technical specialists. They work across every aspect of today's built environment. The intrinsic motivation of OVE Arup's employees is that they work with their clients to solve their most complex challenges – 'turning exciting ideas into tangible reality' as they strive to find a better way - an innovative way to shape the world better.
For example, OVE Arup has played a central role in the design and development of many of the world's favourite cultural institutions like the Sydney Opera House, Australia, The Center Pompidou, France, Camp Adventure Tower, Denmark, The Pinewood film studios extension, UK, etc.
As we know, the companies which follow the 'Quest model' (ENDS-Inflexible / MEANS-Flexible), will have clear objectives, clear incentives for achieving those objectives (unlike companies in the Planning Model category), will have enormous degrees of freedom in how objectives will be achieved – they largely subscribe to innovation route which has existed for centuries.
It is interesting to look at HeroX, California…they help find innovative solutions through the power of crowdsourcing (crowdsourcing rightly promotes diversity, inclusion and equality). They provide a two-sided platform where their clients design challenges around problems they need to solve. Next, the problems solvers from around the world work on the problems and come up with a solution and win the prize.
The XPrize Foundation ran the Ansari XPRIZE to spur growth in the commercial space industry. The competition offered $10 million dollars to the first non-governmental team to launch a reusable, manned spacecraft into space twice within two weeks.
The XPrize Foundation commented beautifully after the competition – "our leadership team is thrilled with the results! We were able to successfully identify three winning solutions. The diversity of the innovators was so refreshing - our solutions can literally live anywhere in the world".
In the Discovery model (ENDSFlexible / MEANS-Flexible), both, means and ends are kept deliberately flexible or loose, therefore, ideally suited for startup ventures, however, matured companies like Google, Microsoft, Red Hat are also using this model extensively.
In 2015, Red Hat (an American multi-national company which provides open source software products to enterprises) started the Women in Open Source Awards to promote diversity and inclusion.
It is worthwhile to mention about Google's open source projects - Google believes that open source is good for everyone – it promotes diversity and inclusion. By being open and freely available, it enables and encourages collaboration, innovation and the development of new technologies to solve real world problems.
Melonie Parker, Chief Diversity Officer, Google mentioned the following in Google's Global Diversity Annual Report 2020, "We will continue to use data-informed efforts to support diversity, equity and inclusion as we grow and scale — working to reach our goals even as we address disruptive challenges such as the COVID-19 pandemic."
The knowledge developing at the fringes is suggesting that 'Diversity and Inclusion' are fast moving out from a 'Good to Have' platform to real world business outcome space…which means co-creation, culture change, increased employee & customer retention, increased word of mouth, reduced cost, higher profitability…and not to forget Dell Technologies' objective for the next decade - use data and analytics to increase diversity and inclusion initiatives.
It is worth exploring the incredible effects of diversity and inclusion on organizations operating within different management models!
---
References:
A report published by Julian Birkisnhaw & Jules Goddard - 'What is your Management Model?'
Microsoft's 2020 Diversity & Inclusion report / Global Diversity Annual Report 2020 Internet research / Wikipedia
Praveen Sinha is Ex Head - HR Centre of Excellence, Corporate HR, Escorts Ltd and Co-founder, People n Planet Fora. He comes with an experience of more than 35 years and has worked in Damien Foundation, Belgium, Deepak Fertilizers & Petrochemicals Corporation, Tata Finance, Raymond etc. Praveen has a Post Graduate degree in Personnel Management & Industrial Relations from XISS Ranchi and is a Certified coach-Art & Science of Coaching from Erickson coaching International.