21st Century Learning
---
Keeping in mind such apparent counter-productive needs of an organisation, the role that must be played by the Learning & Development function (L&D) needs to be looked into.
---
"The illiterate of the 21st century will not be those who cannot read or write, but those who cannot learn, unlearn, and relearn"
—Alvin Toffler, American writer, Futurist.
The afore-cited comment by Alvin Toffler, the famous American writer and futurist is a very succinct representation of the greatest skill necessary to stay relevant and productive in an increasingly uncertain and rapidly evolving world.
It is not that the evolution in the space of technology, enterprise and society is a recent phenomenon, but the pace at which this change has transpired has made everything more challenging and complex.
Therefore, it is natural to come to face with how humanity will survive or rather thrive in this era since the status quo is being challenged and upended almost every week. The answer lies in the prophetic words of Alvin Toffler –to learn, unlearn and relearn. Very often, this is a process that shall be an extremely unnerving journey for the human race, as learning and unlearning involves dipping into the territory of the unknown. By and large, humans are very adept in the process of dealing with the unknown or the sotermed ambiguity.
Learning & Development in the corporate sector
If the above postulate is considered logical, then it must be examined as to how the mechanism of learning plays out, particularly in the corporate enterprise. In the corporate, risks are often higher, and the rewards mostly uncertain, because generating shareholder value is one of the key objectives of a corporate enterprise and risks do not necessarily lead to greater value at all times.
Despite the sheer objective of a corporate enterprise, it is a paradox that exponential returns tend to come from blue ocean strategies. In other words, this is about delving into uncharted territory.
So, keeping in mind such apparent counter-productive needs of an organisation, the role that must be played by the Learning & Development function (L&D) needs to be looked into. This is an aspect that demands greater reflection, since the L&D function, like all others, has been impacted by the changes that have transpired across the world.
Evolution
Below is a brief sketch of the evolutionary journey of L&D over the years:
From the infographic mentioned alongside, we see that the L&D function has been through a long and evolutionary journey. From having a department set up to study human behaviour, more or less for research purposes, to becoming a function that propels the organisation forward, it has indeed been a long journey.
Now, let us look at how the roles in the Learning and Development function has evolved over the years till the initial part of the 21st century.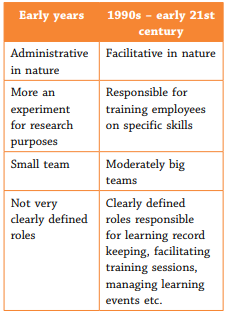 But now, the role played by L&D till the early 21st century is fast becoming redundant for the below-mentioned reasons:
Emergence of advanced Learning eXperience Platforms (LxPs)
These are sophisticated, technologydriven software tools that allow learners to search, curate and consume content as per their individual choice, interest and need. These tools are highly advanced and can also run recommendations basis the user's content history – in other words, the Netflix for learning! And it works to trigger the learner's curiosity about topics that are mostly of interest to him/her.
These tools also do a fantastic job of record-keeping of learning activities which are then represented concisely, often with stunning visual capabilities as well. The challenge, however, is that all this work was once the domain of human professionals, and is now done, often with greater efficiency, by machines.
Learning: moving from classrooms to ubiquitous experiences
With the advent of better and more connected technology options, learners began seeking real, handson, practical learning that helped them solve their work-related problems. This has its roots in another development in the corporate sector – that is – the nature of work moved from being fixed, predictable, and a repetitive set of activities that needed expertise in one area, to more complex, often unknown problems never encountered in the past. This meant that the learner's learning needs also varied as per the changing nature of the job. The learner now wanted to learn things just in time, just at the moment when he/she needed to solve a business problem. Technology made anywhere, anytime learning along with crowdsourcing and content curation a much easier and machinedriven job which was once the bastion of L&D experts. Today, rarely does an organisation need its L&D team to create content (since it is easily available, often at no charge).
So again, the question that arises is what does the L&D expert need to do now?
A visual representation of the modern role that an L&D expert should be performing in organisations is mentioned alongside:-
Benefits of the model
• Learning becomes a source of joy, driven by an individual's needs instead of a one size fits all model that is driven by only the organisational needs.
• Works in alignment with the principles of adult learning and has hence seen greater acceptance than the earlier approaches.
• Moves the role of L&D into the space of researching human behaviour, economics and psychology and makes it less administrative in nature.
The essential change that the L&D function has undergone (in some organisations it is still undergoing or getting initiated) is the move from managing learning as an activity in its annual form with fixed programmes, facilitation, record keeping and reporting to a more free-flowing, evolving with business needs, encouraging community-driven learning model.
Most of the organisations that are rated very high in the list of great organisations to work with consistently are aware of this evolution. They have either pioneered this new model or are in the process of implementing this as their standard operating model for the learning and development function.
Pinakesh Mukherjee is a seasoned HR professional with over 14 years of experience in domains including talent acquisition, performance management, recognition, M&A and learning. He has worked with multiple sectors in organisations such as ABN AMRO Bank, RBS, HT Media digital business, Vodafone Shared Services etc. Pinakesh holds a PGDBM from XLRI Jamshedpur and a bachelor's degree in Marine Science.