A Tide Of Opportunities
With employees playing multiple roles at home, managing household chores, and work pervading through their personal space more than ever, the new normal did present its own set of challenges.
Bringing healthcare systems, economic progress, and world cultures to a screeching halt besides causing a paradigm shift in the way we operate, the COVID-19 pandemic, anchored by social distancing, has forced us into a new world order. When the lockdowns were first announced in India in March, and we began to work from homes, the changes were unbeknownst to both employers and employees. There were growing concerns about sustaining the work culture in the manner in which it has been nurtured. With employees playing multiple roles at home, managing household chores, and work pervading through their personal space more than ever, the new normal did present its own set of challenges.
However, every dark cloud has a silver lining. Even as we find ourselves in these unprecedented times, there came an opportunity in the crisis— ensuring that employers and employees remained connected in their own way. This is an opportune moment for corporates to reset their employee engagement skillsets as we work remotely, a trend that could last longer than anticipated. From healthcare packages to upskill training, and mental healthcare workshops to virtual engagement activities, corporates are making good use of the time to bond with their employees.
As we shift to virtual teams, building a connect, staying in touch with your people and reading into their emotional ques gained prominence as we were acquainting ourselves better to this new work culture dynamic.
Lifting the Pall of Fear for Employees
Just when they were starting to accept the new normal of remote working, employees across sectors were left intimidated by the pandemic. Crumbling economies led to a huge surge in unemployment numbers in several countries. Multiple studies conducted over the last few months reveal that a major share of the workforce was worried about losing their livelihoods to the pandemic. However, on the bright side, several corporates managed to make the best of the time to ensure that their employees developed a trust with the system. Organisational values are put to test during times of adversity, and corporates who have acted as per their values will reap employee goodwill and productivity when things start looking up.
We are living in times when everyone is personally affected by the pandemic-driven crisis, and are still learning to strike the perfect work-life integration. Hence, it is highly crucial to how leaders drive their teams during such testing times. Organisations should consider the current external environment and the insecurities that employees and their families face due to this.
Many initiatives can set an Organisation apart like increasing insurance coverage for employees, creating a COVID-19 emergency fund to help employees meet exigencies, providing 24*7 physician consultation for families, and creating COVID-19 response resources to help employees with all the training, communication, support etc. In such times, when the workforce is primarily working from home, Human Resource departments can truly utilise the time to drive leadership development programmes to help employees upskill, online induction and onboarding programmes and even celebrate special days on online forums. Transparency in communication is the biggest gift that you can give your employees today. Be it clear, authentic communication from leaders to allay fears about job losses or empathetically dealing with employees and continuing to take decisions as per organisations values - all these will help organisations in driving high performance even though everyone is working virtually. While organisations are doing all this, they may also provide surveys or provide other forums to employees to provide and inputs candidly and anonymously, if needed.
Time for Mental Well-being
With the impact of the pandemic sweeping across the world, we are also witnessing elevated levels of anxiety and stress among people. Corporates are addressing this with strong policies that include psychological help not only for the employees, but also for their families. It is comprehensible that new measures like quarantine and lockdowns have deeply impacted people's routines. Therefore, simple steps like creating Employee Assistance programmes, counselling and psychological help, providing meditational and spiritual sessions can go a long way in helping employees.
Strong measures on holistic healthcare, going the extra mile to ensure that they feel secure, and motivational talks by the leaders instil positivity in employees. From enhanced benefits to employees and additional incentives to those on the frontlines, corporates are working earnestly to make employees feel valued and at the same time, financially covered. This is the time to foster connections with employees and it all comes down to how well we connect with them in an empathetic manner, and likewise, engage with them.
Remote working has brought the interlinking between our personal space and professional lives to the fore. This is an opportune moment for the managers to drive the change. The hour of crisis must be looked at as an opportunity to upskill our employees with new training sessions. The quantum of growth in any sector is often driven by how skilled the workers are. Today, with many employees finding themselves limited within the confines of their homes, upskilling them with relevant training is a great way to keep the morale high. Many corporates are looking at newer ways to improve the skill sets of employees, as working from home is making room for more learning and knowledge sharing programmes. Things will not be the same in the postCOVID era. Organisations that are agile and innovative will make use of technology and digital solutions and are in fact working on the means to embed and develop new capabilities so that they are equipped with better chances to succeed.
We are living in times when personal well-being is more connected to professional productivity than ever before. However, it is interesting that employee management, performance trends, and experience strategies are changing at a rapid pace. Organisations are tailoring their operations and goals to fall in line with the new world order, keeping employee welfare at the centre of their new outlook. The prized moment to act basis the values of the organisation is NOW!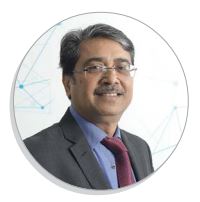 Swadesh Behera is the Senior DirectorHR for Boston Scientific India for their Commercial, GBS, IT and R&D entities. He demonstrates a robust HR experience of 25 years with achievements across the globe with diverse sectorial experience in MNCs & Indian Organisations in Healthcare, Pharmaceuticals, FMCG and Manufacturing. He has worked in organisations such as Coke, Tata Steel, Ranbaxy, Merck, and ICI. Swadesh is a postgraduate from TISS, Mumbai.