Revisiting Psychological Well-Being
It is possible to convert the threat caused by the COVID-19 pandemic into an opportunity, and for this, serious measures to maintain psychological wellbeing need to be taken at the individual, societal and organisational levels.
A lot has changed since the world was struck by the COVID-19 pandemic. International travel has stopped. Social distancing has become the norm. A Harvard study has, in fact, indicated that intermittent social distancing might be necessary through 2022.
The pandemic has sparked off an active conversation about the expected economic slowdown resulting from it. While economics is important, we also need to consider the psychological impact the COVID-19 pandemic can cause. A recent survey by the Indian Psychiatric Society showed a twenty per cent increase in mental illnesses since the coronavirus outbreak in India. And for a country with a poor mental health system, this should be cause for serious concern.
Some recent articles on this aspect go to the extent of suggesting that if the pandemic is likely to lead to a global economic slowdown worse than the Great Depression, then it is also likely to lead to one of the worst mental health crises ever witnessed. While time alone can testify the enormity of these predictions, it cannot be ignored that this pandemic is bound to endanger the physical, financial, and social health of people. Theoretically, the three aspects put together determine the psychological well-being of any individual.
It is therefore extremely important that the aspect of mental health of the pandemic be brought into mainstream societal conversations. People need to be aware of the possible symptoms of a psychological problem, just as much as we are now aware of the symptoms of the COVID-19 infection. Everyone should know the preventive steps to be taken to avoid any kind of severe mental health problems, just as well as we know how to prevent COVID19 infections. Vulnerable groups for issues related to mental health should be identified, and facilities for psychological treatment be made available to everyone needing help in this quarter, just like it has been done for the COVID-19 infections.
Policy decisions on these issues are important, but in their absence at the moment, it becomes the responsibility of the common public to start and keep the conversations alive on these issuesthrough the popular press, social media, word of mouth, or any other possible means.
Contagious Pandemics and Psychological WellBeing
Well-being is a term used to refer to the holistic good health of an individual. A positive relationship with others is at the core of this holistic well-being. Research suggests that when people possess a healthy social support system, it could, in turn, lead to a greater purpose in life, higher self-esteem, better self-acceptance, greater resilience, and personal growth. This is true for most of humanity. It is only the manifestations and extent of this need that differs across personality types and cultures.
Contagious pandemics like the COVID-19 affect the psychological well-being of people by disrupting these relational patterns. Social distancing norms, curfews, travel bans etc. make it difficult for people to meet their friends and family. There have also been many reported instances of ostracization of people demonstrating COVIDlike symptoms, or of health workers, pilots, and cabin crew on duty during the pandemic.
Social distancing mandates cause different emotional reactions in people from different cultures. In individualist cultures like the US, Australia etc. it could lead to frustration caused by curbing their individual freedom. In more interdependent cultures like China, Japan, and India, people might get affected by the inability to interact with others, especially family and close friends, and the lack of cultural gatherings that are at the core of these cultures.
Disruptions at Work and Psychological Wellbeing
An Assocham study conducted in 2018 found that 42.5 % of employees in private sector organisations in India suffer from generalised anxiety disorder and depression. Work stress and long working hours are the root cause of these conditions. Now add to this already existing stress, the fear of losing one's job and losing increments/promotions etc.
The lack of distinct boundaries between work and one's life outside work is also one of the causes of this stress. Work from home at times adds to this boundary-fading. While many employees may find it convenient to work from home, it becomes stressful for the ones with domestic responsibilities like taking care of small children or sick elderly family members. Working from home and juggling the dual responsibilities of domestic and official work can increase stress and irritability, affecting domestic relationships at times. Twitter, Facebook and Alphabet Inc (Google) have declared that their employees can work from home till the end of this year. This has sparked a debate over the effects that virtual social engagements at work can have on individuals. While it is an optimum solution in the long run for some, others like Satya Nadella, the head of Microsoft, has cautioned against the psychological cost of a longterm work from home option for employees. He reasons that working from home can endanger the social capital that one has built at work. There is research to support his claim. For example, a study done on the survivors of the Virginia Tech shootout in the US found that when survivors interacted facetoface with their friends and family, it improved their wellbeing, but virtual interactions had no effect at all on the well-being of these people. Similarly, another study found that doctors dealing with people suffering from depression showed lower levels of empathy when interacting with them virtually, as compared to a facetoface interaction.
Studies show that virtual interactions do not increase the sense of connectivity in people. They can be an effective temporary solution to deal with pandemics, but if they become the new normal, it would come at the cost of psychological well-being.
The Pandemic: Opportunity or Threat
Social disruptions like a pandemic provide us with an opportunity to revisit our ways of doing things. This churn is good in many ways. Some of us have got more time to spend with our families, to reignite our hobbies, and to reorganise our lives. If we were to dig deeper into the lives of people who are making the most of the lockdown, we might find that a strong social support system is at the root of this sense of wellbeing.
The pandemic becomes a threat for the vulnerable population like the elderly who might be living alone, people who were already prone to psychological illnesses, people experiencing the threat of job loss, and the ones overburdened with work to the extent that they are unable to engage in meaningful social interactions.
The symptoms of poor psychological health could range from mild to severe. Mild symptoms include a continuous feeling of drowsiness, tiredness, irritability, guilt (especially when juggling between taking care of young kids and meeting work deadlines) etc. More severe symptoms can be manifested in unexplained crying, suicidal tendencies, social withdrawal, uncontrolled negative emotions like anger, grief etc.
There are two ways of dealing with symptoms of psychological ill-health. The first is to take preventive measures. Prevention is important for everyone because even mild symptoms can affect our productivity in the long run.
It is important to develop a daily routine which includes some socialising, if possible, through face-to-face interactions while maintaining social distancing. If face-to-face interactions are not possible, speaking to people over the phone, skype, facetime etc. is the next best alternative.
Updates on social media sites do not count as connecting with people. Social media takes away the intimacy of interpersonal interactions.
Conversations are carried out with a large group of people, many of whom we might not even know. Therefore, while social media interactions might have entertainment value, they do not contribute to the psychological well-being of an individual.
If a person displays more severe symptoms, he needs to seek professional help. However, most of these people fail to receive help because their family members are unable to identify the symptoms. And even when the severity of symptoms is noticed, the taboos associated with seeking psychological help stop them from acknowledging that they need assistance. This is where social conversations on mental health are crucial.
Many organisations have already been providing counselling and employee engagement services to their employees. However, given the growing incidents of psychological problems, they might have to take more resolute steps.
During an economic slump, mental health becomes a low priority issue for organisations. However, it should be pointed out that since the government has made it mandatory for all organisations to provide health insurance benefits to their employees, these preventive and proactive measures could save organisations a lot of money otherwise spent in paying health insurance claims. It will also ensure that the workforce remains productive.
It is possible to turn the threat caused by the COVID-19 pandemic into an opportunity, and for this to happen, serious measures to maintain psychological wellbeing need to be taken at the individual, societal and organisational levels.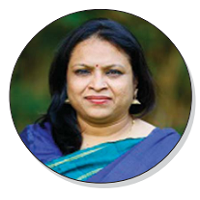 Dr. Anuradha M. V. is presently working as Associate Professor in the OB & HR area at IIM- Visakhapatnam. She has obtained her FPM from XLRI, Jamshedpur and completed her bachelor's and master's degree in psychology from University of Delhi. Her research has been published in various national, international journals. She has also written for reputed outlets that includes the Human Capital. Her research interests lie in the domain of identity, self and various aspects of meaning of work and well being.