EdCast Learning Health Index Study 2020
Skilling is at the heart of transforming nations. It is indeed the biggest opportunity and challenge of the decade. The speed and scale at which organizations are able to upskill and reskill their workforce may well become their only sustainable advantage. In this race, agility is a key transformation lever and organizations must invest time and money to reskill their workforce to adapt and adjust quickly to this new order of work.
Corporate mortality rates are expected to soar owing to the COVID-19 pandemic. With the frequent shifts in the market conditions and uncertain futures, continuous learning is integral to the 'Future of Work'. Bridging the skill gap with a comprehensive solution to address the systemic challenges and learning disabilities in organizations has become a mission-critical priority for businesses across the globe.
EdCast launched the first edition of the Learning Health Index Study, with the objective of creating a deeper understanding of learning health in organizations across corporate India using a validated research approach. Based on the survey results and interviews with 17 leading Global CHROs and CLOs, the study provides actionable insights on key bottlenecks and opportunities to power the L&D community in their endeavour to build smart, healthy and sustainable learning organizations.
The Learning Health Index (LHI) is an aggregate of scores on each of the 8 dimensions of learning health across a 5-point scale. The study covered 104 leading organizations across industries and revealed that the average LHI for corporate India stands at 67. This shows that learning in organizations is still largely underserved and underutilized, and while there is greater executive sponsorship, L&D functions in India are yet to operate as agents of transformation. With 32% of organizations 'Coping' and 45% of them 'Developing', there is still a lot of ground to be covered to truly tap into the tangible and intangible benefits of being a healthy learning organization.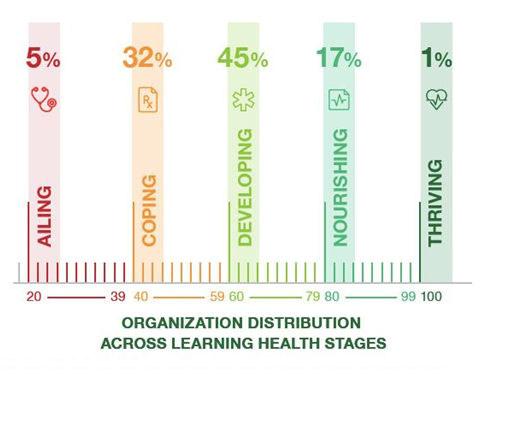 Despite the availability of cutting-edge learning tools and technologies, and organizations recognizing their benefits, over 75% of them are yet to make technology an ally in their learning endeavours. While this is a perceived area of weakness, it presents organizations with the greatest opportunity to improve their learning health.
---
Organizations aspire to nurture keen and active self-directed learners, but 68% of them fail to provide a conducive infrastructure and an environment to drive employees to take ownership and cultivate everyday learning habits.
---
Designing personalized learner-centric journeys that drive engagement is high on the priority list. However, data shows that 91% of organizations do not consistently personalize learner journeys to accommodate individual goals, preferences and learning styles.
---
While learning metrics are used by L&D to make decisions, 70% of organizations are using basic, lower-order metrics to measure progress and are yet to adopt more sophisticated, business impact related metrics. 96% of the organizations surveyed are yet to use advanced, real-time analytics.
---
Learning is aligned to business requirements and integral to business success in 82% of organizations with leaders playing an active role. L&D functions are responding with agility and readjusting learning priorities based on changing business needs.
---

The role and expectations from the L&D function are fast evolving, and 44% of organizations report that L&D professionals are not adept at meeting such growing demands. They must urgently invest in their own development to power the learning journeys of others.
---
The LHI Study also identifies areas of excellence and opportunities for improving learning health and provides remedies for how organizations can become more agile and adapt to the 'new normal' by fostering a culture where learning and working are synonymous, thus building more collaborative and enriching workplaces.
The 8 Dimensions of Learning Health
#1 Learning Strategy & Business Planning
The extent to which the current and future needs of the business drive the learning strategy. How are L&D budgets prepared and allocated? How agile is the learning function in course-correcting and responding to business requirements?
Learning strategy should be driven by business requirements. This is the prerequisite for any learning ecosystem. The study reports a healthy LHI of 83 on this dimension. Of all the eight dimensions, this one scores the highest.
Insights:
L&D leaders should develop a learning strategy based on business goals and talent strategy. They must take a hard look at employee capabilities and ascertain which ones are most essential today and what needs to be developed for the future. They should reevaluate this alignment on an ongoing basis and make quick adjustments to ensure they are creating a people-capability agenda that embody business priorities and strategic objectives.

#2 Impact & Measurement
What learning metrics are used to measure the efficiency and effectiveness of learning? To what extent are data analytics, predictive modelling, etc. used in making decisions related to talent and learning? L&D's responsibility is not only to impact change but also make results measurable and visible. The study reports a frail LHI of 60 on this dimension. It scores the second lowest across all eight dimensions surveyed.
Insights:
IT/ITES reports the highest LHI of 72 on Learning Impact & Measurement
---
BFSI scores the lowest with a weak LHI of 57
---

22% of organizations in IT/ITES use advanced real-time analytics
---
Organizations are keen to see the ROI on their learning spend; however, most organizations still rely on traditional metrics viz. usage and satisfaction scores on learning programs. They lack formulating or capturing data against outcomes-based metrics such as the impact on individual performance, employee engagement, team effectiveness, business process improvement, etc. This hinders an organization's ability to enhance performance, improve behavioral skills, and significantly contribute to any real business impact.
#3 L&D Policies & Processes
Learning processes involve the aggregation, creation, curation, collection, interpretation, and dissemination of knowledge. They include experimentation to develop and test new products and services; intelligence gathering to keep track of competitive, customer, and technological trends; disciplined analysis and interpretation to solve problems; and education and training to develop employees. For holistic talent development, policies and processes must continuously reinforce everyday learning and its value in relation to growth, advancement and performance. The study reports a modest LHI of 66 on this dimension.
Insights:
The L&D function cannot work in isolation. It plays a crucial role in talent acquisition, onboarding, performance management, promotion, job rotation and succession planning. The connectedness of learning with HR processes enables organizations to create and curate knowledge for all key 'touch points' across the entire employee lifecycle.
#4 L&D Portfolio
The type and complexity of solutions & services the function is entrusted with viz. performance consulting, knowledge management, change management, instructional design, business intelligence, content development etc.
The portfolio of solutions & services L&D provides is a critical determinant of the overall learning health of an organization. The study reports a healthy LHI of 76 on this dimension. This dimension scores the second-highest amongst all eight dimensions surveyed.
Insights:


Conglomerates report an LHI of 86—the highest score on this dimension. IT/ITES ranks as a close second with an LHI of 83.
In many organizations, L&D is still tactical and operational. A few have raised their game by continuously reconfiguring the learning ecosystem, enabling key performance outcomes through consulting, orchestrating and managing knowledge flows, driving change in learner mindset and designing learning experiences suited to the modernday learner. They actively use instructional design to power specific learning outcomes, mine business as well as employee data to improve the quality of decision making and curate content well-suited to the organizational context.
#5 Learner Experience
Experience embodies a 'consumerized' approach that is hyper-personalized and multi-modal.
The key to enhancing learner experience is giving learners the freedom to consume the knowledge 'Anytime – Anywhere,' from a wide range of content resources tailored to their learning needs, styles, preferences and interests. The study reports an average LHI of 63 on this dimension.
Insights:

IT/ITES sector reports the highest LHI of 76 on Learner Experience.
---
BFSI scores the lowest with an LHI of 55.
The growing popularity of Learning Experience Platforms (LXPs) can be attributed to their ability to tailor experiences suited to learners' preferences, interests, and needs with easy access to content that is displayed in an easy-to-navigate pattern at all times. AI is leveraged to pull data quickly and easily, sort through demographics like age, gender, culture, level in the organization, educational background, previous learning experiences, patterns of employee behavior, learning needs and goals. These insights are used to create intelligent and smarter-positioned content that's adaptive, intuitive and responsive to a learner's personal journey, and provides for enhanced learner experience.
#6 Learning Culture
What importance does the organization place on learning? Who takes accountability, and what are the consequences? How are learners recognized and rewarded? What roles do leaders, managers and team members play? Learning culture is a collection of beliefs, processes and practices that enable individuals to learn and grow continuously. The study reports an LHI of 64 on this dimension.
IT/ITES and Conglomerates tie on this dimension with the highest LHI of 77
---

BFSI ranks the lowest with an LHI of 57
Organizations should drive learning initiatives intrinsically to ensure commitment over compliance. The value of continuous learning needs to be reinforced through a comprehensive, organization-wide R&R framework that incentivizes learners across all learning programs where individuals experience work as an opportunity for self-discovery and corresponding growth.

#7 Tools & Technologies
What technologies are being used and to what extent in leading, enabling, managing and supporting L&D as well as the 'learner'? How are learning technologies integrated with enterprise systems and with one another?
Technology platforms and applications are significant enablers for just-in-time learning. The need of the hour is for organizations to evangelize technology to lead, manage and support the needs of the learner. The study reports a weak LHI of 50 on this dimension. Amongst all eight dimensions, this dimension scores the lowest.
Insights:
The advent of new technologies and tools has been at the forefront of the learning revolution. A Learning Experience Platform (LXP) addresses the inherent inadequacies of the traditional Learning Management System (LMS), which was primarily built with the objective of controlling and managing learning. Though still considered core to the learning tech stack as it serves as a 'system of record' for training administration, tracking, and reporting compliance, organizations have added LXP as an intelligent platform to drive and enable a learner-centric approach, resulting in a shift from a 'system of record' to a 'system of intelligence'. The need for a sophisticated integration framework is evident, which allows seamless knowledge flow between systems and tools, delivering a single user interface with the primary objective of enhancing learner experience and engagement.
#8 L&D Competence
At what level of proficiency is the L&D function operating within an organization? What are their strengths and areas of development?
Probably the most fool-proof way to make learning impactful and improve organizational learning health is to invest in L&D competence. The study reports an LHI of 69 on this dimension.
Insights:
The L&D team should regularly scan the learning horizon, leverage the latest developments, use insights to tweak the Talent Strategy and address the current and future skilling needs in collaboration with the business to meet organizational goals.
Future Forecast: Technology
The technological transformation will continue to act as a primary business disruptor with farreaching implications on workplaces. The pandemic has accelerated the adoption of remote working and digital learning tools. Work is now being conducted 'Anywhere and Anytime'. Workplaces are also fast adapting to this new order and are being redesigned to suit the needs of the fast-growing remote workforce. There has been a shift from the traditional classroom-based ILT (Instructor-Led Training) towards digitized platforms that empower learners to leverage learning resources on their own discretion and terms.
Top Technology Trends
1. Mobile Learning
Mainstream and here to stay
◆ Mobile ('Anytime - Anywhere') learning has emerged as the top tech trend, with 65% of the organizations already implementing it and 17% planning to implement it within the next year.
◆ Mobile learning is being implemented in 3 out of 4 Conglomerates and by 89% of organizations in the Manufacturing & Engineering sector.
2. Learning in the Flow of Work
No longer a buzzword
◆ Most organizations recognize that for learning to really happen, it must be made available within the systems of productivity/business applications which are used by employees.
◆ 34% of the organizations surveyed are already implementing this while 27% plan for its implementation in the next year.
◆ 44% of organizations in the Manufacturing & Engineering sector have already made learning available and accessible to their employees at the point that they need it to do their jobs, while the exact same percentage of organizations in IT/ ITES has planned for its implementation in the next year.
3. Social Learning
Building bridges
◆ Organizations see immense value in adding social learning tools to the mix as it connects learning to the daily lives of the learners and also builds social cohesion.
◆ 78% of organizations are already implementing it or have planned its implementation in the next one to two years.
◆ Nearly 40% of Conglomerates and organizations in Life Sciences, Pharmaceuticals & Healthcare have already adopted social learning. However, 17% of organizations in the Retail & Consumer Goods sector are uncertain about its timeline for implementation, and 11% have not thought about imbibing social learning as a probable remedy to their learning needs.
4. Use of Gamification
Gaining popularity
◆ Gamification in learning is a pleasant reality as 40% of organizations report its implementation and 27% have planned for it in the next year.
◆ Gamification is popular across industries with 56% of organizations in Manufacturing & Engineering and half of the organizations in Life Sciences, Pharmaceuticals & Healthcare sectors already implementing it.
5. Personalized Learning Experience
Front & Centre
◆ 32% of organizations are already personalizing learning experiences, while 44% of them plan to do so within the next one or two years.
◆ On the one hand, 41% of organizations in BFSI report that its implementation is planned in the next two years while on the other, 30% of organizations in Life Sciences, Pharmaceuticals & Healthcare do not have a stipulated timeline for its implementation.
6. Use of Artificial Intelligence
The future is here
◆ With nearly 50% of organizations planning for the use of AI in the next one to two years, the future of learning looks exciting!
◆ 56% of organizations in IT/ITES plan to implement AI in learning in 2020, and 40% of organizations in Life Sciences, Pharmaceuticals & Healthcare have planned it for 2021.
◆ However, in relation to the other technologies, the present adoption of AI in learning is the lowest with only 16% of organizations reporting its use.