Your Very Own Lemon Squeezer!
A Lemon Squeezer makes unpopular decisions keeping the best interests of the organisation in mind. These decisions include limited staffing and work intensification, possible options for downsizing, and wage freezes.
A nice and cool lemonade is always welcome, and more so during hot summers! Not only does it quench our thirst, but also provides us with a zing of freshness and bolsters our energy levels. For those who have squeezed a lemon for its juice know the relevance of the kind of pressure to be exerted on the fruit, the right amount of twist and the squeeze.
Before you develop a feeling that the content to follow is aimed at sharpening your culinary skills, let me clarify that I am here to introduce the Lemon Squeezers - a special set of leaders in many organisations known for their style of leadership. They are so termed because they are known to typically apply the art of squeezing when the heat for business is on!
Styles of leadership
Successful leadership is contingent upon the various stages in the business. It can vary in its style subject to the context and situations, and more importantly, the phases of the organisation. To quote*, a champion leadership style is preferred for new ventures that are focused on the company's mission and vision, plan for growth, and potential. Focus plays an important role at a growth stage to drive the top line, and thereby, increase the client base. Therefore, it is preferable to assume the style of that of a commander of a fleet of battle tanks. A House Keeper style is appropriate when the organisation is at a point of maturity, and is focusing on profits and sustainable business. But when the organisation is going through a phase of decline, the style which is most needed is the lemon squeezer leadership.
Organisations are operating in an era of economic globalisation, open markets, and hypercompetition in highly dynamic and volatile environments that were never experienced in the business world. Almost driven by casino capitalism† , many private businesses are supported by banks that are willing to take risks by offering huge amounts of investment to run a profitable business. Such support necessitates the need to bring in higher profit margins within a short time-span. Most managements are finding it difficult to balance increasing client expectations for lesser pricing and the growing overhead cost, not to mention the competition breathing down their neck. As a countermeasure, they are continuously looking at ways to reduce costs, and often focus on innovation for higher revenue and profit margins. And this is where Lemon Squeezers can add real value for organisations.
Survival of business
For the Lemon Squeezers, survival of the business is the topmost priority. Their area of focus is improved financial control and cost cutting, but they are not your CFOs. In other words, a Lemon Squeezer is willing to make unpopular decisions, keeping in mind the best interests of the organisation. Some of the decisions include limited staffing and work intensification, possible options for downsizing, and wage freezes. At the same time, they complement these decisions by way of encouraging creativity and innovation. They are open to new ideas and are willing to take calculated risks. They are happy to delegate, and always provide autonomy within the budgetary constraints. Such Empowerment by the leadership can be very inspiring, especially at a time when it is most needed by the organisation. Most often, this brings out the best in people, and in turn, that ends up as the difference between winning organisations and the others!
Confidence building capabilities
It is well-known that employees naturally tend to embrace predictability in their jobs. Any sort of volatile and pressure environment puts them on an edge. But this is where Lemon Squeezers walk the talk. They instil confidence and energise and inspire people around them. A key attribute is their ability to build trust in the organisation when the walls around are seen to be seemingly weak. Trust builds an agile workforce and promotes the much-needed innovation for the organisation. This is simply because
Lemon Squeezers set new standards every time, challenge the team to experiment for best results, and are willing to accept first time mistakes.
A classic example is that of Steve Jobs after he took over the reins at Apple for the second time during the late 90s. He exhibited the Lemon Squeezer leadership at a time when the stocks of Apple had plummeted. Though he had to shut many of the existing projects, he made that decision conspiring the value of each of the projects. During this period, he also rebuilt a culture of trust, which in turn paved the way for innovation. Eventually, not only did he bring Apple out of bankruptcy, Jobs created history by making it one of the most successful companies!
When in action, Lemon Squeezers may not be seen as popular leaders since they may bend rules, limit budget allocations, challenge the best practices etc., things that puts most of us out of ease. However, we surely concur on one thing.
A true leader is one who can turn it around for the organisation from a phase of adversity, or even from brink of death itself, towards a path of success and growth
A quality that sets them apart! They drive it with such tenacity that they are willing to take decisions boldly, not through an autocratic approach, but in a way of responsibility guarding the interests of the organisation, and importantly its people. Yet, all of this is done without any selfinterest, and with a strong new vision for the company through a progressive culture. Again, all through, their focus is not just the present survival, but also the future sustenance in competitive businesses. Now think about your own organisation and the faces of the lemon squeezers will flash in your head. Their squeeze provides the juice that contains an antidote of revival to enable you to soar along the path of success and growth!
References
* - Clark, C. & Pratt, S. (1985). Leadership four part progress, Management today, March 1985.
† - Strange, S. (1983). Casino Capitalism. Blackwell Pub, 1st June , 1983.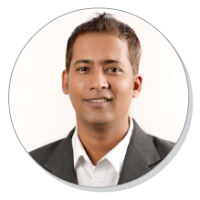 Krishnan Bangaruswamy is endowed with comprehensive experience in Human resources and Organisational development spanning more than 18 years. He is currently the Senior DirectorHR at Omega Healthcare. As a Certified coach from the International coaching federation, he is a proponent of an empowerment-based work style. He inspires and energises team members/ employees toward turning themselves into talents. Krishnan is a 'Corporate Leadership Columnist' for several mainstream publications including Human Capital.