My Shadow On The Wall
My world will be different from this month. I transition to become an HR Advisor to the CEO & MD of L&T, for the L&T Group, from my current position of Senior Vice President-HR for the L&T Group. I am not much of a past person. I like to think more of the here and now and the future. But I would like to narrate the various stages of life as they have panned out.
My Education
I grew up in Moti Bagh, a Government colony in Delhi - flying kites, playing cricket and marbles. One of my hobbies started with a train set gifted to me when I was in Class Five. The Triang train set was bought for me when I was on a visit to London, from Hamley's in Regents Street; still a favourite hangout for me when I visit London.
Nelly, a 0-4-0 BR, Shunter
I passed out of DPS, Mathura Road where I schooled throughout – extra-curricular activities, competitive sports and a school that I saw grow from the tents. My happiest memories, amongst many in school, was when I tinkered around with experiments in Physics. I can still remember an experiment with the Foucault's pendulum. DPS Mathura Road has a wonderful spiral staircase that leads to rows of class rooms on two floors. It was fascinating to hang a hammer (the iron ball used in hammer throw) from a long rope and demonstrate how the swing of the pendulum changes with the rotation of the earth.
My flirtation with Physics continued when I joined SRCC. I began assembling small 7 transistor radios with circuits from books and learnt the joy of soldering components into bread boards. The joy of hearing the radio crackle after adjusting the ferrite rod is difficult to explain.
I feel a great sense of pride when I think of my three years at SRCC. The finest teachers, great conversations, and a wonderful time with achievers in a very competitive environment. SRCC taught me many things. I participated in College Festivals, learned about rock bands (particularly The Doors), played the guitar and kept pace with the best scholars.
I listened to news reader Melville de Mellow on All India Radio on this device.
My first transistor radio assembled circa 1972
Tata Institute of Social Sciences (Circa 1975-1977)
I was in a double decker bus when I first saw the brochure in the hands of a fellow passenger. The rest is history. The two years in TISS in the PM&IR course were very rewarding. TISS taught me many things. I learned empathy, what the real world looks like; and the power of diversity during my interaction with students from varied backgrounds and cultures in the Hostel. The field work training was unforgettable. I started training in a mill; the remnants of which I can see today from my 49th Floor balcony. I honed my debating skills, pitting myself against the best.
My classmates in TISS. Holi 1976
My academic pursuits did not stop with the Master's degree from TISS. After that, I completed a MBA in OB from the Faculty of Management Studies, and then LLB, both from the University of Delhi. While collecting my bevy of degrees, I took the time to get married. My wife is an academic, a Professor in TISS, with a PhD in Developmental Psychology. Our son Krishna is a PhD in Mechanical Engineering from UCSD, lives and works in San Diego. He is a Molecular Biologist and Bioinformaticist at UC San Diego.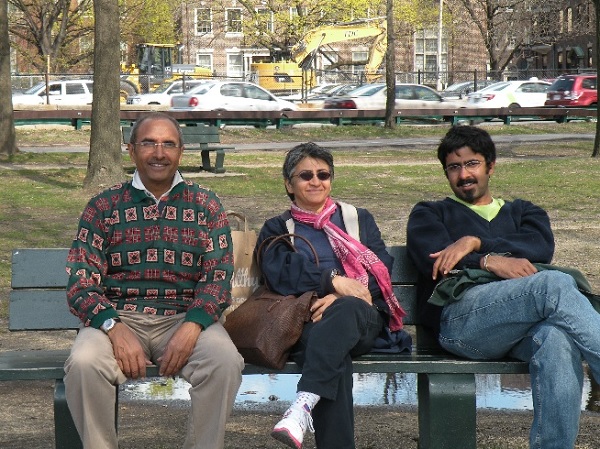 My son Krishna, wife Sujata and I, in the US
I was admitted as Fellow of AIMA, and was later conferred with two Doctorates. More recently, I was delighted to be felicitated at the Dharohar 2020 event at my alma mater, TISS after 43 years, in the same quadrangle, where I had received my MA degree.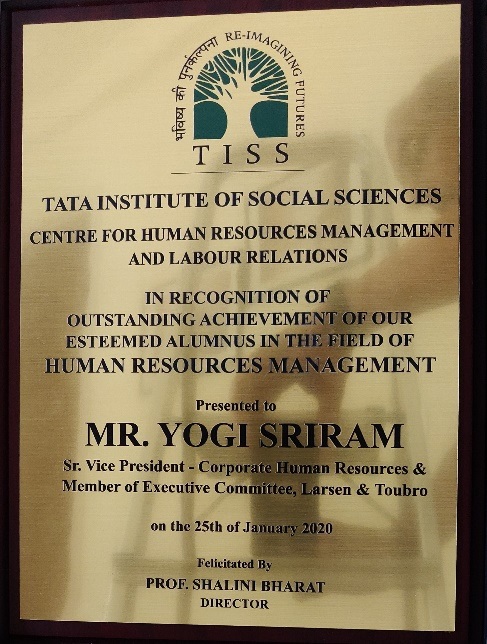 This event was very significant since it was the eve of the 71st Republic Day of India. Fate is conspiring to make 7 take a unique place in my association with TISS. I was the Chief Guest in the 2017 convocation at TISS, for the 77th Convocation and when I completed my MA PM&IR it was the 37th Convocation.
TISS has a special place in my life. My wife Sujata is a Professor in TISS today, reinforcing my connection to the institution.
1977 Batch PM&IR TISS 37th Convocation

My work
My first job began as a Personnel & Welfare Officer in ACC Ltd. This was the beginning of my journey in HR. My journey into HR was on a foundation of Labour Law. I breathed and quoted Labour Law. I mastered the craft of making charge sheets and conducting enquiries.

My next three jobs built my career in different ways.
• NTPC was a company that hired quality engineers. I learned about the importance of creating a powerful Learning & Development engine, almost a factory of leadership.

• Shriram Industrial Enterprises Limited was a wonderful experience in building a relationship with leaders and understanding their chemistry. HR in those days was still at a stage of transactions. Making personnel policies and sales incentive schemes consumed most of our time. Shriram was a benevolent Company. The values of Lala Shriram percolated down to everything they said or did. The legendary Management Trainee scheme, admission to which I had turned down after TISS was the most coveted for a career start. But as a high potential manager I caught up. I saw the colour of HR in different forms. Paternalistic care. Good systems. Great work processes. And an early emphasis on technology. I will never forget my first experience of using DBase 3 of Ashton Tate.

• ABB came after that. It was a journey of developing conviction about one's beliefs influenced by Deming and his philosophy. HR Head. Those were the heady days of TQM. I was consumed by the work of Mary Walton as she biographed Deming and his philosophy. I was young, sure of my convictions and ABB allowed me to develop what I call these days a strong back bone so essential for HR leaders. My convictions were my back bone. We managed to implement an appraisal system that supported teams which was unique even in the ABB ecosystem.

• Leading the HR function for L&T has been a true privilege. I have been privileged to lead all the signature practices in HR and particularly L&D. The 7 Step leadership programme, 18000 Development Centres in two decades, several initiatives to develop young leaders and a strong HR Department with an excellent team of HR Leaders is what I leave behind. From Step 1 to 7, the L&T Leadership strategy, addresses high potential Executives, at various levels in the leadership pipeline. The programs are designed with internationally ranked institutions to provide inputs on innovation-based strategies, finance, and integrated business models. It has been an honour leading HR in L&T and at each step sculpting HR policies that support a strong work culture. L&T has many micro cultures that infuse the way we do things. Pride in quality execution, customer intimacy, humility with immense success and confidence, respect for people and caring are all a part of our credo. The L&T culture rewards loyalty and hard work. The work ethic in L&T is unique. People are extremely empowered and work in a truly professional team-based environment that rewards merit.

FAIR is an acronym for Frame Work for Linking Appraisals, Incentives and Rewards. This is a 20 year old Performance Appraisal System that complements a unique L&T culture. I had initiated FAIR and now it is in full bloom with many improvements woven into a system that is getting more robust with every passing year. FAIR is being used extensively on a digital platform.

The transition from dealing with Industrial Relations to applying the learnings from Social Psychology to my work, to using the principles of TQM in HR initiatives, to creating a strong engine of development and learning and finally leading HR from the front in dealing with a virus that has changed our lives have all been fascinating experiences.
I superannuate now with a sense of deep gratitude to my Company, to my family, and my friends
Subhashini, PhD, Purna, wife Sujata, PhD and son Krishna, PhD
I am looking forward to spending a little more time on my hobbies including photography
Flamingo of the coast of Mumbai Feb 2020 HO scale German trains. I have 62
I continue to be an Advisor to the CEO and MD of L&T on strategic matters of HR that concern the L&T group and am on several academic institution boards. And I shall contribute even more to positioning HR to create value in my second innings.
Namaskaar!