Leadership Development: Think Like There Is No Box
---
Talent development teams have a lot to offer. Those that remain boxed by past ideologies and practices will quickly be left right there, in the past. Those who seize the moment to change will catapult their organisations into a brighter future.
---
A recent Gartner survey done with more than 800 HR leaders revealed the top three HR priorities in organisations. What's interesting is that two of the top three relate to talent development — one, building critical skills and competencies in the workforce, and two, developing a bench of future leaders.
Programmes are Boxes
Leadership development programmes are often operated within a proverbial 'box', such as through a six-month curriculum.
During planning sessions, HR teams are tasked with finding innovative solutions to new leadership challenges by 'thinking outside the box'.
What's ironic is that the people who tell others this done-to-death cliché have themselves not thought outside the box. But let's face it — what they're really suggesting is that we've virtually confined our thinking to a limiting box. We need to break out from operating in the same pattern, from the limits of a fixed mindset, and challenge our assumptions.
If necessity is the mother of invention, a crisis is the mother of leadership development. A crisis gives birth to new leaders. My view is not that we need to have crises to have leaders emerging but that we need to constantly create opportunities for employees to develop themselves as leaders rather than just have boxed programmes.
Let's make a new assumption: there is no box.
The 4E Experiential Leadership Development Model
Organisations must build a culture for their employees to Emerge, Enhance and Evolve while being constantly supported through the connecting E, i.e., Educate (refer to the figure). Erstwhile leadership development programmes could be revamped and integrated with this model.
EMERGE
Gunjan Saxena became the first female Air Force pilot to fly in a combat zone during the Kargil War. However, she suffered hardships right from her childhood when she said she wanted to fly. She was told of every reason why she shouldn't or couldn't, despite her obvious talents. But she developed her skills patiently. Apart from Gunjan's father, who chose to focus on her ability and not her gender, the Air Force commanding officer recognised her potential and trained her to accelerate her development by bringing out her strengths and talents.
Gunjan was eventually called upon to unleash her powers in a battle and emerged as the most efficient pilot during the Kargil War. She emerged as a leader through her expertise.
The lesson from this story is to keep an open mind in identifying emerging leaders and go beyond stereotypical choices like what the commanding officer did with Gunjan. For instance, consider what a typical caricature of a leader looks like — a classic extrovert. Introverts often get overlooked for leadership roles, even though ultra-successful people like Warren Buffet and Bill Gates are well-known examples of introverts. Moreover, study after study has shown that more introverted people come equipped with critical leadership advantages.
It's not always the more extroverted person on the team who is the most logical choice for developing as a leader. Identify people with diverse sets and capabilities, help them become aware of their unique skills, and develop their expertise to help them emerge as future leaders.
ENHANCE
The Indian Men's Cricket team recently scored a historic victory against Australia. The unique premise was that the Indian team did not have most of its best players, with the Captain on paternity leave and many of the key players injured. The team primarily comprised a young, emerging squad of Cricketers who took on the world-beating Aussies and pulled off a miracle win.
Emerging leaders often get opportunities to enhance themselves when leadership above them is not there. For instance, when someone senior is on vacation or leave, emerging leaders will step up to fill the vacuum.
An emerging leader can also shadow a more senior person by getting opportunities to, say, become manager for a day or even a week. Job shadowing allows an employee to get a real sense of what the role entails and apply expertise firsthand. Moreover, the senior can gauge the depth of an emerging leader's expertise and recommend what needs to be learned and improved.
Provide emerging leaders the opportunities to apply and enhance their expertise in different scenarios. Both the employees and the organisation must be willing to take risks and provide multiple opportunities for employees to gain exposure to diverse teams and complex challenges. One way to do that is job rotation. Job rotation provides challenging, hands-on learning opportunities to employees where they can apply their expertise into different teams, functions or geographies while building cross-functional knowledge and getting greater exposure to the business at large.
EVOLVE
From San Francisco to Bengaluru, an all-women air pilot team flew over the North Pole on the world's longest air route, completing the longest non-stop commercial flight ever operated by an airline in India. We wouldn't have known this was even possible if it hadn't been tried.
Leadership development reaches its full potential when emerged, and enhanced leaders get transformative opportunities to spread their wings and evolve. Do not protect them in a bubble wrap. Let them think like an owner.
Start with giving promising leaders the authority to make certain decisions. Give them full ownership of some projects, wherein they are not required to run every idea by you. Let them take more responsibilities. Make sure they also have some 'dabble time' set aside to work on new ideas. When they take smart risks yet fail, don't beat them up. Encourage them to learn from their failure and put safeguards in place to not repeat the same mistake.
EDUCATE
A leader accumulates a wealth of knowledge over the years. That's what the connecting 'E' of the leadership development model is all about: educate others with what you have learned so they can develop into leaders themselves. Share your expertise and tacit knowledge through formal and informal learning programmes, mentoring and coaching, enabling budding leaders to emerge, enhance, and evolve.
Get ready for the future of work
The World Economic Forum estimates that 50% of employees will need to be reskilled by 2025. Gartner research recently showed that only 44% of employees trust their leaders and managers to navigate any crisis well.
Talent Development teams have a lot to offer. Those that remain boxed by past ideologies and practices will quickly be left right there, in the past. Those who seize the moment to change will catapult their organisations into a brighter future.
The 4E Experiential Model could help you revamp your leadership development approach during this critical time of intense change and uncertainty.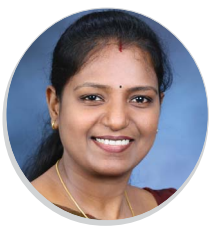 Swarna Sudha Selvaraj is the Head of Talent Development for TCS Europe, UK & Ireland. She is a vibrant HR leader with over 18 years of work experience gained from association with TCS and Murugappa Group of Companies.