International Women's Day 2021
What do you wish you had known as you floundered through your younger years? For International Women's Day, that's exactly the question we asked some inspiring Human Capital women authors who are changing the odds, changing the game, and changing the future. The result was great advice on how you can 'choose to challenge', whatever your age! Here are the powerful insights they shared:
---
Debjani Roy, CHRO, Mind Your Fleet
The first piece of advice I would give my younger self is to love oneself unconditionally. The woman is typically known for her compassionate and 'giving' self. It is time she moved away from that image a bit to also nurture and love herself first before stepping into her ever-generous avatar.
Also—there is great virtue in living a simple life, laughing and smiling regularly, helping others and doing a bit of charity along the way. It helps balance the other side that we aspire for—to be successful, earn accolades, rise and shine and beat all others at their own game.
Finally, respect for knowledge, the elderly, the teacher, the elements in nature—are a must. Practising gratitude is also necessary.
---
One of Debjani's quotes comes from Gloria Steinem: Without leaps of imagination, or dreaming, we lose the excitement of possibilities. Dreaming, after all, is a form of planning.
---
N
ishath Usmani, Director, KPMG India
Dear younger me,
Don't chase perfection. You don't have to be kosher all the time. Remember the time the first one was born? Everything changed, from the food you cooked to the places you visited and the friends you made. More significantly, something changed in your head. Societal and peer pressures crept in. "How can you put yourself ahead of the baby?" "Did your parents bring you up like this?" And just like that, you put your career on the back burner. Nothing wrong there. After all, life is about the choices we make. But as your career took a backseat, so did the "you" in you. And that was the mistake.
Motherhood, like a career, is a lifelong journey with some highs and many imperfections. So even when you sat back to bring up the little one, you could have done a certification, pursued a hobby, or set new goals. You shouldn't have to sit back to do the right or most perfect thing. You know the only right thing to do is pursue your happiness!
---
One of Nishath's favourite quotes comes from Melinda Gates: A woman with a voice is by definition a strong woman. But the search to find that voice can be remarkably difficult.
---
Kalpana Bansal, Head - Careers, Competency Assessments and Development, Reliance Industries Limited
Build financial independence, focus on wealth creation and put yourself first. To be able to achieve more for yourself at a later stage in life, it is important to be financially strong and independent of others. Economic empowerment gives you a voice and access to a lot of other resources, which are the foundations of equity.
---
One of Kalpana's favourite quotes comes from Beyoncé: I truly believe that women should be financially independent from their men. And, let's face it, money gives men the power to run the show. It gives men the power to define value. They define what's sexy. And, men define what's feminine. It's ridiculous.
---
Monika Navandar, Founder, NeoSeven Solutions
While reflecting on the advice I'd give my younger self, the first thought I had was: I wouldn't be here today if I wasn't myself throughout all these years. My personal slogan is "Be Authentic, Be Yourself!"
I have learnt from all my experiences, and the only thing I would want to change from my past is making sure that I attended the weddings of my closest friends.
The one decision in my life that I am super proud of and feel blessed about is to have met my future husband during my engineering days. It can't be said enough times that having the right life-partner is so important for leading a happy and rewarding life. My husband is my soulmate, my strength, my guide and my biggest supporter.
The theme of IWD 2021, #ChooseToChallenge, resonates with me because this is my very nature. Since my growing up years, I have chosen to challenge every time, and this comes to me from my mother. She provided me with a safe space to discuss (literally) everything with her and also enabled me to call out any form of bias, inequality or stereotyping. On a side note, at the time of my birth, it was customary to give a child four names. One of the names my mother gave me was Kranti: the revolution!
#ChooseToChallenge: Traditional ways of doing things, patriarchy, misogyny, chauvinism, racism, micro-aggressions, stereotypes and any form of biases!
---
One of Monika's favourite quotes comes from her mother, who says: 'Jo bhi hota hai, acche ke liye hota hai!', meaning, 'Whatever happens, happens for good!'
"You wouldn't know it immediately, but you would realize it over a period of time in the grand scheme of things; everything keeps getting better with time. So, don't be anxious about things that are out of your control," she adds.
---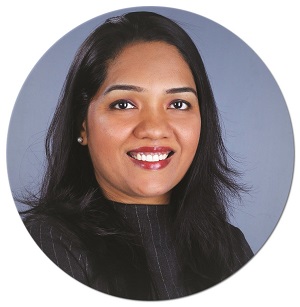 Geetanjali Wheeler, Senior L&D Leader
As I look back 17 years now, it feels like a voyage with many destinations. I'm happy with the way I have grown as a professional and a person. There was a time when it was all about achieving my goals till the time, I realized that the goal post kept changing with each achievement, and I was not enjoying the journey. Today, the journey is more valuable to me than the destination. The destinations are outcomes, and they eventually will come through because it's about living the journey.
---
One of Geetanjali's favourite quotes comes from Serena Williams: I really think a champion is defined not by their wins but by how they can recover when they fall.
---
Pooja Nath, HR Transformation Consultant
It is never too late to pursue your passion or learn a new skill. Be curious, take risks, and remain a student for life. Never let the excitement of that little girl inside you fade.
---
One of Pooja's favourite quotes comes from Shirley Chisholm: If they don't give you a seat at the table, bring in a folding chair.
---
Sakshi Sood, HR Business Partner,
Merck Sharp & Dohme
Be true to your own self. Continually improve and hone your skillset, but don't fall into the trap of emulating others at the risk of losing your identity.
You can lie to anyone in the world, but you can't lie to yourself.
Learn to identify and chase the right things, and other stuff will automatically fall into place.
---
One of Sakshi's favourite quotes comes from Emma Watson: If you truly put your heart into what you believe in, even if it makes you vulnerable, amazing things can and will happen.
---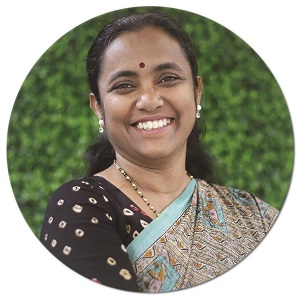 Harini Sreenivasan, Partner, Semcostyle Institute India
Be fearless; follow where your heart takes you, and listen to what your mind tells you. Celebrate your success, however small, and learn from failures, however big they might be. Be your own competition, and be a better version of yourself each day.
---
One of Harini's favourite quotes comes from Mother Teresa: Reach high, for stars hidden in your soul. Dream deep, for every dream precedes the goal.
---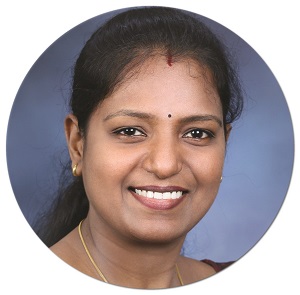 Swarna Sudha Selvaraj, Head of Talent Development, TCS Europe, UK & Ireland
Mobility for career enhancement and exposure is not necessarily a constraint if planned and executed well. It is just a mindset that it is difficult to convince stakeholders in the family and manage work and young children in an unknown place.
---
One of Swarna's favourite quotes comes from Rajani Seshadri: Work-life balance doesn't mean that Work and Life must be equally balanced at all times. It could change based on priorities, with one being heavier than the other.
---
Ashu Khanna, CEO, Arka Capital Advisors
I would tell younger Ashu to be true to herself and just keep moving forward.
---

One of Ashu's favourite quotes comes from Mother Teresa: I alone cannot change the world, but I can cast a stone across the waters to create many ripples.
---
Sunitha Lal, CHRO, Ather Energy
Dear younger me,
Fight louder for the causes you believe in. You might not get the support, but be at peace with it. Don't carry the guilt for all of the zillion things you are expected to do or should have done in the many roles you play. Be more unapologetic, laugh more, and travel more. Never give up what nourished you so far. Reading, writing, and listening in the life journey, you miraculously picked the ability to be at ease with yourself; you should never let that go.
---
One of Sunitha's favourite quotes comes from Maya Angelou: Each time a woman stands up for herself, without knowing it possibly, without claiming it, she stands up for all women.
---
We also asked men to talk about female leaders who inspire them. Here are the responses they shared:
Dr. Moorthy Uppaluri, Former CEO and MD - Randstad India, Angel Investor, and Advisor to early-stage start-ups
I have been moulded, influenced, and inspired by enormously powerful and charismatic women all through my life. It is not an exaggeration when I say that most of my success is attributable to the women I have been surrounded with all throughout my life.
This began with my mother, who was not only a compass in this tumultuous voyage of life but also a magnificent coach. She was the best CEO I have ever come across despite her being a high school dropout. The resilience with which she managed a young family with three kids and its finances, all while single-handedly ensuring a bright future for her kids ever since we lost my dad to a ruthless heart attack, is nothing less than a miracle.
When we lost my dad, I was 12 years old, and my Mom was barely 33. Of the many lessons I have learnt from my mother, one that will remain with me for the rest of my life is, "Love is more inspiring and motivational than fear or force...it yields sustainable and reliable results!" She remains my best friend, philosopher and guide.
I also had the privilege of working with some of the most intelligent and empathetic women leaders in the business world. Their commitment and drive par excellence combined with a simple approach to complex organizational and business challenges have not only supported me in becoming successful but have also influenced me in becoming a better leader.
One of my women colleagues – an industry champion and role model for many – had transformed my thinking and how I perceived others' actions. She has consistently challenged me and supported me in developing a 180-degree perspective that helped me in building empathetic skills and emotional intelligence that are much needed to connect effectively with people. This enabled me to create a positive mindset, pleasant experiences, and above all, to become a good human being!
---
Kenneth Wheeler, Director of People & Culture,
True Fit Corporation
It is a privilege to be so powerfully influenced and inspired by a female leader who touches the lives of many outside and also significantly uplifts her family's spirit at home. I have known Geetanjali Wheeler for over 15 years now, and it's been a blessing to observe her up close in action (both in the professional and personal world). The quote that immediately comes to mind and best resonates with her personality is, "A strong woman looks a challenge dead in the eye and gives it a wink." – unknown. She is a charismatic personality who, regardless of any turbulence that life has thrown at her, has always emerged victorious!
Among the many values and principles that make her a superstar leader, I am excited to share the top 5 qualities.
An Epitome of Strength
Geetanjali possesses an undeterred self-belief that nothing is impossible to achieve and conquer if you put your mind, heart and soul into it. Even with unfavourable conditions during her early 20s, she has risen to become an established individual career-focused woman. A completely self-made person in every true sense of the meaning, she has always embraced tough situations with utmost grace and humility. Even in the face of severest adversities, she has emerged as a stronger and improved individual. This conviction rubs off energy on others who also begin to believe that "I can be strong and overcome my challenges."
A Magnet of Grit
For Geetanjali, there are no shortcuts in life. Everything must be planned meticulously and then backed up by sheer grit to achieve absolute success. The detailed preparation, hard work and sweat she puts behind every project have been a real jaw-dropping experience for me all these years. She refuses to be distracted, disturbed or thrown off track by anything! You can put her to the toughest task and ask her, "Do you think you can make it out of this?" – the passion and conviction with which you will hear her say "Yes, of course, I know I can" will make you wonder where that unchallenged grit comes from.
A Natural Instinct of Being a Protector
Geetanjali is completely committed to protecting her family and loved ones no matter what the cost. This then translates into her being protective of her team. As a leader, it is critical to let your team know that you have them covered and that you have their best interest in mind. As her family, we (2 beautiful daughters Ananiaah & Michelle and I) know that nothing can get past Geetanjali's protective shield!
A Wonderful Ally and a Formidable Foe
Anyone who has come into the close and confidant circle of Geetanjali would understand that as much as she is a wonderful ally, she is also a formidable foe when pushed unduly. While you collaborate and help people, it is equally important that you also define limitations and boundaries. What she does extremely well is to communicate respectfully that you just do not ever get to push her as a woman—like never, ever! This clarity has allowed people to see her as a purpose-driven leader who operates in a straightforward manner—a virtue that has earned her much respect from her peers and bosses alike!
A Woman of Unquestionable Faith, With a Spiritual Soul and Kind Heart
This happens to be Geetanjali's most powerful weapon for all her success earned to date. The faith and spiritual backing in her favour are greater than any force that stands against her. Perseverance and resilience come naturally with the belief that 'never give up and never give in.' Her kind heart ensures that she always spreads warmth. When faced with challenges, I often hear her say, "I don't know how this will work out other than the fact that I know it will most certainly work out" – that is faith which can be a leader's best friend!
---
Vikas Dua, Chief HR Mentor, Attayn and author of 'HR in my HeaRT: Leadership Lessons Like Never Before'
While there have been many women leaders who have inspired me, I think the one I would like to point towards is Shaili Chopra. A celebrated business TV anchor, journalist, author, and entrepreneur, Shaili has built SheThePeople.tv, a platform that serves to empower women and change the conversation around and for women.
The stellar work she is doing in this space will have a transformational impact in a country like ours and is immensely inspiring and worth emulating.