The Rise Of Cognitive Platform
Cognitive platforms herald the future of talent experiences, and usher in a transformation for the HR function. The cognitive era will ensure that organisations will be able to anticipate talent movements and proactively work towards delivery unique tailor-made solutions.
The current HR Technology landscape is fraught with multiple tools and interfaces along the employee lifecycle that capture segments of employee data. Hence, organisations are constantly grappling with the challenge of integrating them into a single stakeholder friendly interface that delivers strategically on Talent Insights that drive business outcomes.
Seamless flow of data through the employee lifecycle means across multiple devices demand a level of cognition on the part of the system.
The Future of Platform
A cognitive Talent platform would seamlessly enable organisations to transform how they hire, develop and retain a diverse workforce through curating and delivering Personalised Talent Experiences. There is a significant movement from 'integrated talent management' to 'talent experiences'. Artificial Intelligence (AI) and RPA (Robotic Process Automation) enabled talent practices are the first steps towards facilitating delightful talent experiences through 'Cognitive' Talent Management.
Cognitive automation combines the power of Artificial Intelligence and rules-based automation (robotic process automation – RPA) to help HR functions. This stage is a new era in automation, delivering an integrated, seamless platform of 'curated talent experiences' and application delivery. This is thus the beginning of the future state for talent management. In this stage, organisations enhance the use of such automated processes to deliver a coherent talent strategy using the latest technologies.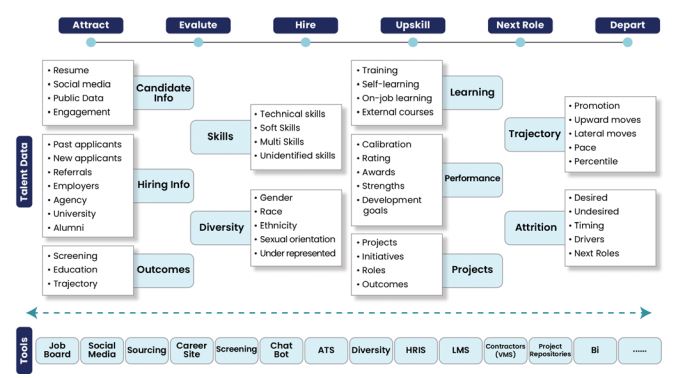 The Talent Platform Landscape
An open interface cognitive system would seamlessly integrate internal data on talent pools with external data to create a free flow, dynamically updated talent exchange that is relevant currently and is constantly adapting itself to the external environment.
Workforce Planning
♦ Workforce planning needs to be ongoing basis project requirements and skills analytics for the projects/ vacant roles. Scenario planning must be used for identifying the requirements
♦ Workforce planning must be integrated with talent acquisition/ talent marketplace for continuous, quicker turnaround time on requirements
Career Management
Careers are no longer a result of vacant positions and qualifications. They are viewed today as a constellation, resulting from education, experiences, interests, gigs and others as depicted driven by employee needs and hence need to be democratised.
Internal Mobility Marketplace
With a change in the design of the organisation, transformations are also apparent in the movements and experiences of employees. With the Talent Marketplace, the ability to work in a networked organisation designed basis projects /gigs becomes easy. The platform would enable:
♦ Advertising projects/gigs on an ongoing basis for the networks to support agile organisation
♦ Identifying/recommending key skills profile for the said projects/gigs through skills matching
♦ Integrating internal mobility marketplace with individual employee's skills profile interface to enable democratised career management
Skills Development
♦ Development interventions need to be a result of continuous feedback from projects/gigs/skills gaps emerging from the role
♦ Deeper current and future skills must be aligned to the emerging business landscape through keyword matching in LMS, Coursera and LinkedIn Learning
♦ The progress and proficiency of employees must be updated on a real-time basis. Acquired skills must be added to the skills profile on an ongoing basis to facilitate deployment to projects or for succession planning and others
Talent Network for affected employees
♦ Building skill-based talent networks for job seekers and potential candidates enabling a common platform for job seekers and talent teams
♦ Assessing the strength of candidates with artificial intelligence-enabled tools that automate the assessment process and can even perform personality tests
♦ The tools view goes beyond keyword matching and hunts for patterns and interests that denote curiosity and drive
♦ To be integrated with the talent acquisition interface for the strategic use of the network. Skills analytics to highlight strong profiles from the network for gigs/roles
♦ Predicting next best move for the employee basis skills match
♦ Highlights and guides the employees towards the best possible career movement basis insights gathered from the individual's career constellation
Talent Acquisition
Talent acquisition is a crucial function in Human Resource Management and is poised to witness revolutionary changes owing to upcoming technological developments, especially Artificial Intelligence (AI) & Machine Learning (ML) technologies.
AI-driven sourcing would be fully automated and proactively search for candidates based on their relevant technical skills and competencies on a professional profile. To that extent, this dynamic search would not be triggered by a position or vacancy, but by the availability of skills of interest to the skill matrix of the organisation. AI-driven skill ontologybased recruitment platforms can match the prospects skill profile with the required skills for the organisation, and sort the suitable candidates as per rank based on their 'fit' for the open position. It can also be triggered to automatically assess, video interview and profile the behavioural traits of prospects and do a "cultural fitment" and reduce cycle time for the selection.
As a result, line managers could double up as recruiters and get a highly targeted search query, and thereby eliminate the need to screen hundreds of candidate profiles for a given position.
Cognitive Screening: Once recruiters have sourced resumes, the next step is to screen and prioritise them. This is often being done by a resume parsing tool, using Natural Language Processing, deep learning, and machine learning to screen resumes contextually.
AI-enabled screening helps in matching skills and prioritises suitable resumes. It matches the candidate profile based on required skills, history of job transitions, expertise level at various skills and then candidates are ranked as per their matching score/ percentage
Virtual Recruiting: Video interviews are being used at the first level of elimination and provide a use case for automation and RPA. From shortlisting resumes using skills matching to virtual scheduling using RPA, to decoding the messages and serving transcripts and feedback, automation can be a game-changer in the recruitment process. Using the power of AI & ML technologies, it is possible to convert recruitment into a completely virtual process. The most crucial part of the process i.e. interviews can be conducted virtually and analysed.

AI-matching to maximise hi-po candidates & opt-in: AI-matching of skills/ competencies/experience/ expertise with the required skills for the open positions sorts the hi-po candidates which are suitable for the given position. The AI-driven CRM and nurture campaigns help ensure more opt-in from the hi-po talent.
Talent Diversity
Diversity and Inclusiveness are not just socially mandated compliance requirements, but are a part of the larger agenda of the sustainable global organisation. Diversity and inclusion can be seamlessly integrated into the organisation's processes of the future using Cognitive automation to set algorithms to curate the right mix of gender, orientation, religious preferences and even personality types for the organisation. ML can enable the system to accurately predict the right mix for the organisation.
Diversity Dashboard:
Organisations are making use of analytics to create Diversity Dashboards that monitor different key metrics related to diversity and inclusion. Cognitive automation provides mechanisms to embed these checks within the workflow. It is possible to embed work rules such as providing priority to resumes of females, or of particular ethnicity basis rules-based processing, to enable the organisation to be on top of its diversity charter.
Candidate Masking: Candidate masking shows the potential to help reduce hiring bias in the screening process. Cognitive technologies can blur images, or faces, or even superimpose a layer to protect the identity of the candidate. It is even possible to change the voice and render it gender neutral, this ensures that unconscious biases or prejudices of the hiring managers are minimised and talent is assessed based fitment for the role.
AI solutions such as NLP based algorithms can provide a way of ranking the candidate's suitability for the job using a matching process of the applicants' skills and experience, irrespective of age, gender, or ethnicity, with job postings. This feature has been already seen on various job portals and LinkedIn, and is something that organisations are increasingly adopting in their Applicant tracking systems. It is possible to customise these conditions or rules for the organisation to deliver optimal results.
Cognitive platforms herald the future of talent experiences, and usher in a transformation for the HR function. There is potential to move the HR work processes several notches upwards and repurpose the HR professional to work as an enabler and evangelist and let the mechanical routine chores be taken over by automation. The cognitive era will ensure that organisations can anticipate talent movements and proactively work towards delivery unique tailor-made solutions.
Follow and connect with us on LinkedIn, Facebook, Instagram, Twitter for latest HR news and insights.
Kalpana Bansal is Head - Competency Assessment and Development, Reliance Industries Ltd. She comes with an experience of more than 20 years and has worked in organisations such as Tata Unisys, Star TV, IMRB, Mudra Communication and Watson Wyatt (I) Pvt. Ltd and the RPG Group. Kalpana has an MBA and has completed her Executive Masters in Consulting & Coaching for Change from Said Business School, Oxford University.