Thumb Rules To Manage A New-age Employee
Millennials value clarity and honesty, and if they experience that an effort is being made to bolster their careers, they will feel more involved and invested in driving the organisation's growth.

What does the new-age workforce want? This is a question that is being asked by a large number of organisations in the recent past. As per a recent report by the RBI, attrition rates in India stand at 16.1% in 2019, implying that the struggle to retain talent across sectors is real.

That said, retaining modern professionals is not exactly rocket science! Employers only need to pay heed to employee expectations - stated and unstated. Here are some thumb rules that can help organisations ensure that their key talent is engaged, happy, and satisfied at work.

An employee-centric framework: Human Resource Management begins and ends with people. It is therefore important to have a flexible HR framework which places employee welfare at its heart. Policies such as taking the human element into question prior to introducing a new policy, taking employee inputs before making HR-centric decisions and accepting feedback on the existing policies must therefore be adapted. These will enable to nurture a work culture that strikes a better balance between the needs of your employees and that of your organisation.

Focus on holistic employee wellbeing: While the impact of largely-sedentary jobs on physical health is well documented, the long- and short-term effects of work-related stress are coming to light only now. Modern day professionals are amongst the most stressed among all the generations - such is the scenario that the World Health Organisation has documented it as a medical condition.

There is a growing demand from the millennial workforce to be no longer be stressed at and about work. In-house gyms, nap/meditation rooms, and recreation centres are just some ways that can enable employees alleviate the pressures of their daily workload. Regular yoga sessions could also help in effecting a better camaraderie amongst different teams and improve the mental and physical wellbeing of the employees. Organising a post-work 'chilling' session at frequent intervals will also bolster engagement between people from different teams, driving better results, and more proactive collaborations at the workplace.

Encouraging a work-play-life balance: At the end of the day, an organisation only desires business outcome from its employees. Hence, so long as the output is up to the mark in terms of quantity and quality, does it matter if your employees are working for 10 hours or 6 hours, of if they are working from home?
Millennials are a committed workforce, but they value personal time just as much as they push for professional excellence – and they want more trust and autonomy from their employers. When Meddius, an US-based company, adopted a results-only working environment, it witnessed significant enhancement in employee productivity and loyalty. Adopting a similarly flexible approach at your organisation might yield similar results.

Providing a purpose: Employees are not mere resources; they are people with goals, wants, and ambitions. Therefore, while most employers ask their employees what they can do for them, it would be worthwhile to ponder what the organisation can do for its workforce. It, therefore, becomes essential to map out a clear growth path for all the employees, with constructive feedback about the things they are doing right and their areas of improvement.
Millennials value clarity and honesty, and if they experience that an effort is being made to bolster their careers, they will feel more involved and invested in driving the organisation's growth. They also love to be recognised for doing good work, so quarterly or half-yearly R&Rs might just be the right platform to motivate the top performers and boost employee morale across the board.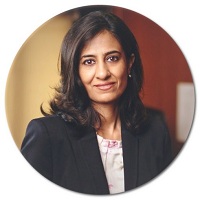 Pooja Mehra, Partner & HR Head, EverVantage. She comes with an experience of over 18 years in HR in leadership and business consulting roles across India and the globe, with companies such as Rio Tinto, FICO and Ernst&Young. She is also the Board member for Udayan Care (NPO) and is a strong advocate for the rights of children and women in India. Pooja has a PGDM in HR.