Being All-inclusive: The New Mantra For India Inc
It has become important for organisations to remain focused on diversity, and find ways to consistently and meaningfully include diversity as a priority in their overall talent management strategy.
Workplace diversity has been in the news for some time now. Organisations are required to focus on diversity, and W to consistently and meaningfully make diversity a priority in their talent management strategy. However, many Indian companies are still contemplating the meaning of diversity.
The importance of diversity
The National Human Rights Commission, in its report on the living conditions of transgenders, revealed:-
1. 92% of trans-people in India cannot partake in any economic activity
2. Less than 50 percent of those surveyed have access to education, and
3. The 62% who do, face discrimination
In any organisation, the HR function must create and sustain a safe and respectful space for employees. And creating an environment where LGBTQ+ employees feel this way should be an organisational requisite, and policies intolerant to abuse, discrimination, and exploitation must be mandated. Successful implementation involves a combination of dialogue, training, and awareness. Several industries have a natural tendency towards diversity, and including people based on their skills, but it is important to create a growth conducive environment.
First steps
As a first step towards the creation of an LGBTQ-friendly workplace, companies must understand each of these groups and identify their individual needs. Organisations need to devote time and think through while developing antidiscrimination and anti-harassment policies, that discrimination on sexual orientation, identity, and expression of gender are prohibited. Another key aspect is that the health insurance policy allocated to employees must cover aspects such as a gender affirmation procedure and hormone therapy, along with other transition procedures. It is also important to build an infrastructure to support the third gender, which includes gender-inclusive restrooms. Some of the other initiatives include sensitisation of existing employees, support system for employees transitioning in the workplace, and formation of an employee resource group.
Mental health matters
An organisation that aims to inculcate an all-inclusive work environment must strongly consider the creation of a diversity and inclusion programme. And it is essential to consider mental health while the process of putting in policies and infrastructure. HR stands as the first point of contact for employees to gain access to mental health and other support services. A key aspect to this is to sensitise employees about diversity and inclusion, encourage them to form support groups for their colleagues, and thereby, create a positive environment.
Hiring equality
A well-managed diverse workforce will lead to cost reduction and greater profitability. According to a report by McKinsey on workplace diversity, companies that employ a diverse workforce stand to gain 35 per cent higher financial returns than others. The other advantage of recruiting LGBTQ+ candidates is that it will enable companies to tap into a wider talent pool, thereby making it easy for them to find the right candidate. To recruit suitable LGBTQ+ talent, Indian companies need to adopt a comprehensive approach that includes tailored LGBTQ-friendly employer branding, and diversity-oriented talent acquisition professionals who wield significant experience in assessing diverse candidates. LGBTQ+ equality needs to be embedded in every communication–from presentations to newsletters to visuals and even conversations. While these may seem trivial, they carry a huge impact.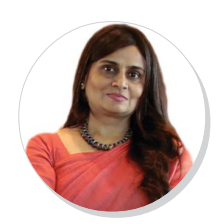 Urvi Aradhya is the Chief Human Resource Officer at K Raheja Corp. She comes with an industry experience of 19 years in Human Resources and has previously worked in Parle Bisleri Pvt. Ltd. She has introduced a multichannel, innovative, technology driven recruitment approach whose benefits are seen at the bottom line. Urvi is a graduate in Statistics and a postgraduate in Human Resource Management.