Employee Wellness - No More A "Choice" For Organisations
"Employee wellness" as we all call it, is not a new terminology and has been in existence since ages. Today, we believe that an organisation's leadership should be well aware of the extra strain that employees are experiencing as we live through COVID-19. And what is possibly an area of larger concern, as we go through self-isolation, is that employees could be in harm's way if their leaders are not looking out for them. Today, mental stress or depression is more than a "Chemical Locha" when it reaches a certain level, and is equally hazardous. As per a research study, when the pandemic hit the globe, 62% of the employers were not ready with an action plan to manage the outbreak. This has served as a "wakeup call" to all the organisations. Research has proven that "happy employees" help increase the "happy customer" base.
While the pandemic has made a negative impact across the globe, it has also presented a positive side wherein individuals have become more concerned about their physical as well as mental health.
"Happifying Work Life" should be the mantra that organisations need to breathe in to achieve strategic business objectives. Off late, there has been a lot of buzz around mental health and a lot of traction was visible on social media sites. From an organisation's perspective, employee wellness should not be limited to mental or physical health, and should focus on a holistic approach focusing on 4 key aspects:
⚫Physical health: The condition of the outer body
⚫Mental health: The ability of the brain to understand, think, connect & process the information, data, or experiences around oneself. Mental health is "Dimaag ki baat"
⚫Emotional health: The way of managing or reacting to a given situation. Emotional health is more about "Dil ki baat"
⚫Spiritual health: This is more about self-actualization & resilience
As an organisation or as a HR leader we should focus on "Wellness" as a combo pack which helps us in laying a strong organisational culture and creating a sense of belongingness amongst employees. Wellness programmes should not just be a part of employee engagement activities, and should turn out to be serious business for the organisations. In our view, employee wellness programme is a "strategic decision" and needs strong commitment from the C-suite. Focus on "CARE" to devise & measure the effectiveness of your wellness programme:
✅ Calibrate & collaborate with your target audience. The key things that leaders need to do is to take some time off and set their own priorities. They need to understand employee needs and act accordingly based on what's essential and what's not! When it comes to health & wellness, no one size fits all. According to a research published by HBR, 75% of the sample size mentioned that a personalized approach to the wellness programme is the key factor driving the success.
✅ Agility is of prime importance while designing the wellness programme. A solution which holds true in today's context may not be of any relevance in the near future. Who had thought that COVID-19 will hit all of us and the future of work will take a paradigm shift!
✅ Reflect on performance. Just like we focus on reflecting & reviewing an individual's or organization's performance; wellness programme reviews & ROI analysis should be considered as a strategic objective. This will indeed help you in measuring the effectiveness and relevance of your wellness programme and thereby help you to course correct if required.
✅ Experience it yourself. Don't just act like a host; be a part to it if you really want to understand the effectiveness of the wellness programme and how it is able to impact your employees and "Happify" their work lives. If the organisation needs to drive inclusivity, then the leadership should make themselves inclusive first.
All of us have been talking about the "Future of Work" which is augmented by technology alongside It's high time now that organisations need to focus on creating "Happy Organizations". There are multiple organisations who have introduced chatbot to help their employees manage their day to day task which are repetitive and transactional in nature. One of the organisations introduced a chatbot which keeps a tap on the employee's health by asking certain set of questions, by tracing the heartbeat, body temperature, etc. So, augment your processes with the help of technology to reap the benefits of process efficacy.
In a nutshell, if you can marry your processes with the technology and get your people aligned while focusing on "CARE", the success rate will be higher. Today, employee wellness is not a choice but a mandate. Almost all of us have heard the phrase perhaps from our parents, "Health is Wealth" and trust us it is of utmost importance to conserve your wealth. Every organisation should breathe employee wellness as a culture and should strive to provide a happy environment to their employees. Happy and healthy employees help create healthy organisations which can run in long race and reach the finishing line with grace.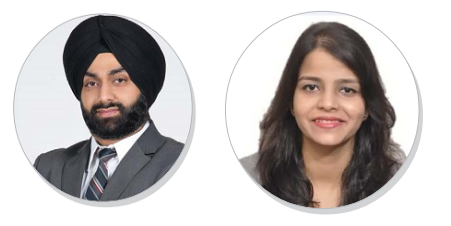 Dakshdeep Singh is an HR Tech evangelist and an experienced solution architect. He leads Customer Success efforts at PeopleStrong – Asia's most popular HR Tech brand. In a career spanning over 10 years, he has helped over 80 customers transform their human capital management. He has also been identified among the Top 100 HR Leaders under 40. Priyanka Sharma is an HR professional with 8-plus years of vivid experience in HR Shared Services, HR Process Outsourcing, and HR Process & System Transitions. She acts as a catalyst to support organisations move up the value chain by digitising their HR processes while keeping employee experience at the centre. She is currently working with WOOD PSN as Service Delivery Lead