The Post COVID -19 HR
As organisations continue to grapple with the COVID-19 pandemic by either shutting down operations or remotely operating the processes, the role of the HR function and its practices will assume a new dimension.
The fury of COVID-19 has undoubtedly delivered a lethal punch to most enterprises across the globe. Almost every other sector viz. insurance, banking, aviation, tourism, hospitality, manufacturing, automotive, e-commerce etc. is making a valiant effort to come to terms with the crisis unleashed by the virus by devising plans to ward off disruptions in the functioning of global processes. And the bitter truth is that the existing business models along with business continuity plans have gone topsy-turvy. Enterprises are thus scrambling to keep their workforce engaged during long spells of lockdown announced by multiple nations across the globe.
The Great Depression in the 1930s and the global recession post the Lehman Brothers saga in the late nineties, heaped financial misfortune across the globe. In the current scenario, economists have predicted a massive economic collapse, global recession, and job cuts during the course of the lockdown. For Human Resources, this lockdown has precipitated several unforeseen scenarios which signal a rewiring of the existing people practices to manage the workforce in organisations. An attempt has therefore been made to assess and highlight certain elements of HR which have largely existed on paper and will possibly amplify in the post COVID-19 world.
Contingent and Remote Workforce
With citizens confined to their homes, and governments promising to supply them with essential items till the lockdown ebbs, a huge surge has been reported in orders for firms in the e-commerce, logistics, retail, warehousing, food, and healthcare space. As per a recent CNBC Workforce Wire report, the likes of CVS Health and Instacart are hiring contingent workers to meet the swelling demand. Amazon, Papa Johns, Kroger, and Walmart are ramping up both the regular and contingent workforce for enabling last mile deliveries. HR could bake-in a formal contingent workforce model with structures, risk protocols and governance and contract service providers or staffing firms to meet business requirements in similar situations. They will also need to solve prevailing concerns of contingent workers related to denial of benefits which are available to a regular employee and low compensation.
This apart, the demand for gig workforce will accelerate in the coming times. Jeanne Meister, a Partner with Future Workplace, an HR Advisory and Research firm in Forbes, states that remote work is here to stay. She further adds that with the benefits of tapping into a geographically and ethnically diverse talent pool, managers will increasingly explore how to make remote working part of their culture. In terms of human capital talent acquisition or the recruitment teams within HR will be tasked to hire niche talent in quick time along with an assured back-up bench strength of talent. Jeanne mentions that transforming talent models and digitising talent value chains will be a big focus area for HR.
Work from Home (WFH)
Work From Home is going to be a significant reform in terms of commuting to work going forward. As WFH assimilates into the mainstream, the frowns and suspicion cast upon employees for doing WFH by many corporates including the reporting managers in the pre-coronavirus times is going to reduce further. In the current situation of outbreak of COVID-19 and social distancing measures, WFH has become inevitable with the likes of Amazon, Facebook, Microsoft and Google implementing the same. "We're being forced into the world's largest workfromhome experiment and, so far, it hasn't been easy for a lot of organisations to implement," says Saikat Chatterjee, Senior Director, Advisory at Gartner.
HR functions around the globe will feel the need to reorient the workforce, including the managerial and leadership cadre, on the new realities of WFH, and accordingly, amend existing Human Resource policies.
In order to firm this even further, HR professionals need to cultivate a better understanding of business critical and non-critical processes.
Wellness
Corporate Wellness Programmes would gain more traction as enterprises would be keen to sustain a healthy workforce in order to minimise the impact of bio-virus attacks. HR teams are likely to partner with business heads on establishing and monitoring cadence on health indices and cascading communication on hygiene and sanitary practices to employees. It will be worthwhile to evaluate the creation of a Chief Health Officer and Epidemiologist role in enterprises with a focus on employee wellbeing programmes to prevent occurrence of diseases. Counselling sessions for affected employees by known and newer ailments, and Employee Assistance Programmes are going to have more bite and traffic going forward.
HR Tools and Systems
In the aftermath of COVID-19, the focus on overhauling rusty HR tools and systems is likely to intensify. Collaboration and workplace tools are the need of the hour in organisations to tide over the grim situation. As remote work emerges as a reality investment in digital tools, video calls and virtual workspaces would be welcome. HR and business leaders need to sensitise the management and workforce on new standard operating procedures for video meetings, conference calls, virtual workout sessions and dress codes. HR systems used for workforce time management, salary, pay, leaves, performance management, tele-health services, benefits programmes, order management etc. need to be configured to the new realities. This in itself will be a key transformation. Furthermore, the aspects of HR apps and data along with hardware and bandwidth required to support remote work and new tools need serious thinking.
Policies
The COVID-19 outbreak has exposed severe chunks in the existing HR policies across global enterprises. In this context, such policies must be examined and revisited to accommodate newer working conditions. E.g. existing policies woven around WFH, disability, compensation, health, shift allowances, working hours, contract staff, vendors, employee perks and bonus have to be debated, and subsequently, amended in line with the prevailing laws of each country. Insurance policies in the future are likely to incorporate coverage in terms of medical and life for virus related pandemics, and HR teams need to be at the forefront of leading this change. Another huge consideration would be the travel policy with restrictions on local and international travel likely to be extended at the end of the lockdowns. For instance, existing questions on Sick Leave and whether it should be paid or unpaid needs to be resolved. Stephen Miller, in an article in the SHRM titled Health, Wellness and Leave Benefits Help Employees with Coronavirus has stated that President Donald Trump has signed the Families First Coronavirus Response Act (FFCRA) on 18 March, 2020. The following new regulations have been introduced:
◆ Emergency Family Medical Leave (FML) Expansion Act: Temporarily expands the provisions under the Federal Family and Medical Leave Act specifically to address COVID19-related absences
◆ Payroll Credit for Required Paid Family Leave: This refundable tax credit is designed to reimburse 100 percent of wages paid by the employer under the new Emergency FML expansion for each calendar quarter
◆ Emergency Paid Sick Leave (PSL) Act: Employers are required to provide paid sick time, available for immediate use, to each employee requiring such time for specific reasons associated with the COVID-19 pandemic
◆ Payroll Credit for Required Paid Sick Leave: This refundable tax credit is designed to reimburse 100 percent of wages paid by the employer under the new Emergency PSL for each calendar quarter.
Learning and Development
In terms of this crisis, new contours have emerged for Learning and Development. There has been a noticeable surge in employees enrolling for online courses, and HR teams could always encourage employees to upgrade themselves by undertaking some of these programmes. Another opportunity for HR could be to develop and deliver short business and leadership programmes through the online mode. HR could play a more strategic role by broad-basing the existing repertoire of learning programmes and include online courses on wellness, health, diet and lifestyle to sustain a healthy workforce. Organisations across the globe will evaluate and implement more programmes aimed at reskilling of the workforce on digital tools and the newer ways of working.
Risk
The current risk protocols are likely to be redesigned in order to combat a situation like the spread of COVID-19. HR partners have to update protocols and internal controls on workplace policies, business data, employee health data, IT assets, employee privacy, lay-offs, HR access management, remote working, business continuity plans including interim succession planning, alternative working arrangement like moving processes to a new site or location, client engagements, transportation etc. to see that businesses operate in a seamless manner. The existing protocols revolving around contractual obligations with vendors and other outsourced providers will call for a revision. In fact, preparing for a worst-case scenario could be handy to ward off any such eventuality in real-time.
Employee Communications and Leadership
HR needs to be proactive in dealing with employee communications in these challenging circumstances. Many organisations have activated dedicated webpages to COVID-19, thereby communicating all the relevant information to the workforce. However, HR needs to be more agile by conducting short podcasts with business leaders, live chat sessions, and virtual town halls so that employees experience the connect with the business in spite of operating remotely. In the future scenario, HR teams need to disseminate swift information on topics related to health and ailments to the employees. Social media is likely to occupy more mind space, and hence HR teams need to make the workforce aware about the norms and guidelines pertaining to the same. HR can also assist enterprises in setting up a website, app or hotline featuring curated content to provide guidance to employees in a lockdown. Some of the sources for content could include local governments, healthcare authorities and international organisations, such as the World Health Organisation (WHO). HR professionals need to be vigilant in negating any rumours or non-verified information which can rapidly spread through informal and social media networks.
In terms of leadership, HR teams need to sensitise the frontline managers and business leaders on how to empathise with employees in these dire situations. E.g. Chevron and Exxon have put safety as their topmost goal as people are critical to functioning of businesses. Leaders need to be transparent and inclusive and encourage employees to speak up on any concerns which they may be facing. Michael Beer (Cahners-Rabb Professor of Business Administration, Emeritus, Co-Founder and Director of TruePoint Partners) has stated in Harvard Working Knowledge that the COVID-19 challenge, like any crisis, provides the senior management with a huge opportunity to rapidly develop a trust-based culture. HR partners should acknowledge the efforts put in by employees to keep the wheels of business moving in crunch situations, and should also see that the workforce is operating with lower stress levels and anxiety.
Corporate Social Responsibility (CSR)
The destruction caused by COVID19 would remain etched in history for a long time. There is an immense impact on mankind and nations, especially the poor and marginalised. Furthermore, HR and business leaders need to engage and collaborate with communities and self-help groups by designing and launching niche CSR programmes focused on health, finance, wellness and skill enhancement. The involvement of workforce in volunteering programmes should be accorded more weightage in performance management and could also be mandated in the respective organisations.
The unfolding of the COVID-19 Pandemic heralds a new learning curve which is unique and unparalleled for enterprises. As organisations continue to grapple with the pandemic by either shutting down operations or remotely operating the processes, the role of the HR function and practices will assume a new dimension. Being smarter, flexible, and prepared would be the newer attributes for Human Resources to sustain high levels of engagement and keep the wheels of the organisations moving.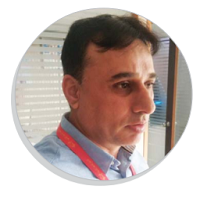 Amarpreet Bhamra is a business process management professional with 20 years of work experience in organisations such as Ernst Young, AP Moller Maersk, Tech Mahindra Business Services, Synchrony Financial, TATA Business Support Services and GE Capital International Services. Amarpreet holds a double post graduate in Communications and English respectively. He has an Advanced Diploma in Financial Management from Indian School of Business Management and Administration.