The Digital Transformation Ecosystem
Digital transformation, in simple terms, is the infusion of digital technology in all areas of business to enhance effectiveness, efficiency, sustainability and stakeholder experience spanning across employees, customers, partners, suppliers, and shareholders. It's built upon a foundation of strong leadership, encouraging innovation in thinking, processes, and business models. It fundamentally requires the organizational culture to change and adapt - by challenging the status quo, experimenting with new ways of working, and accepting 'failing fast' as the new norms.

Business leaders expect their investments in IT to fuel revenue growth. The top operational priority which used to be "improving business processes for enhanced productivity", now is "developing innovative new products and business models to grow the top line". Embracing this shift requires everyone in the organization to rethink the role and impact of technology in their day-to-day experience, and harness the power of digital innovation. While the focus in the past was limited to improving data quality and hastening up the turn-around-time of various HR processes, application of digital in HR now extends beyond productivity to enhance recruitment success, employee engagement and retention.
Fostering digital collaboration, the virtual workforce, and partner ecosystem is key to drive inclusive growth. In this staged approach, 'digital' can be applied to any area of the HR function depending on the priorities and requirements of the business. For example, HR analytics in the talent acquisition domain can improve mapping and recruitment of the right talent for the right roles on right time. This improves employee productivity, engagement, and morale while reducing unwarranted attrition. Applying artificial intelligence and machine learning further sharpens the focus of such efforts. Similar technologies can help in customizing the employee, leadership and organizational development programs to create the required pull and traction. Digital technology enables 'anytime, anywhere' learning that is cost-effective and customizable at the individual level.
Given that technology transformation is comprehensive, all-encompassing, and must be executed coherently to yield tangible results, it's vital to have a clear roadmap with a prioritized set of business objectives. HR is a critical function to help create an organization-wide impact, influencing the culture and behaviours of employees, systemically and consistently, particularly across geographically- dispersed locations. It could bear evidence of demonstrating and measuring the business advantage through an inspired, well-aligned, and empowered workforce.
Well-defined and measurable metrics which help monitor and track the impact on the business parameters is essential to ensure that digital transformation is headed in the right direction. Tangible and clear metrics like reduction in recruiting costs, improvement in employee engagement, cutting down the turn-around-time for employee services, expansion in scope of the offerings for employee development, enhancing the quality and availability of employee data, insights on early warnings about potential attrition, etc. will help gain valuable insights and track the return on investments in digital technologies.

Digital transformation has different implications. It might make some of the prevailing business processes redundant and introduce new models that were non-existent. This not only improves the process agility and efficiency but also enhances its effectiveness. While it may seem like a logical evolution of some processes, it might disrupt many others. Digitizing the existing processes as-is might create no efficiency or competitive advantage. Re-engineering processes, by considering customer insights is a strategic opportunity that cannot be missed. It's both prudent and logical to presume that employee referral, talent mapping, assessment, interviewing, and background verification processes as we know them will either get eliminated due to inherent data redundancy or get integrated with other elements of recruiting, making the quality go up while shrinking the overall cycle-time. A good example of such evolution is the 'live and dynamic' professional network platforms. The recommendations, references, ratings/assessments, verification of experiences and academic credentials, etc. as being claimed by the candidates can be both verified and validated online in real-time, even before the profile is referred or submitted to any prospective employer.
The 'human experience' is a great navigational tool to determine the extent to which the processes can be digitized. Application of technology might compromise the human element and thereby diminish the ability to create stickiness and loyalty of the users. Modern technologies should help the user manoeuvre through a maze of options and optimize the overall experience. HR must be a conscience keeper and help protect the various aspects of culture and employee engagement while transforming the business through digitization so that the baby is not thrown away with the bathwater. Human experience as a strategic differentiator is critical throughout this journey of business transformation, and HR must enable that.
Redefining business models & methods is an ongoing process to remain relevant to the target market and stay ahead of the competition. Hence, there is no specific time to initiate the use of digital technologies. For some, this might mean challenges in terms of legacy platforms and overriding the sunk costs, while for others it might be an advantage in terms of migration ease from one good technology platform to another or leapfrogging from nothing in technology to something great. The roadmap of going digital has to be architected, taking into consideration the organizational climate, culture, and business priorities. What worked in one company might be a complete failure in another.
Let there be no mistake in understanding who the sponsor of the digital transformation program is. It's not the IT department alone or the marketing department alone, but it's the business leadership in collaboration with cross-functional teams, supporting and empowering one another towards achieving the business goals. HR, as a business partner, must keep the leadership honest at all times, uphold and balance the interests of both business and people during this strategic transformation.
All along the journey of digital transformation, bear in mind that people are at the core of envisioning the strategy, designing the plan, implementing and operationalizing it. Moreover, HR is not the only custodian of talent, culture, and human capital. Accountability must be established throughout the organization, within and across functions, to achieve shared goals and ensure that the organization stays well-aligned over the long haul.
Finally, digital transformation requires users (both inside and outside the company) to be apprised, upskilled, and enabled, just like in any other IT project implementation. HR, in conjunction with Marketing/ PR should lead the efforts of building up momentum to initiate and sustain this change.
Image Credit: Gerd Leonhard/Flickr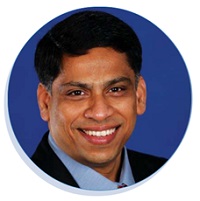 Dr. Moorthy Uppaluri is the former CEO and MD - Randstad India, a global business leader, an angel investor and advisor to early-stage startups. With vast domestic and international experience across diverse sectors like IT, manufacturing, and professional services, Moorthy is credited with evolving business strategy, building brands, growing market share, improving operational excellence, driving innovation and fostering a people-centric culture. He is also a featured author and an eminent speaker.