The Latent Energy For Building Businesses
Instead of replicating what entrepreneurs do, organisations that create an intrapreneurial culture come up with more innovative solutions for a larger, positive business impact - both for the ecosystem and their employees.
The Cambridge dictionary defines Intrapreneurship as a system that allows people within an organisation to act like entrepreneurs. Simply put, intrapreneurs are selfmotivated, proactive and action-oriented professionals who turn ideas into profitable new products, services, and businesses. Gifford Pinchot III, the author of Intrapreneuring in Action: A Handbook for Business Innovation, coined the term intrapreneur in 1978. He defined it as "dreamers who do" – employees who do for corporate innovation what an entrepreneur does for his or her brand/start-up.
With increased global competition, and in crises such as the COVID-19 pandemic, organisations are forced to rethink how they produce and deliver products and services. Today, entrepreneurs are innovating with pioneering ideas that are shaping how businesses are conducted. Large, traditional companies are following suit to build a similar environment to stay relevant to the competition. However, instead of replicating what entrepreneurs do, organisations that create an intrapreneurial culture seem to come up with more innovative solutions and build ideas that have larger, positive business impact - both for the ecosystem and their employees.
Why Intrapreneurship?
Intrapreneurship is a puissant source for change and innovation, nurturing ingeniousness and a constant search for solutions to all kinds of challenges. Hence, HR departments globally are striving to create organisational cultures, conditions, and processes that facilitate innovation and enable large numbers of employees to move from an employee mindset to that of an intrapreneur. In such an environment, there is a manifold increase in enthusiasm as employees believe they are not only given a real opportunity to think, try, and transform, but will be rewarded for it. Teams become more industrious, consistent, content and efficient.
For example, Google follows a rule titled '20% time' where employees are allowed to spend 20% of their time to come up with ideas, projects, and concepts that would be most beneficial to the company. Interestingly, Gmail, Google News and AdSense were created by Google employees who followed this policy. Twitter, Slack and Groupon began as side projects, and the best part was that the people who built them had the company's resources at their disposal. Unleashing this intrapreneurial culture fostered an environment of self-motivated, proactive, and action-oriented set of employees who pursued innovation in products and services, not just from their novelty factor, but also as a business proposition that created customer value and higher ROI.
Fostering an intrapreneurial culture
In order to foster innovation and an intrapreneurial culture, companies need to have a direction from their HR and leadership. It is not about innovating blindly in all directions! Companies need to set some paths for innovation and be clear on the areas where it wants to create value for its customers. Without direction, efforts can be scattered and will not lead to a holistic cultural or business change. The culture of Intrapreneurship must consider and combine the varied abilities of employees – which can only be achieved if the organisation understands its employees.
Organisations must understand that even though every employee may not be an intrapreneur, they do exist in almost all companies. HR functions must discover these individuals, nurture, and encourage them. The culture of Intrapreneurship allows individuals from different departments to voice their views and freely bring forth their ideas – positions and hierarchical levels have nothing to do with it. A study published by an economist from Chicago stated that younger recruits in an intrapreneurial culture usually think outside the box because they have not got used to the 'box' yet. They are conceptual innovators who come up with ideas and are eager to implement/execute them, as their fresh perspective drives their approach. On the other hand, employees who have spent a couple of years in the intrapreneurial set-up, tend to be experimental innovators who solve problems using trial and error. Employees with an intrapreneurial spirit learn and evolve with time, space, and a multitude of failures to take calculated risks, rather than being swept away by uncurbed enthusiasm.
A big part of success in a corporate intrapreneurial set-up is to promote independent thinking and equip employees to make decisions. This not only leads to creativity and innovation, it, most importantly, brings in a process of change and ownership, which translates into better products.
Corporate HRs need to inculcate a feeling of ownership for the improvements and the advancement that intrapreneurs generate. Also, they must be encouraged to create solutions independent of hierarchy.
The higher the encouragement, the bigger the motivation to be an intrapreneur! Appreciating intrapreneurial successes and the people behind them, whether they are individuals or teams, instil positive reinforcement and provide the incentive to integrate value and contribute to the future.
Since an organisation's employees know the business, processes and products, they are ideally placed to develop new ideas and facilitate them from scratch. Hence, it is important to have a combination of collaboration and competition to develop a culture of Intrapreneurship. Collaboration is needed for teams to work together and make ideas and solutions a success – leveraging collective intelligence. At the same time, they need a healthy competition so that they are constantly challenged. They need to set new benchmarks to keep them motivated.
To cover the twin aspects of collaboration and competition, HR departments in organisations need to develop and support activities, workshops, and courses that improve the effectiveness of intrapreneurs. Companies can offer training around the skills of ideation and organisational priorities, and the appropriate channels that can support the development of new ideas. Organisations can also provide employee incentives to align intrapreneurial thinking with corporate priorities and drive behavioural change. HRs can communicate the intrapreneurial efforts to encourage awareness and participation and come up with avenues for support – from the leadership or industry experts –that make intrapreneurial employees feel engaged and able to drive value.
Intrapreneurial efforts such as these within an organisation not only engage existing employees, but also attract new, high-potential individuals into the company. The value of these networks often spread beyond active participants, especially when such activities are provided as a premium offering.
Today, many leading global conglomerates have their versions of intrapreneurial cultures that often translate into products that bring business success. For example, Facebook Likes was not the brainchild of Mark Zuckerberg. Rather, it was developed by coders and engineers participating in a hackathon for creating and developing ideas. Another example is DreamWorks, the studio that has created animation masterpieces like Kung Fu Panda and How to Train Your Dragon. It offers its employees free training on script development and pitching, and puts the ideas in front of the leadership – if the idea sails, they put it into action.
The culture encourages employees to go beyond their KRAs and teaches them to make a costbenefit analysis to achieve business success. Like entrepreneurs, employees take ownership and since they are still a part of the company, follow processes and functions while making business decisions. However, by developing an environment of co-creation, the organisation not only focuses on making the workplace intrapreneurial, but also provides a great employee experience. It can have a positive impact on everything - from having a happier work culture to retention, to positive business revenue impact. Today, companies that succeed are those that boost wellbeing and productivity, and also develop client-focused products.
The way forward
Like entrepreneurs, companies will be better off looking internally through the lens of intrapreneurship to build and sell their products, rather than leaning more on external marketing or sales focus. It allows companies to utilise and optimise existing resources and products while embracing innovation – a key element of lasting growth and profitability.
An intrapreneurship culture has far-reaching implications beyond the four walls of a company. The out-of-the-box ideas have resulted in products like Sony PlayStations, Shutterstock and Java Programming language, among several other successful intrapreneurial ventures. Apart from creating new job opportunities required by these new intrapreneurial ideas, the efforts create value for both business and society. They also resonate with a new generation of managers who believe in the power of business to change.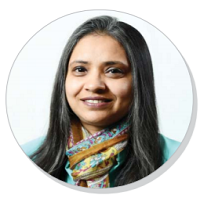 Pooja Bhasin is Senior Director - HR & Finance, Ticketmaster India who also manages the Legal and Compliance functions. She wields a professional experience of more than 25 years and has worked in leading organisations such as Motorola, GE, Citigroup, Fidelity and the ICICI Group. Pooja has an MBA in Finance and Marketing and is a highly passionate writer