Glass Ceilings And Sticky Floors
---
Women's participation in leadership positions have increased over the years; about 5 percent in executive roles and 10 percent in non-executive roles in India. The true spirit will only be evident if there is parity in compensation and powers. It has been observed that the society-imposed perception of women's roles in personal and professional life have slowly eroded with the upscaling gender diversity in managerial and leadership roles and increased drive in women investing in themselves, savouring unconventional careers and challenging roles, representing themselves in a more vocal and competitive manner.
---
CASE STUDY
Krishna is very excited about joining back at Clarion Systems. Clarion Systems is an Indian multinational company that is in the business of manufacturing valves and has a presence in 12 countries. Krishna is slated to be the Head of a new project that would involve teams from North America, Germany, Australia and India.
Krishna is a management graduate from one of the prestigious management institutes in India with a background in mechanical engineering. He has been a topper all along his academic journey and has had very good feedback about his team building and leadership qualities. He has had the opportunity to work for Clarion Systems as an engineer for a span of 3 years, prior to joining his MBA programme. Post his sabbatical, Krishna is extremely glad to re-join in a managerial position. He is to work with a US client on a project that would run for a span of 4-5 years. He would lead a team of junior and senior associates from various countries in the project to assist the client.
Krishna presented a project plan to his boss with timelines, cost and team members needed for the work. Though the plan was wellappreciated by his boss, his choice of team members was not. Krishna had chosen 14 associates, of which 6 were men and 8 were women. He had conceived a plan wherein all the senior women associates would lead their teams in their respective countries. His boss asked him to reconstitute the team, with male associates leading the team and women associates assisting them.
Perplexed at such a suggestion from his boss, Krishna questioned the need to carry out such a measure since the choice had been made on the basis of their technical competence and experience in the domain. His boss cited that women employees are not good leaders and would not deliver well in tough timelines. He further stated that they would be unable to manage the team well and balance the organisational and personal priorities. Also, by placing them in leadership positions it would lead to a situation where they would expect that they are paid more which would not be commensurate with the contribution they would make.
Krishna was very agitated with his boss' contention. He was unable to accept his boss' suggestion and argued that he intended to go ahead with the plan proposed by him since his choices were made after scientifically aligning the requirements with their capabilities. His boss became argumentative and stated that the choice of women associates in lead roles is going to topple his project timelines and also go against the compensation and staffing policy followed in the organisation; a practice that has been in vogue since the inception of the company.
Krishna was left unconvinced with his boss' contention as he had used a competency-based assessment for the preferences in his team and wondered if it truly mattered whether men or women were leading the team. He felt that if each of the members met the technical and behavioural competencies demanded by the project and guided the account billing, the policy should not be varying otherwise as well. He thought, 'Is Diversity, Equity and Inclusiveness only on cards and a farfetched reality?'
Krishna went back home with an unsettled mind and recalled similar incidents in his personal life. He could vividly recall his father who always discouraged his mother to apply for a manager's position in the organisation she worked for, since it demanded her to manage a branch and meet timebound targets, extend beyond office hours to review and close transactions on some days. His grandmother would further support his father stating that she should remain content in her current role since his father was in a good position with a handsome income. She was thrust upon with a strong reason that she would be incapable in managerial roles and should not crave for money and power that would disrupt her personal priorities. Despite such barriers, his mother had scaled up to senior manager's role, surpassing all expectations, with the least of compromises made at the personal front.
Krishna had come across few other similar experiences where there was a strong stereotyping of women's roles that left their ambitions unexpressed, bright potential unrealised and their growth stunted. He was pondering over the prevailing gender bias in welleducated and economically wellplaced families, when even a mother considers and treats a son better than a daughter. Even today, we witness sons' education and career considered as more important than that of the daughters. He wondered if it was a societal fallacy or a human inadvertence.
Krishna was positive that he has to uncast this strong contention and would traverse the last mile to prove the science behind how individuals contribute despite the gender, and hence, should be compensated commensurate to the qualifications and competence they carried to the table. He was geared up to put up a strong argument against the demoralising attitude that is disinvesting their contributions and potential. He was upset that for ages, women have been suppressed of their rightful choices, not empowered to speak their minds, and constrained to represent themselves legitimately.
Is the decades of feminist research and implicit male centrism in labour markets overlooked? Is this a social stigma? Is it culture driven? Is it a glass ceiling or sticky floor? Is it workplace discrimination? Can logic and science disprove the ideology?' In all, Krishna was determined to put up a strong argument to retain women associates in the lead role, give them their due respect in placing them in the right roles, and bill them appropriately, as they are well-qualified and competent to meet the expectations in the role.
---
REFRENCES:
https://www.forbesindia.com/blog/ missrepresent-women-gender-sexuality/ women-hold-17-of-board-positions-incorporate-india-but-only-11-leadershiproles/
---
---
Dr R G Priyadarshini currently serves as Associate Professor at the School of Business, Coimbatore Campus, Amrita Vishwa Vidyapeetham. She is a qualified award assessor for CII EXIM Bank Award for Business Excellence and a qualified psychometrician (Thomas International, UK) and certified in designing and managing assessment centres. She has been a consultant to the TVS group of companies, Wipro Technologies and Larsen & Toubro and has had academic associations with PSG College of Technology, University of Toledo and San Diego State University, U.S.A.
---
---
---
Analysis By Ravi Mishra Senior Vice President - HR for Advanced Materials Business, Aditya Birla Group.
---
Krishna is right in terms of his progressive thoughts and respect for individual capability irrespective of the personal identity based on gender, caste or creed. The only thing that should matter for an organisation is achieving its stated objectives and the competence an individual holds to deliver the outcome.
Krishna's boss has a different orientation for female employees at the workplace, and has possibly developed it basis his life experience and the environment in which he has been brought up. If Krishna intends to bring about positive changes, he will need his wisdom to take people on board through persuasion and influence, rather than creating room for conflict. Though the boss' thinking is hardly new, at the same time, there are people with the right approach to enforce the right changes. In Clarion Systems, Krishna should make use of the Pull approach instead of Push wherein he summarily rejected his boss' point of view. He should understand that there is a reason and circumstance for every perception. We always need to understand this, and accordingly, engage in a constructive conversation to put our rationale and find the common dots to arrive at the objective. This must be achieved without rejecting the contrarian point of view of the others, but modifying it in the right perspective.
Krishna must note that 'Rome was not built in a day'. He must appreciate the pace of change in every walk of our life, where participation and success of female employees are rapidly growing owing to Gen Z and the millennials. They are driven by means to meet the end by rightfully utilising the available resources without holding any historical belief and bias practices.
Krishna's example of his own family, where, his father and his grandmother had acted in a manner similar to his boss should function as a backdrop. Hence, he should not be frustrated with his boss but must understand the depth of the problem. At the same time, he should accept that it is a widely accepted norm in every organisation and society in the world with differing ratios. Education and social and economic growth have been making way for a gradual mindset change. And people like Krishna, through their opinions, are taking people on board by convincing them through real-life examples without summarily rejecting their beliefs.
Apart from people, governments across the globe are focusing on inclusion to weed out various forms of gender bias such as differences in their wages, lack of support in work environments and safety and security by eliminating the chances of sexual harassment at workplace, and facilities like maternity leaves, creches etc. to ensure support for their smooth continuity at the workplace and equal opportunity and respect.
The time is not too far when female employees have equal representation with their own capability and contribution, not merely by the sympathy of tokenism for representation.
Krishna must illustrate the examples of successful women leaders from all walks of life who have set benchmarks, whether it is space technology, politics, successful CEOs, writers, artists etc. He should complement his statements through success stories on various fronts such as medical science, sports, engineering, advanced technologies etc.
Bringing about change warrants time and cannot be done in a fortnight. Krishna should drive this noble change with patience. Flowing soft water can covert the rough surface of a stone into smooth pebbles; this is the beauty of contacting and converging to travel together. By modifying his approach to deal with the situation to bring about the change successfully, Krishna will be contributing positive changes in his organisation and be a role model to others.
---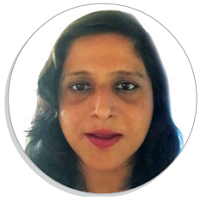 ---
Analysis By Kalpana Bansal is Head - Competency Assessment and Development, Reliance Industries Ltd.
---
Gender diversity is a hot topic in conferences today. Many companies adopt a strategy to help attract and retain talented women. While more and more women join the labour market around the world, retaining them and enabling them to take leadership roles requires proactive action on the part of multiple stakeholders, However, it is one thing to have a guiding philosophy and quite another to have managers and employees buying into it. A fair and equitable working environment would have a good mix of men and women in leadership roles, implying that they are hired at a consistent rate, paid equally, and given similar working opportunities and growth.
Recent trends in hiring have remained focused on individual skills and capabilities, with enough room for masking the gender and identity of incumbents. Internal promotions, however, are a different story, as hiring managers have a clear view of such details. In 1980, women earned less than 2 percent of engineering degrees, but in 2018, over 31 percent of these degrees were earned by women. However, the number of employed women across India has fallen to about 26% (The Economist, 2019). The predominant theme is their overwhelming population of sectors that require process orientation rather than engineering effort. Data from the National Sample Survey Organisation (NSSO) shows that the percentage of women working in finance, insurance, real estate and business services and information technology services, is only 13.4% across rural and urban populations. The participation rate of women in the workforce is significantly skewed towards rural women.
Patriarchal cultures such as India propagate stereotypes which have become our habitual way of response as we see in the case with Krishna's manager. While there is a reorientation of women's roles in contemporary society, multigenerational households seem impervious to the changes in the outside world. People like Krishna's boss have experienced the role modelling of the earlier generations, and have prejudices based on what they see in their own society. There is a constant undermining of women's identities and their roles. Prior studies on unconscious bias have shown that women often have to work twice as hard to be seen as equally competent to their male counterparts. They are expected to be masculine to be seen as capable, while still being seen as warm and compassionate. Women with caregiving responsibilities have a harder time getting ahead.
Krishna has a long journey ahead of him to create the muchneeded transformation. Gender parity at the workplace requires a radical change in outlook and building awareness and sensitisation is the first step towards creating that change. Krishna might need to engage in a series of authentic conversations around a rather touchy subject. This might be better achieved by inviting the contributions or inputs of qualified experts in diversity and inclusion, or even the in-house Human Resources staff.
Rather than dealing with his team situation as a one-off incident, Krishna could leverage the opportunity to make a significant investment in time and energy to build a more flexible and empathetic workplace. It is not sufficient to only get the women onto the team - there is a need to retain these employees' long term and nurture a culture in which these have equal opportunity to achieve their potential. Getting them in without fortifying these areas could be debilitating for the women.
In the words of Malala Yousafzai, "I raise my voice not so I can shout, but so that those without a voice can be heard. We cannot succeed when half of us are held back."
Dr R G Priyadarshini currently serves as Associate Professor at the School of Business, Coimbatore Campus, Amrita Vishwa Vidyapeetham. She is a qualified award assessor for CII EXIM Bank Award for Business Excellence and a qualified psychometrician (Thomas International, UK) and certified in designing and managing assessment centres. She has been a consultant to the TVS group of companies, Wipro Technologies and Larsen & Toubro and has had academic associations with PSG College of Technology, University of Toledo and San Diego State University, USA.