Case Study: To Be Or Not To Be!
CASE STUDY
That 2020 is not a normal business year can in no way called an understatement. However, HR organisations are still required to carry out scheduled processes amidst the lockdown owing to the COVID-19 pandemic, and performance appraisals happened to come around the same time. While a majority of organisations did carry out performance appraisals, it was mainly done to bolster employee morale, given the testing circumstances in which the employees are presently embroiled. Several organisations that were severely hit by the pandemic were, however, forced to take hard decisions.
Salary revisions are carried out by organisations after the appraisal process. Owing to the COVID-19 pandemic and the subsequent lockdown, several organisations are under tremendous pressure to run their businesses. Many of them have decided to go ahead with pay cuts for their employees to sustain this phase. In spite of all these, every functional organisation has to manage the performance appraisal of their employees and the subsequent salary review process.
One morning, Ramesh Arora, the owner of a recently established pharmaceutical company, was faced with a dilemma due to the upcoming process of salary review. It had been three years since the company's inception, and most of the employees were getting impatient and were eagerly looking forward to a revised pay structure. However, Ramesh had limited funds in his budget, and was, therefore, reluctant to reward the underperformers. He had also not carried out appraisals nor executed the process of salary revisions thus far. He decided to reward only such employees who added value to the company. He anticipated that a reward plan of such a type, after two consecutive years of frozen salaries, could lead to conflict and resentment among the employees. However, he wanted to devise an objective process to revise the salaries of the employees based on performance. Ramesh, then, decided to carry out a sudden inspection to observe the performances of the employees.
Ramesh walks towards Suhan to have a chat.
Suhan (On a call): I am sorry to hear that, but are you sure you can't make it? Take care then.
Susan disconnects the call. Suhan: I am not sure how, but he always ends up with some medical issue.
Ramesh: It is really funny to hear his reasons; I think he is the only one who is least motivated to work.
Suhan: You are right. But now, the situation is quite different. A few minutes before his call, three other people called me and said they won't be coming to work. In fact, I am expecting more calls.
Ramesh: This is disappointing. I am surprised how they can even behave like this. Absenteeism is high and it is affecting productivity. How can they even think we won't notice the fact that they keep absenting themselves often in this situation?
Suhan (nodding his head): Yes, I understand, these last-minute leaves are difficult to handle. Now we don't have sufficient time and resources to complete today's tasks. Anyway, I will manage to send the orders on time. Don't worry. Excuse me, Sir…
Ramesh: Yes, please carry on.
Ramesh is pretty impressed with the way Suhan handled the other employees and also his ability to manage the work by himself. He is convinced that Suhan is one of his key employees and must be duly rewarded.
After a few minutes, he went to see Daisy
Daisy: Good morning, Sir. Good to see you here
Ramesh: How is it going? Just wanted to ask you about your team members – Allen and Eva.
Daisy: Yes, sir. How can I help you with the information? In fact, I wanted to discuss with you regarding them before the performance appraisal
Ramesh: Then, go ahead. Quite often, I notice them on the floor, chatting with each other about entertainment shows. Once, they were talking to each other without even noticing me
Daisy: I agree, they are too busy chatting and are not productive. They are less motivated to work.
Ramesh: Have you ever told them that they must not engage in such unproductive sessions during office hours?
Daisy: Yes, of course, many times. If I warn them, they apologise at that moment and again engage in such behaviour. They work only when I keep an eye on them. Indeed, I have a tough time managing them.
Ramesh: I am really disappointed. Why will these employees not do the right thing unless someone is standing over them?
Ramesh decided that the two employees, Allen and Eva, will not be given salary revisions unless there is some improvement in the forthcoming years. He realised that at least ten percent of his employees could be sent out since they were not productive. Allen and Eva, as reported by Daisy, were hardly showing any improvement, despite several warnings. They must be sent out since they come about as incompetent, unreliable and detached. But at the same time, he began to wonder whether he had failed to find a way to motivate his employees who are not contributing to the company
Finally, he decided to have a discussion with the HR manager, Priya.
Priya: Hello Sir, I have all the employee records for your perusal.
You can check and let me know if I need to provide further information on any of the employee.
Ramesh: Thanks, I need your help on the salary revision process, based on the performance appraisal of the employees. I have already made a few observations.
However, I need you to prepare a list of deserving employees and underperformers so that we can make a decision. I don't want to revise the salary of all the employees. Only those who contribute to the organisation will be duly rewarded.
Priya: Sure Sir, I will do that. I will prepare the list and give it to you tomorrow.
Ramesh believed that giving a raise to some people and not to others will create problems. However, he wished to devise a fitting salary revision process to ensure objectivity
---
Case Study by Dr. Shameem S is Assistant Professor in OB/HRM at Great Lakes Institute of Management, Chennai. She has previously worked at National Oxygen Limited, Institute for Financial Management and Research (IFMR) as faculty, and as a Guest Scientist at University of Gottingen, Germany. Dr. Shameem holds a PhD in Management specializing in HRM/OB from Department of Management Studies, DoMS, IIT Chennai and an M.Sc. in Applied Psychology from Pondicherry University.
---
---
Analysis by Ravi Mishra, Senior Vice President-HR for Global Epoxy Business, Aditya Birla Group
---
As an employer, Ramesh must understand that performance appraisal and salary revision are two different processes. One may, however, link performance appraisal with salary revision to an extent, and irrespective of the fact whether salaries are revised or not, appraisals need to be implemented regularly, and as per a defined cycle. At the same time, Ramesh needs to have a discussion with the HR head, Priya, over issues related to poor performance, the causes and the possible solutions to enhance the same. This is a very important deliverable and outcome of the HR function. And, as against Ramesh walking around the plant and observing employee behaviour at the workplace, it should have been Priya who was required to explicitly raise the concern after due consultation with other vertical and functional heads.
Performance Culture
Every organisation has a culture that evolves over a period of time during the various stages of organisational life cycle through employees (new and old) such as; their orientation, interaction, socialisation, collaboration, dealing with the organisational crisis, role modelling of team leaders, responses of top management and vision and mission of the company.
The varying differences in the interaction and response by Suhan, Daisy and Priya with Ramesh are also apparent. On the one hand, Suhan is highly focused to meet the business requirements in spite of his team members being absent. On the other, while Daisy complains about Allan and Eva, she does not offer any affirmative action or initiative to overcome this. Priya, the key anchor and responsible for driving the best performance from employees seems to have limited her outcome to complete the data checkboxes and providing information to Ramesh. In fact, Priya should have engaged herself with the employees to ascertain the reasons behind their poor performance and their casual approach at the workplace. She should be encouraging employees to open up and share their views and perspectives.
Employee Motivation
Organisations need to fully understand the context instead of reacting on a piecemeal basis since the employees today consider themselves as key stakeholders. This raises the issue of Ramesh being candid with his workforce and sharing the organisational health, business strategy and challenges with them to establish a connect and seek their ideas and point of view. Several companies, who constantly engage with their key stakeholders - from endcustomers to employees in different forums - have managed to keep themselves ahead of the curve.
Also, there is no mention of employee rewards and recognition. Performance Management cannot be executed casually by way of looking around once a while at the workplace to ascertain an employee's presence and their activities. It is a wellstructured approach and a process that utilises the current capabilities of employees in a productive manner and develops this for the next level and future stage to mitigate the risk and challenges like what company is facing in current crisis due to the COVID-19 pandemic.
Employees anticipate annual salary revisions so as to meet their personal and social obligations. Ramesh, therefore, needs to place himself in the employees' shoes to understand issues on the other side of the table.
Dealing with the current crisis
The fallout owing to the COVID-19 pandemic is indeed detrimental for the survival and sustenance of a company, and hence, it is required that it comes about as responsive. Firing 10 % of the workforce will not help the company in any manner, and instead, bring forward another crisis that will further demotivate them when the company fails to revise employees' salaries for two years in succession. Leadership teams should engage employees by establishing its own credibility and respect in terms of trust, equity, fairness, empathy, compassion and commitment to win the hearts and minds of employees, which may prove to be the sutra for the way forward.
This is the time to create energy and passion among the team across the levels so that employees can give their best performance. The pharmaceutical sector, as such, will witness constant growth. Therefore, Ramesh needs to work with a fresh outlook to establish a growth trajectory. If employees are being absent, the HR is required to go into the details without being biased. One has observed that on several occasions that even though the employee wanted to report for duty, he could not do so owing to family pressure owing to fear psychosis or the consequences of the pandemic.
Everyone has differing emotional levels and constraints when they fail to resume/attend work. We should therefore be compassionate, but at the same time, people must not be left free. Employees, who are truly underperformers must be given a chance to improve their performance. If they do not accept the given opportunity positively and prove themselves, it is time to go for action on separation. The Company can consider making pay cuts of the employees in higher pay packets by way of engaging. It is also a good initiative by the company if they commit that the employees will be compensated once the organisation witnesses an improvement in its finances.
The present situation may indeed prove to be a blessing and offer some radical changes on the way forward. Many companies are shifting their approach, which is more relevant and effective in time to come by experimenting and innovating new practices. Ramesh and his team can thrive on it.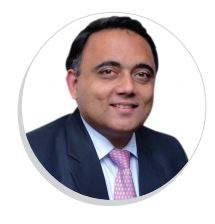 ---
Analysis by Rohit Hasteer is the Group CHRO for Housing.com, Prop Tiger.com and Makaan.com. He has an experience of more than 20.
---
Performance Management System (PMS) is one of the Pcritical processes in any organisation since it helps align individual goals with the strategic goals of the organisation, and enables in driving a performancedriven culture. It is, therefore, important for organisations to have a robust process that knows what to reward and what not to. A poorly implemented PMS, or worse, having no PMS, may lead to low employee morale and high turnover. Hence, Ramesh's dilemma is understandable since he is trying to find the best way possible to appraise only the performers in his organisation, the limited budget notwithstanding. However, he also fears disappointment among the underperformers who are working with him for the last two years with their salaries remaining stagnant.
Rewarding people based on actual achievement against their goals is the very objective of the PMS, since it allows you to distinguish good performers from the rest. And Ramesh is not wrong in deciding that the compensation philosophy must be based on meritocracy alone. However, it is important to ensure that there is a clear definition for good performance. Unless employees are aware of the benchmark for good performance, they may never be able to reach that mark.
Also, it is equally important to ensure that the workforce is provided with the required support to achieve the defined goals and are periodically given directions to enhance performance. Ramesh may, in fact, be forming opinions about good and poor performers on the basis of hearsay alone. It is imperative to examine the data before arriving at any conclusion. It is also essential to understand whether employees have objectives and measurable goals in the first place. Are they even aware that their performance levels are not meeting the expectations of the organisation or do they even know what they need to do to ensure they are rewarded?
The other challenge that is evident here is that some of the leaders were struggling with increasing absenteeism in the organisation and lack of focus on work. This should not be passed off as individualistic traits of a few employees, since this is a phenomenon that is of a bigger concern. Disengagement is not an event, it is an attained state that disconnects you from the organisation. Often, absenteeism and the lack of accountability is an outcome of disengagement with the organisation and constant communication helps bridge that gap.
Ramesh must truly reflect whether he has done enough to keep his employees connected with the purpose of the organisation. Compensation is surely a motivator, and if that is not on offer, you need to keep your people brought on to your mission with a compelling purpose. You cannot expect someone to commit themselves to expend an extraordinary effort if they do not have a good reason to do so. Ramesh should also focus on appreciating the efforts of his people from time to time. Appreciating and recognising efforts is a crucial validation for that effort and it encourages repeat behaviour.
It is understandable that the COVID-19 pandemic has adversely affected most businesses and it has gotten everyone in a cost-saving mode. While being cost prudent is necessary to survive; investment is equally essential to spur growth. Ramesh's pharmaceutical company is a new venture and there have been no salary revisions since the time it came into existence. While salary revisions have to be based on performance, this is a peculiar situation where people have been working with the organisation and have withstood the thick and thin hoping that they will be rewarded eventually. Hence, albeit minimal, it may not be a bad idea to revise the salaries by looking at the performance, not just for the current year but for previous years as well.
Clarity of goals, continuous and timely feedback and support on performance parameters and appreciation and reward for good performance are the key ingredients for inculcating a performance driven culture in the organisation. It not only aligns everyone to the organisation's mission and goals but also goes a long way in building a culture of trust and meritocracy.