Trust Dilemma - A Mobius Ring?
It was a casual evening chit-chat over a weekend. There were four of us – me, my wife, my friend Viru, and his wife, Jaya. Suddenly, Jaya pointed at my fingers and asked the reason behind me having so many rings on my fingers. I replied that I owed those to the most important people in my life, and the mutual trust that we shared. I explained that one of the rings belonged to my father and upon his demise it had been transferred to me as legacy, another was the first ring that I was asked to wear by my mother several years ago, and yet another was my wedding ring.
"Oh! I see. But there must be religious reasons behind these. For instance, this topaz is for ..." I interrupted her before she could complete her sentence. "I do not validate the reasons of belief. Once trust has been established between individuals, I do not go beyond that and probe. This gives me immense peace of mind, even though I may not be fully informed."
She smiled, though with a slice of surprise; and added that Viru, her husband and my friend, also wore rings with some auspicious stones, occasionally, to seek Shanti (peace). "These stones are adorned depending on the position of Griha (planets). Whosoever suggests such stones to him, he wears them only after learning the specific reason or significance attached to a particular stone. He prefers complete information before trusting someone."
I was shuttling my gaze between my rings, Viru's fingers, and his wife's eyes. My friend would prefer to know the logic first, and then wear the rings! Transparency was a prelude to his trust. In my case, relationship was a prelude to trust. I mused as my thoughts migrated from personal space to professional space. Does that which stands as true in personal life apply to work as well?
Many studies support my friend, and tell us that more the details you share with someone, the more that person will trust you, and the more they will conduct themselves to be trustworthy.
A Forbes poll has revealed that 50% of employees think that their organisations were held back by a lack of transparency. This affects the trust quotient in an organisation. In an HBR article, 'Neuroscience of Trust', Paul J Zak writes that building a culture of trust makes a meaningful difference. In a global survey conducted by PwC in 2016, it was reported that 55% of CEOs thought that lack of trust was a threat to their organisation's growth. But most did not know where to start in order to increase trust.
Is transparency the only way to increase trust? Or are there other keystones to trust? It was time for me to revisit my philosophy! I fondly looked towards my wife, assuming that she would have understood my thoughts. Aah! She and Viru were busy exploring the menu, and were ordering some exquisite stuff on the recommendations of the server!
Returning to the solitude of my mind-zone, I realised that my mantra had been that strong relationships could fuel mutual trust; and high trust levels could enhance outputs! However, I was uncertain whether this belief in relationship stood on a flimsy ground or was it firm enough for me to adopt this at workplace as well? In fact, a Google study emphatically declares the importance of relationship in workplace. It states that managers who "express concern for team members' personal well-being" outperform others in the quality and quantity of their work. By relying solely on task orientation, do we ignore researches that say that social ties at work lead to better performance?
Amidst this confusion, I was keen to hear something from Viru who is the CEO of a mid-sized business organisation. However, he and my wife preferred not to utter anything during this apparently unexpected conversation. An attractive platter arrived on the table, and we moved our hands on the table. I looked at my rings and then at the uncaged (read, unringed) hands of my friend. I could not resist the temptation to poke him, "Your wife was saying that you also wear the rings sometimes, but you do so as per Griha dasha- astrological recommendations on heavenly bodies." "When people at home tell me, I do wear them for Griha Shanti," he said with a wink. Viru loves to juggle with words. I was lost in metaphor - whether Griha would mean home or would it mean planet? Each interpretation would lead to a different reason; and consequently, different driver for trust. His wink added to the riddle or perhaps, answered it!
I smiled and shifted my focus to take a bite out of the novel dish, trusting the choice of my wife and my friend, and ruminating what was actually fuelling trust? It was a chicken and egg puzzle that I was trying to solve. My mental muddle had, and still remains, transformed into an infinite Mobius ring with both possibilities of Griha Shanti!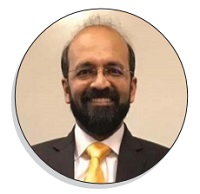 Amit Gupta is a senior HR Executive with Indian Oil Corporation Limited and has vast experience in Sales and Human Resource Development. He is a passionate writer, storyteller, and public speaker. He pens real-life stories regularly under the title Myriad Musings for The Times of India - https://timesofindia.indiatimes.com/blogs/myriad- musings. He also contributes to leading HR magazines. Amit can be contacted on amitonearth@gmail.com.