Are Digital Transactions the Path to the Future?
---
Digital transactions make life simpler for millions across the globe by providing them with the facility and the small comfort of having access to one's money without ever needing to step out of the home to visit an ATM.
---
In recent years, digital transactions have increased and now make up for a huge bulk of financial movement in the world today. From vegetable vendors to high-end stores in shopping malls, everyone accepts digital transactions. It all began with the onset of online shopping and its rise to popularity. Online sites such as Amazon, ebay, flipkart and Alibaba are largely responsible for popularizing the phenomenon of shopping for items online by way of digital transfers and having them delivered to your home's doorstep in a matter of days depending on your location. In the present day scenario, practically any kind of service or product can be purchased online. This can range from a variety of different every day commodities such as groceries, to more personalized services such as courier pick up, house cleaning and even beauty and make-up services. Whatever be the case, digital transactions make life simpler for millions across the globe by providing them with the facility and the small comfort of having access to one's money without ever needing to step out of the home to visit an ATM.
In addition, cashless or digital transactions enable business owners and big brands to make their products accessible to people irrespective of location without having to incur the mammoth cost and investment involved in setting up a store in every city in order to increase brand awareness and boost sales. A large number of fashion houses, for example, are now expanding to digital e-commerce platforms or online stores, in order to cater to that ever expanding online market. As more and more people hop onto the online shopping bandwagon, there is always the benefit of lowered costs for brand names and companies.
Aside from that, there are a number of home shoppers who purchase random items for the household like appliances, furniture, and technology. All of these items are made more accessible with digital transactions. Literally, buying a new laptop or a new Japanese floating bed is just a few clicks away. Digital transactions enhance the shopping experience as shoppers no longer have to necessarily waste time and travel anywhere; they can get what they want from the comfort of their homes. For those who do prefer shopping at stores, digital transactions means you never run out of cash and there is no need to carry a wallet. Anything can be purchased online through digital representations of actual money using software such as Paytm, Phone Pe and G-Pay, to name a few, that are connected to consumer bank accounts'.
Aside from just tangible objects, there are other popular services that can be purchased online through digital transactions as well include cloud storage. Many people flock to cloud storage platforms to pay for their services online. Another obvious online service is gaming websites. This is especially true for games that require a consistent flow of cash among and between users. For example, an all-around online casino platform like Betnero casino allows users to play all of their favorite casino games on a purely digital platform and interact with each other providing an enhanced virtual gaming experience. As it is with any kind of traditional casino game, money transactions are always involved., Players from all over the world are now able to gamble with real money in real-time thanks to digital transactions allowing those who prefer some serious competition to pit themselves against some of the best opponents in the world. It might come as a surprise to some, but gaming online is serious business these days and people invest heavily both in terms of time and money in online games. Professional gamers are a thing in today's world; something unheard of until a few decades ago.
Online currencies are convenient and accessible. It has reduced the dependence on paper money greatly. It has made the lives of so many people much easier. From private bank-to-bank transfers to accounts anywhere in the world, to paying grocery bills and shopping for luxury goods, paying for services, paying a school or university fee, booking travel and holidays; everything is accessible through digital transactions. Some educational institutions prefer digital transactions to cheques as it saves time and doesn't require someone to take it to the bank to be encashed. It also reduces wastage of paper and ensures them an eco-friendly carbon footprint. It's clear that digital transactions are the future of the business world and there is a constant need to simplify the process even further. Internet users are constantly discovering new ways to perform digital transactions, save time and increase the level of convenience while ensuring secure transactions.
The arrival of crypto-currencies into the financial arena is another interesting phenomenon that has been rapidly growing in popularity over the last few years. Back when they were first introduced, these digital coins such as Bitcoin were mere novelties that only computer-literate people were toying with. Within the short span of a few years they have emerged as one of the most trending commodities across the globe.According to some experts, crypto-currencies are set to shake up the entire global financial system. . With Bitcoin as a forerunner , many digital users are making use of crypto-currencies, not just for digital transactions and purchases, but also for investment portfolios. Put simply, crypto-currencies are a democratized form of the financial system that is widely being practiced today. With crypto-currency, money doesn't fall under the regulation, power, and influence of institutions like the World Bank or Wall Street thereby making it rather unpopular with banks and some governments in general. It's a de-regulated form of currency and is vastly gaining popularity in various parts of the world.
Online casinos are making use of digital transactions to provide their services to a growing market. However, there are also many modern online casinos that are now allowing users to transact using crypto coins as well. This is not something that is unique to just online casinos either. For example, Tesla is known to accept payment for its future-proof cars through Bitcoin. A lot of this has to do with the fact that the owner of Tesla and currently the world's richest man Elon Musk is a heavy investor in Bitcoin.
Again, only time will tell just how far the reach of digital transactions will take society and change the way the world views money transactions. There are many who are of the opinion that paper money and physical coins will still continue to dominate the future of finance. However, there's no discounting the fact that digital transactions are immensely popular now and will grow to become even more popular in the future simply because they are convenient, quick and secure. More and more countries are now advocating cashless transactions and it's only a matter of time until the rest of the world follows suit.
---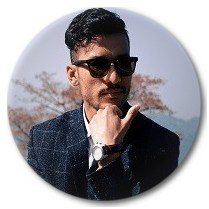 Nitesh Rana is an Engineer, Writer, Youtuber and Musician. Done his BTech in Electronics And Communications. Started his career as an Network Analyst in HCL and currently working in the field of Digital Advertisement as an SEO Specialist @Sandwichads.com.