Can We Build Our Future Without A Foundation?
"Until you make the unconscious conscious, it will direct your life, and you will call it fate." — C.G. Jung
IMPORTANT LESSON FROM OUR PAST
Back in the school days, when our teacher asked us to read one paragraph from the textbook, most (if not all) of us counted the students ahead of us in the seating order. We then quickly calculated the paragraph that we might have to read based on the number of students with an objective to prepare well. Instead of listening to the student reading their paragraph aloud, we kept practising our paragraph, in order to read well when our turn came. It was never hit-or-miss; it was always a hit because we got well prepared. Isn't this a practical example of how we were becoming future-fit in just a few minutes back in the day?
In fact, this is where many of us might have learnt the importance of becoming future-ready. Though we might not have consciously articulated it, we have it in us (if we are aware) to be prepared.
Awareness is the foundation for planning actions that lead us to automatically analyse further, fill the gaps as required, apply the learning where appropriate, and sculpt a better future.
THE CURRENT JOLT
The pandemic struck when we were not expecting it. There have been revelations for individuals, organisations and even governments on how prepared they were for the future. But we now have the awareness that is the basic requirement to become future-fit.
There are clear steps that an individual, an organisation or a government could take today to be ready for the future. Some of those are discussed below.
INDIVIDUAL FITNESS
Aim to be adaptable and agile:
Just like physical fitness, skill fitness cannot be achieved overnight. It requires consistent and continuous efforts. For young children and those yet to start employment, basic education is a must to build a strong foundation. For those who are ready for employment or are already employed, on-the-job education is key.
Adaptability, a continuous learning mindset, and avoiding falling prey to comfortable jobs that do not provide a broad scope of challenges are essential to success. Technology platforms offer great opportunities for continuous skill development.
Stretch Yourself:
As the pace at which change is happening keeps increasing by the day, your industry-specific technical skills will have an even shorter shelf-life, and it goes without saying that you must engage in continuous learning to address your skill gaps and stay ahead of the curve. However, long-term success is found by reaching beyond your comfort zone. For instance, your current role may not require much interaction with others, but your next career advancement might need a lot of people management and communication. Work on building these skills early on.
Also, don't limit yourself to your current area of expertise. Develop skills in the fields similar to yours or in areas that pique your interest. The idea is that you do your best work today while also upgrading yourself and creating options in case your role disappears tomorrow.
Extending learning beyond your current expertise is a good insurance policy if things start to go bad. As Scott Adams says, "Every skill you acquire doubles your odds of success." Moreover, if you pick up these new skills based on your "Champetency"— a term that I refer to as the "natural strength of an individual" — your future fitness level would be even higher.
ORGANISATIONAL FITNESS
Make Employee Learning Top of Mind:
Some organisations are still far behind in democratising learning, despite its potential as an important investment for becoming future-fit. Providing the right technology platform for learning with clear career paths would enable continuous learning for employees and keep them future-fit.
Many IT organisations are providing 24/7, hands-on learning opportunities for employees to make sure that they can learn any new technology onthe-go and deliver results quickly. Those organisations that do not invest in such platforms might be left behind in this ever-changing scenario.
Adjust Employer Branding To Changing Times:
Organisations must replace old ways of employee branding with "in-the-moment" strategies. Recent data from LinkedIn reveals that COVID-related posts that talked about how companies helped their workforce during the crisis and went an extra mile to support the broader community drove the highest degree of engagement among users.
Looking towards the future, it will become imperative for organisations to tell more stories that are authentic, empathetic, and reflect their values and purpose as something beyond empty catchphrases.
Keep D&I High on the Agenda:
With many employees working from home, one silver lining in the ongoing pandemic is that organisations have been able to tap diverse talent pools, such as people with disabilities, new parents or caregivers who require flexibility.
While remote working is not a panacea for all diversity-related concerns within organisations, businesses that sustain the momentum of leveraging diversity and inclusion in new ways will undoubtedly have a competitive edge going forward.
GOVERNMENT FITNESS
For governments across the globe, especially of the developing and under-developed countries, their future is the younger generation. Education is an important aspect for future generations, and the pandemic has posed challenges that need to be managed in a phased manner. These countries are not fully prepared for online education.
Many children who are from rural backgrounds and/or from lower economic strata are unfamiliar with online education. Now that we have an awareness of such a challenge, it is best to prepare for a blended model of education with a clear vision of how infrastructure and motivation can be provided to students and teachers to adopt blended learning instead of 100% traditional brick-and-mortar learning models. This would pave the way for countries to become future-ready.
IMPORTANT LESSON FOR THE FUTURE
Accepting technology as a resource and learning to coexist with machines could be a great way of helping individuals, organisations, and governments become fit for the future.
Follow and connect with us on LinkedIn, Facebook, Instagram, Twitter for latest HR news and insights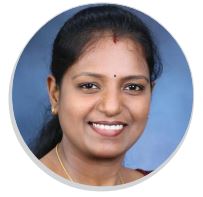 Swarna Sudha Selvaraj is the Head of Talent Development for TCS Europe, UK & Ireland. She is a vibrant HR leader with over 17 years of work experience gained from association with Tata Consultancy Services and Murugappa Group of Companies.