Enabling Tech To Embrace Gig
Organisations are committed to leverage data and analytics to spur growth. In such a scenario, HR practices are undergoing a multifaceted approach to technology and transformation, in order to acclimatise to the surroundings.
In today's competitive environment, it has become prudent to adapt and sharpen business agility among organisations. While customers remain key, innovation and adaptation to the digital way of doing business has been a key differentiator for all. Through digitisation initiatives and analytical investments, organisations have been able to establish a wider and a more effective connect and improved efficiency with its people and business. And this progress has been achieved through an upgraded workforce. What is important to the customer life cycle is the digitisation of enterprise and employee processes. And this automation has improved productivity of various people in different functions.
Organisations are investing heavily on technology,c, and related people skills since it is the need of the hour. With an increased investment of more than 30% in technology, there has been a relative growth of more than 50% in the workforce. And people with new skillsets such as Developers, Agile, Architects, UX, Design Thinking, and Cloud have got added. A shift from the traditional method of software development to agile software development has allowed organisations to respond quickly to the changes happening in the environment.
Organisations are committed to leverage data and analytics to spur growth. In such a scenario, HR practices are undergoing a multifaceted approach to technology and transformation in order to acclimatise to the surroundings. And looking back, we were not truly novice to such a development. The difference being, everybody is specifically talking about new age tech-enabled work, which is a concept that has conjoined with our changing lifestyles and preferences. This has made its way for change management, where it is imperative for HR leaders to contemplate innovative strategies to incorporate this workforce. And today's job seekers are looking for a new kind of work that upends the traditional approach the industry has accepted for decades. As technologies develop and become a way of life, the more diverse population becomes confident to experiment and familiarise to this way of work life - sharing a new perspective and way to work through the Gig economy.
Some very specific endeavours that have stood out and helped are initiatives such as ENACH, E-Sign etc. These have been adopted by NBFCs which are much faster to adopt than many other sectors. NBFCs' adoption to these technologies has paved the path for a faster growth in the MSME sector through quicker loan processing. Cloud Computing helps in creating a flexible business model that ensures that the needs of the growing businesses are looked into. Technologies such as the webbased Loan Origination Software (LOS) platform can replace legacy systems and increase turnaround times. There are many more such initiatives being developed and utilised.
Going forward, technology will serve as the backbone of the Gig economy's growth. As today's workforce is more dynamic and tech savvy, organisations are becoming more forward-thinking and agile. All these technologies put together are making a difference in the NBFC industry. As more people prefer this mode, new data will be collected on when (and how frequently) they prefer to work, the skills they want to pursue, and the types of roles they want to fill. This new data will help provide companies with insights so as to create opportunities for Gig workers, which is a win-win for both. From a leadership viewpoint, it is time to rethink, rediscover, and reinvent the novel ways for a successful streak.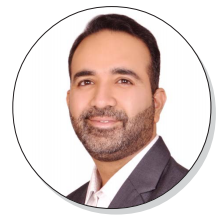 Rajat Grover is GM & Head of Business HR, Fullerton India Credit Company Limited. He has an experience of over 16 years and has worked with Yes Bank, IDBI Bank Ltd, Reliance Retail Ltd. etc. As an SAP HCM Functional Consultant, Rajat has very good knowledge of digitisation and digitalisation.